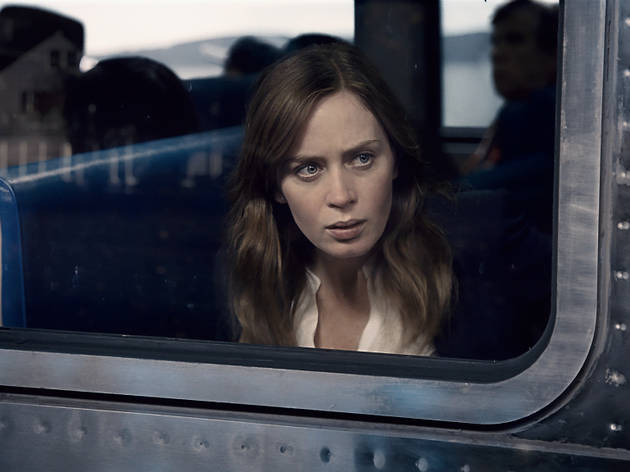 Time Out says
The bestselling novel about a missing woman becomes a solid thriller
The film of Paula Hawkins's bestselling commuter thriller is taking flak from fans of the book before they've even seen it. Firstly for committing a major crime against casting: the role of alcoholic heroine Rachel is played by Emily Blunt (too slim, too pretty). Secondly because the filmmakers have swapped the shabby Victorian terraces of suburban north London for the white picket fences of upstate New York. But the real felony here is how ungripping 'The Girl on the Train' is – a major problem for an adaptation of a book so impossible to put down you could easily find yourself missing your own wedding (I'm exaggerating, but only slightly).

Actually, Emily Blunt is perfect as Rachel. Yes, she's gorgeous (to compensate, make-up artists have given her really dry chapped lips). But she's also convincing as messy, miserable Rachel, whose daily commute by train takes her past her old house, where her smug ex husband Tom (Justin Theroux) now lives with his smug new wife Anna (Rebecca Ferguson) and their baby. Engineering works on the tracks mean that the 8.06 grinds to a stop right outside their house most mornings, giving Rachel a direct view into the happy-family household. To distract herself from her misery, she becomes obsessed with the perfect-looking couple who live a few doors along from Tom and Anna – and when the wife vanishes, Rachel turns amateur detective.

'The Girl on the Train' interweaves the lives of the three women – Rachel, Anna and missing Megan – hopping back in time to tell their stories. The script by Erin Cressida Wilson ('Secretary') does a neat job of condensing the novel's fiendish twists. But director Tate Taylor ('The Help') never fully manages to convey its darkness. Even with the occasional shot of piss-soaked knickers there is something a bit tasteful about 'The Girl on the Train'. Like a fridge whose door's been left open overnight, the film doesn't feel chilly enough. It's not terrible, but fans of the book may well be disappointed.
Details
Release details
Release date:
Wednesday October 7 2015
Duration:
0 mins
Cast and crew
Director:
Tate Taylor
Screenwriter:
Erin Cressida Wilson
Cast:
Emily Blunt
Rebecca Ferguson
Justin Theroux
Haley Bennett

Average User Rating
3.2 / 5
Rating Breakdown
5 star:

1

4 star:

6

3 star:

7

2 star:

4

1 star:

0
I haven't read the best selling book so am so am not sure if being unfamiliar with the plot was a blessing or a curse. I found this quite slow moving & when the twist came it didn't provoke any emotion. My main problem however were the unappealing female characters. Emily Blunt is a fantastic actress but her drippy, vague & unlikeable lead character was difficult to root for. Equally the new wife & nanny characters were awful, spiteful & shallow women. I wouldn't have cared if they all disappeared. I found the whole experience depressing & far from thrilling or scary.
First a disclaimer - I haven't read the book.
This film is really good and full of twists and drama that leaves you engaged to the plot almost from the first minute.
It's definitely worth going to the cinema to watch it
Entertaining thriller that will keep you guessing - as long as you haven't read the book, of course. The style of the film is confusing and disorientating at times - it's meant to be to re-create the confusion of a drunken black-out - and this can be more than a little alienating to the viewer, especially at the start of the movie - but Emily Blunt carries the whole thing off in what is a fine performance. Luke Evans looks particularly dishy too - which is never a bad thing. Definitely one to catch in the cinema.
Beautifully made mystery thriller with great performances all round.....lots of cleverly observed detail in the shots which you would probably miss on the TV at home, so one to watch at the cinema...clever use of time adds to the air of confusion and doubt which Rachel experiences...