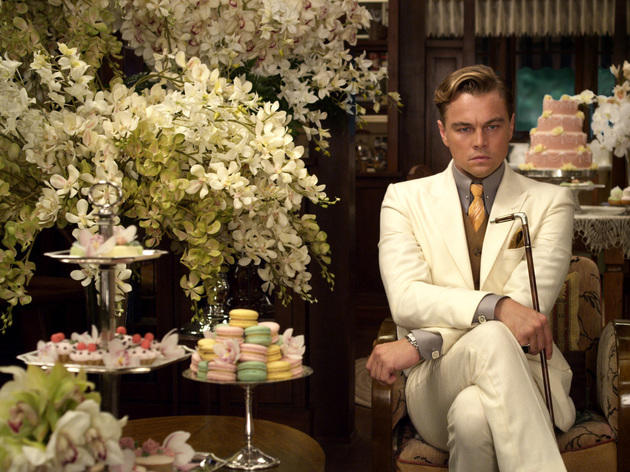 'Romeo + Juliet' and 'Moulin Rouge!' showed us that Australian director Baz Luhrmann can throw a hell of a party. Now, after the epic drabness of 'Australia' he pulls the stereo out of storage and does it again. The best scene in this fast and furious stab at F Scott Fitzgerald's 1925 state-of-the-nation novel comes early, as we gatecrash a wild shindig at the Long Island home of filthy rich Jay Gatsby. Gatsby's wide-eyed poorer neighbour Nick Carraway (Tobey Maguire) cuts through the layers of flappers and frippery and meets his elusive host (Leonardo DiCaprio, never more than an enigma; maybe rightly so) amid the throng on an elevated terrace. The scene is Luhrmann at his best: swirling cameras, mad excess, look-at-me costumes and big musical statements.
In case we didn't know that this encounter is momentous, it's cut to the louder-than-loud strains of Gershwin's 'Rhapsody in Blue'. In Luhrmann's world, everything is bigger, noisier, brighter and quicker even than the far-from-humdrum universe of Fitzgerald's story. That's fine when the party's raging, and the scene has some of the heart-thumping, first-meet excitement of the Claire Danes-DiCaprio fishtank moment in 'Romeo + Juliet'. But when the music stops and the lights go up, dawn casts an unflattering glow on the film's quieter, more intimate moments.
One of the niggling problems with Luhrmann's film is that it never knows whether it's about the doomed love between Gatsby and Nick's cousin, flighty Southern belle Daisy (Carey Mulligan) who lives across the water with her brutish husband Tom (Joel Edgerton), or about the longing, questioning, horrified gaze of Carraway. He's an outsider in a rarefied world, comparable to Charles Ryder in 'Brideshead Revisited', and arguably that's where the real emotional pull of Fitzgerald's story lies. Yet there's a whole swathe where Carraway recedes from view and Luhrmann focuses on the push and pull between Daisy and Gatsby. It's sluggish as romance and cold as tragedy.
Carraway, of course, is the book's narrator, and Luhrmann tries to hang on to his perspective by creating a framework in which Carraway spills all to a psychiatrist about his encounters. It's an admission of failure – or at least that there's a major problem to solve in adapting this novel. We hear Carraway's narration. We even, occasionally, see text from the book. But it's the age-old page-to-screen issue: we're witnessing all this from the outside in, rather than the inside out.
What Luhrmann makes intoxicating is a sense of place – the houses, the rooms, the city, the roads – and the sense that all this is unfolding in a bubble like some mad fable. Where he falters is in persuading us that these are real, breathing folk whose experiences and destinies can move us.
Release details
Rated:
12A
Release date:
Thursday May 16 2013
Duration:
143 mins
Cast and crew
Director:
Baz Luhrmann
Cast:
Carey Mulligan
Leonardo Di Caprio
Tobey Maguire

Average User Rating
3.7 / 5
Rating Breakdown
5 star:

2

4 star:

7

3 star:

3

2 star:

0

1 star:

1
Excellent! Can't wait till the DVD release. Amazing soundtrack and excellent acting. Best film this year.
Excellent! Can't wait till the DVD release. Amazing soundtrack and excellent acting. Best film this year.
I re-read the book before seeing the film and was delighted many tranches were used throughout the film particularly the ending. It's a long film but as the film follows the structure of the book it can be familiar to you. The film transitions through three clear phases, the first the most disconcerting. An excellent use of hip-hop music to generate that same feeling of excitement and decadence that accompanied clubbing rather another rehash of jazz that links it to modern day America and its dream. An excellent soundtrack and LdC makes the role his own. One for the big screen and soundsystem to get the full effect but I avoided 3D.
What a spectacular film, lived up to the book and en-captured the buzz and extravagance of 20's New York and the darker side of it Would highly recommend.
Superbly acted by all the cast, dialogue true to the novel, visually stunning with hyperactive camerawork and amazing evocations of how New York must have been in the 20s, thoroughly enjoyed this film and can't understand the mediocre reviews it's getting in UK
Totally agree with Alex Plim's views. I left disappointed and felt really quite empty leaving the screen. Yes it is stunning to look at but the music at times overwhelms everything else. It a super model of a film as it looks great but is very empty at its heart. A 2 star film just made up to 3 by its stunning looks.
This film far exceeded my expectations of it from reading a number of reviews. It is very engaging and nuanced in a subtle way.
A bold and swaggering success.
This film has little going for it. it is a drawn experience painful to watch in places .. there laziness in the directing.