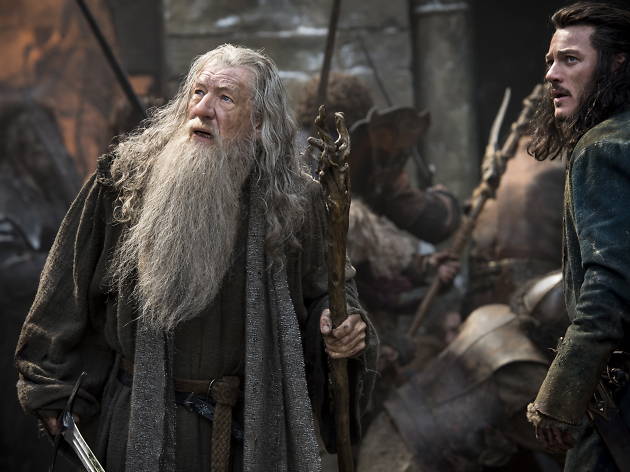 'The Defining Chapter' declare the posters for this wrap-up episode in Peter Jackson's trilogy of 'The Lord of the Rings' prequels, the last of three films stretched from JRR Tolkien's one novel, 'The Hobbit'. Exactly what's being defined is left conveniently vague, because what we have here is a whole lot more of Jackson's proven formula: more battles, more creatures, more not-quite-comical asides, more stern speechifying and more gob-smackingly elaborate action set pieces. If you've been enjoying 'The Hobbit' so far, you're in for a treat. But if you were hoping for something extra or different this time around – a touch of honest emotion, perhaps – then 'The Battle of the Five Armies' may leave you wanting.

We pick up the story right where 'The Desolation of Smaug' cut to black: the dragon is on the rampage, and all Bilbo (Martin Freeman) and his Dwarvish companions can do is watch as the lizard lays waste to Laketown. It's a phenomenal opening, thunderous and apocalyptic, pitching us into the heart of a city on fire.
But when the smoke clears the script begins to lose focus, as what seems like every single character in the trilogy so far (bar one slimy riddler) comes crawling out of the stonework. While Thorin (Richard Armitage) indulges his lust for gold to the frustration of bowman Bard (Luke Evans) and elf-king Thranduil (Lee Pace), Gandalf recruits a few old pals to assist in his escape from the dungeons of Dul Guldur. In the confusion, poor Bilbo feels more like a supporting character, surrendering screen time to feeble distractions like snivelling lake-man Alfrid (Ryan Gage), so pantomime in his villainy that he's reduced to dragging up for a cheap laugh. And that's before Billy Connolly turns up riding a pig…

Luckily, Jackson's singular talent for massive-scale mayhem hasn't deserted him, and the hour-long smackdown that crowns the film gives him ample opportunities to indulge it. With what feels like a lot more than five armies on the go – we counted elves, dwarves, men, orcs, trolls, goblins, eagles, evil bats and bizarre 'Dune'-like earthworms – it's one of the grandest sequences Jackson has ever shot. And if there's a hint that his imagination is, if possible, even bigger than his special-effects budget – some of the busier panoramic shots are a bit murky – that's perhaps inevitable when you're working on a bigger canvas than any other director has even attempted. There are flaws in this final film, but as Jackson's six-film Middle Earth series finally comes to a close, it's also a fitting tribute to his dedication and ambition.
Release details
| | |
| --- | --- |
| Release date: | Friday December 12 2014 |
| Duration: | 0 mins |
Cast and crew
Director:
Peter Jackson
Screenwriter:
Fran Walsh, Philippa Boyens
Cast:
Cate Blanchett
Benedict Cumberbatch
Evangeline Lilly
Martin Freeman
Orlando Bloom
Ian McKellen
Christopher Lee
Richard Armitage

Average User Rating
3.7 / 5
Rating Breakdown
5 star:

4

4 star:

1

3 star:

0

2 star:

0

1 star:

2
OMG! I was very thrilled when watching the movie. I can't help but love it.
This movie was so lame. Um you need a plot and a storyline to be a film.
The Hobbit movie trilogy is a loathsome testament to Peter Jackson's complete lack of facility as a filmmaker. Jackson has no understanding of editing, pacing, timing, framing, composition, characterization, contextualization, narrative structure, and at least a dozen other elementary aspects of film language. He gives hacks a bad name. He makes Michael Bay look like David Lean. But in my estimation his most egregious violation is his demonstrable lack of comprehension and disrespect for what J.R.R. Tolkien created. Of course Jackson would adapt a wonderful anti-war children's book and turn it into a bloated pro-war video game designed for mentally deficient teenagers. I think it's sad that there are now at least two generations of people that have been tricked into thinking Peter Jackson's films are accurate representations of Middle-earth, who think that the Bilbo, Frodo, Aragorn, etc, they see on the screen are the same characters that J.R.R. Tolkien created. Hopefully Jackson's execrable movies will act as a gateway for children and compel them to seek out the real thing.