The Hunger Games: Mockingjay - Part 1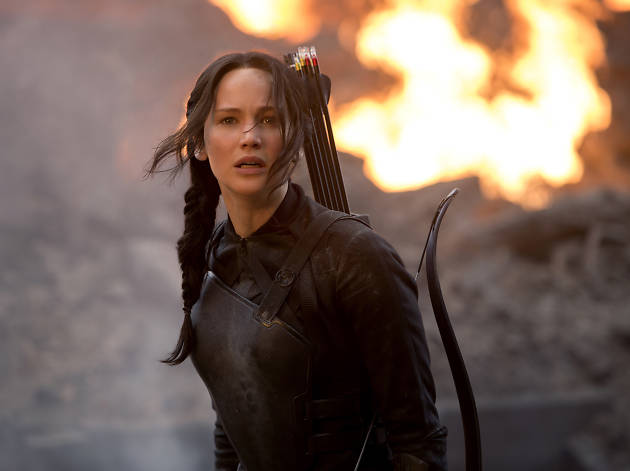 Time Out says
This is the film where it's all meant to go horribly wrong for 'The Hunger Games'. By chopping the trilogy's final book into two, this second-to-last film should be more drag than drama – the cash-machine episode that everyone knows is just a teaser for next year's epic send-off. And while it definitely takes its foot off the action, 'Mockingjay – Part 1' goes deeper and darker. Any darker they'd have to give out Prozac with the popcorn or offer counselling to traumatised 13-year-olds.
The story begins in rebellious District 13, whose commanders rescued Katniss from the Quarter Quell games at the end of the last film. Rioting has broken out in several districts and 13's icy leader, Alma Coin (Julianne Moore with a terrifying side-parting), wants Katniss to be the poster girl of the revolution. With no fight-to-the-death games in this episode and just a handful of not-stunning set pieces, Jennifer Lawrence's bow and arrow take a back seat to her acting. This is no bad thing: her soulful, storm-raging performance is the best thing about the series.
'Mockingjay' is Katniss's coming-of-age film as she wrestles with her role in the armed struggle against the totalitarian Capitol. District 13 might be the good guys, but Katniss is suspicious of Alma Coin and her slippery spin doctor Plutarch Heavensbee, played by the mighty, late Philip Seymour Hoffman. Katniss understands the need for PR. As she heads on to the battlefield, someone asks her: 'What if you die?' She snaps back: 'Make sure you get it on camera.' As its Che Guevara, Katniss is worth as much to the rebellion – if not more – dead.

Over in the Capitol, Santa's evil twin President Snow (Donald Sutherland) is having poor Peeta (Josh Hutcherson) tortured. (If the beatings weren't bad enough, look at the sheeny-shiny white power suits they make him wear on TV.) For a franchise with bang-on casting, the chemistry between Katniss and Peeta has always been a bit limp, so there are no complaints here about keeping them apart. Besides, Katniss has the infinitely less lame Gale (Liam Hemsworth) to take hunting.

The politics of 'Mockingjay' are as intensely gripping as the games in the earlier films – and more deadly. And for a film targeting teen girls, who will be half-watching, half-texting their mates to tell them that they're watching, 'Mockingjay' might just have more to say about the ethical ambiguities of war than Brad Pitt's pseudo-thinking war drama 'Fury' (the book's author Suzanne Collins is an army brat). Is the fight against the Capitol unavoidable? Can the rebels be trusted to do the right thing if they take power? And best of all, in Katniss 'The Hunger Games' has one of the all-time great heroines: strong, smart, stubborn, angry and full of heart.
Details
Release details
Rated:
12A
Release date:
Thursday November 20 2014
Duration:
123 mins
Cast and crew
Director:
Francis Lawrence
Screenwriter:
Peter Craig, Danny Strong
Cast:
Jennifer Lawrence
Josh Hutcherson
Liam Hemsworth

Average User Rating
2.8 / 5
Rating Breakdown
5 star:

3

4 star:

1

3 star:

1

2 star:

1

1 star:

4
Stop playing with your food! You won't get any pudding! Jeez... What is wrong with kids these days... Avoid... It's a gluten-free cash-in! (Not that any of the other films were any good either come to think of it)
First off, THEY WILL NOT BE USING CGI TO RECREATE PHILLIP'S ROLE. That was a rumor. It is very disrespectful to say such things. Secondly, this review was terrible.
Love this film, watched it so many times!
A poltiical and intruiging installment of the fantastic franchise.
This was just a gap filler for the finale. They have taken the third book and instead of creating one excellent movie, they've carved it up to make more money at the box office. Lawrence's performance at times was painful. She's a brilliant actress, they just needed to re-shoot/take some scenes. The overall film felt rushed and like nothing really happens.
Much lighter on action than its predecessors. Not for me but I`m sure fans will enjoy.
Stunning! Exceeded my expectations by a mile. Dark, tense, political and moving. Jennifer Lawrence and Phillip Seymour Huffman steal the show. An excellent film to take young women who are experiencing a fourth wave of feminism, with a strong, resilient and independent lead character: Katniss Everdeen. Go and see it!
The Hunger Games franchise slows down here while Katniss recuperates and has to be coaxed into helping the media efforts of the rebels as they fight against the forces of the Capitol. She struggles with betrayal by Peeta and a sense of being manipulated by the people who saved her to become their mockingjay mascot. This film is not as dynamic as the others but Jennifer Lawrence still makes a compelling heroine and probably preserves her iconic status with teenage girls everywhere - let's hope she's back with a vengeance for the next and final episode.