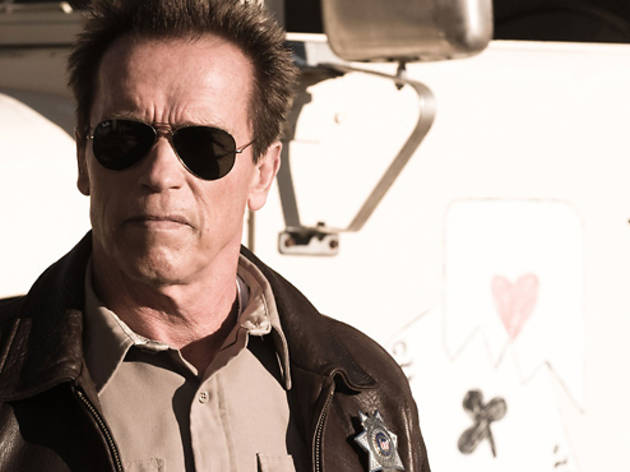 To be fair, he did say he'd be back. Governator no more, Arnold Schwarzenegger straps on his gunbelt, laces up his ass-kicking boots and dons a comically oversized ten-gallon hat for this nuts-and-bolts actioner. 'The Last Stand' has a lot going for it. The plot is simplicity itself – a Mexican drug lord in a 1000-horsepower Corvette is headed for the Mexican border, with only grizzled old Sheriff Ironballs standing in his way. The director is Kim Jee-Woon, whose incoherent but inventive Korean back catalogue ('The Good, the Bad ,the Weird', 'I Saw the Devil') showcases a master of the explosive setpiece. And let's face it, when he's on form, Arnie is a very watchable leading man.

So it's disappointing that so much here falls flat: the dialogue is risible, the characterisation nonexistent and the film's fetishistic obsession with military-grade assault weaponry and civilian vigilantism feels incredibly ill-timed. Kim's direction is disappointingly functional, with only the occasional glimpse of the old magic, while Arnie just looks tired. The result is diverting enough for a low-expectations Friday night, but the ingredients were in place for something more.
Release details
Rated:
15
Release date:
Thursday January 24 2013
Duration:
107 mins
Cast and crew
Average User Rating
2.5 / 5
Rating Breakdown
5 star:

0

4 star:

0

3 star:

1

2 star:

0

1 star:

0
In many ways it is difficult to contradict the review. Yes it is pretty poor at the start and there is barely a film cliche that is not used and abused in the first hour. It is only really the last half an hour saves this from being straight to DVD fare. Yes the violence is way way over the top. In many ways you need to accept that it is cartoon style violence and is over the top then you can go with the flow. In places the main street shoot out is both very funny and has Arnie back close to his best. If you don't go with it then you probably won't like the film. I left the cinema with a smile of my face and a spring in my step and I wasn't alone in this. Six out of ten makes this just a three star film.