The Legend Of Barney Thomson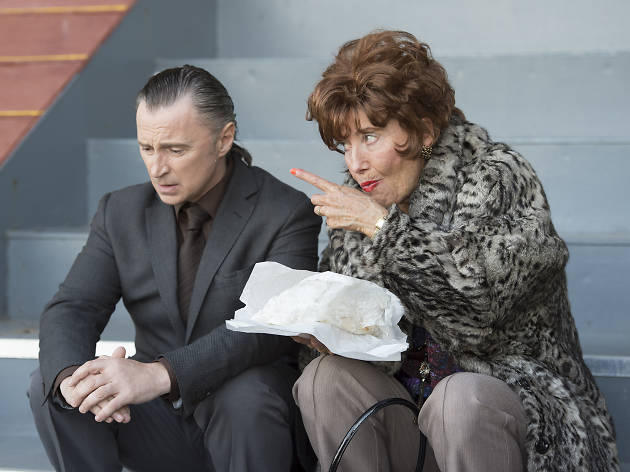 Robert Carlyle makes his directorial debut with a pitch-black comedy about an innocent man accused of being a serial killer
If you grew up south of Gretna Green, bribe a Scot to translate the thick Glaswegian accents in Robert Carlyle's grisly serial killer comedy. 'Barney Thomson' is his directing debut, mixing milky tea, suitable-for-Sunday-evening-television humour with a very heaped teaspoon of Irvine Welsh.

Carlyle, who portrayed psycho madman Begbie in 'Trainspotting', also stars as Barney, a charisma-free barber with a lank, greased-back mullet. After a wee accident involving a pair of scissors, a slippy floor and his boss, Barney finds himself prime suspect in the hunt for a serial killer who sends his victims' body parts to their family members in the post. Enter Ray Winstone as a cockney copper who thinks he's got Barney's number.

There are more than a few false notes here – the cops are cartoonishly crap – and 'Barney Thomson' isn't daring enough to make it as cult viewing. Still, the sight of Emma Thompson, wearing old-lady prosthetics and a leopard skin coat as Barney's mum – effing and blinding like Begbie after a night on the Tennent's – is not to be missed.
Release details
Release date:
Wednesday June 17 2015
Duration:
90 mins
Cast and crew
Rating Breakdown
5 star:

0

4 star:

0

3 star:

2

2 star:

0

1 star:

0
Having read/heard a few reviews beforehand, I loved the general idea of the storyline, and had been looking forward to seeing this movie since I saw the poster a few weeks ago. This could have been a consistently amusing black comedy from start to finish. Certainly there are very funny moments - the bit on the lake being my favourite.
.
Though Carlyle's a good actor, some of the comedy falls flat. ('Black' comedy opportunities were lost: Some of the contents of Cemolina's freezer accidentally sliding across the worktop and out of the window of her high-rise kitchen window? Winstone, or the chief superintendent, being an ex-client of Cemolina's? The content of the freezer being confused and being taken away/prepared for a meal by one of Cemolina's many friends while round at her flat, or prepared/served up at her wake? Etc.)
.
Thomson, and Winstone were good, but all were coping with a script that was a little lumpy and awkward in places. I hope Carlyle will direct more - certainly it was a promising first movie. Three (fairly generous) stars.

Mike T makes some good points. "The bit on the lake" is the funniest moment I`ve seen in cinemas this year and, unlike most comedic scenes, might have benefitted from running a little longer.