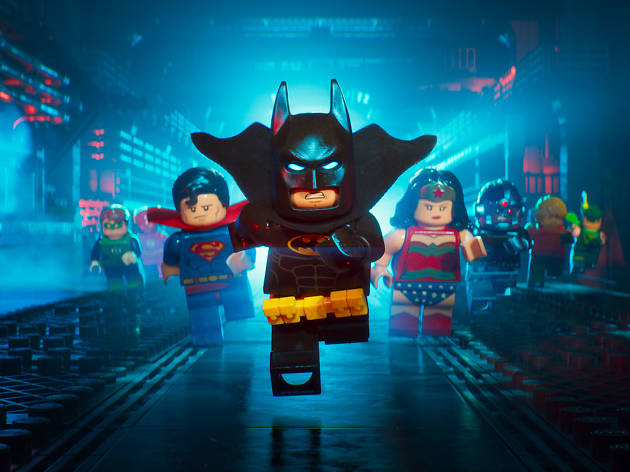 Time Out says
A little plastic bat fights the forces of evil in this mad, hilarious comic-book pastiche
The breakout star of 2014's 'The Lego Movie' now gets his own action-packed, completely batshit superhero spinoff. The first Lego film was a real surprise: what could have been a lazy cash-in turned out to be sweet, funny and fiendishly original in the way it acknowledged and celebrated its own artificiality. And one of the film's highlights was its take on Batman: a self-involved millionaire playboy who dresses in black body armour to fight crime and chase chicks. The inept egomaniac is a time-honoured comedy archetype – think Jack Sparrow, Daffy Duck or Donald Trump – but thanks to razor-sharp writing and Will Arnett's snarling, impossible-to-hate vocal performance, this Batman felt fresh and fun.
Happily, the same goes for his solo debut, a ferociously paced, wildly silly pastiche of those comic-book blockbusters we're all getting a bit sick of. The plot may draw on another creaky comic cliché – Batman inadvertently adopts adorable orphan Robin (Michael Cera) and has no idea what to do with him – but 'The Lego Batman Movie' is so jam-packed with ideas, asides and barmy cameos (Lego Bane! Lego Marlon Brando! Lego gremlins!) that there's barely time to notice. Some of it might go over kids' heads – there's a running gag about 'Jerry Maguire' that will bemuse anyone under 35 – but they will lap up the frenetic action and slapstick.
Like its predecessor, 'The Lego Batman Movie' also manages to find an emotional centre among all this mayhem. Batman may be outwardly invincible, but deep down he's a lonely, abrasive soul, refusing to admit to The Joker (Zach Galifianakis) that their adversarial relationship is special ('I like to fight around'). His quest to discover the meaning of friendship and family proves borderline cheesy but ultimately rather affecting, and makes 'The Lego Batman Movie' feel like more than just another hectic pop-culture pastiche.
Details
Release details
Rated:
PG
Release date:
Friday February 10 2017
Duration:
90 mins
Cast and crew
Director:
Chris McKay
Screenwriter:
Seth Grahame-Smith, Chris McKenna, Erik Sommers, Jared Stern, John Whittington
Average User Rating
4.4 / 5
Rating Breakdown
5 star:

4

4 star:

6

3 star:

0

2 star:

0

1 star:

0
I loved this movie - it was so funny right from the very start - e.g. analysis of the black screen. The characters are lovable and hilarious. Never noticed that Robin was so short sighted. The villains are so funny too particularly Joker and Bane. The references to the Adam West series were well observed. And it was fun seeing the different gangs of heros and baddies work against and double cross each other. Plus with the usual gags linked to Lego just made the film. This movie has such a great cast.
hilarious sequel to the classic lego movie. Once again the perfect combination of kiddy laughs and adult humour. Slightly less engaging plot than last time, but has some true laugh out loud moments. Worth a watch.
In 'The Lego Batman Movie' everything really is awesome! See what I did there...?
I have loved the Lego movies to date; I haven't looked into the agreements Lego have but seemingly, if they have the rights to make a Lego figure, then they can do whatever they want when it comes to that character across their offering which equates to some amazing crossovers and genre mash-ups on the big screen.
The Lego Batman Movie brings a hilarious spin to the oh so broody and self-involved loner that is Batman; heavily scarred from his parents death, Batman has grown into a complete recluse. Whilst Gotham assumes his world-saving antics precede a party animal life style, Batman is in fact a lonely, arrogant and bratty adult that is still 100% dependent on his butler Alfred.
With appearances from franchise favorites like Robin and BatWoman, as well as crossovers with the worlds of Harry Potter, Jaws, King Kong and even Gremlins, to name but a few, The Lego Batman Movie is a hilarious story of admiration, contest and dependability between Batman and his biggest adversary, The Joker.
The film is stitch-inducing funny and a definite must watch for all age groups!
Had the absolute pleasure of seeing this movie yesterday afternoon and what an absolute pleasure it was!!!!!
Who said you can't have an utterly hilarious movie with no violence,sexually graphic scenes and bad wigs? This movie was brilliant!!!! I couldn't stop laughing ... Don't let the Lego graphics put you off! Its a wonderful movie full of laughter and endearing humour! 5 stars all the way!
Hilarious - I love this take on the batman character and there are so many clever references to the franchise throughout the ages. I'm only holding back a star because some of the action scenes in his different batmobiles were a bit too much Lego for me to handle. I'm only here for the jokes!
To make a true pastiche you need to love your source material. This adoration of the mythology of Batman shines during every single moment and within every brick of the film. The gags come hard and fast - repeated watching is a must! There's jokes for everyone - slapstick for the kids, in-jokes for the parents and knowing nods for the most die-hard of fans. Each character is wonderfully characterised, a feast of cameos and pace-y storytelling could make this the best animated movie of the year.
The Lego movies are just like Lego, not just for kids! I laughed out loud all the way through despite being in my late twenties. Batman is by far the best character, with everything he says invoking laughter. If you liked the first Lego movie, I'd say this is somehow better, not sure how they did it but 'everything is awesome' about it!
Yay, another lego based movie! As a huge fan of the Lego Movie, I was truly giddy to go watch this.
I was not disappointed, the writers are just brilliant with small digs at batman vs superman and suicide square, this is truly a movie for all ages.
I was constantly laughing and trying to figure out all the voices (there are so many cameos). It really is an enjoyable movie all around.