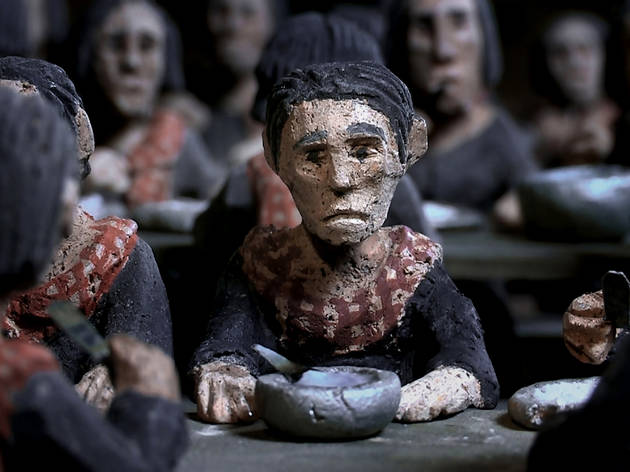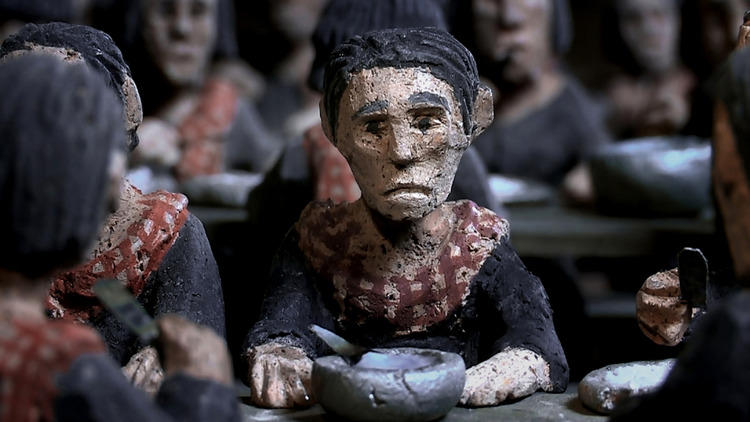 Rithy Panh was 13 when the Khmer Rouge turned Cambodia into a murderous experiment in pitilessly pure ideology. He watched as his family starved to death in the rural work camps where dictator Pol Pot sent the middle-class for re-education. In the wake of such unimaginable suffering, many would be consumed with bitterness or blank out the past. Yet Panh, knowing that the only visual record of that era is the Khmer's propaganda films, decided to construct his own celluloid act of remembrance. He recreates the nightmare using a cast of hand-painted clay models. The effect is talismanic: overlaid by a thoughtful voiceover, it invites the audience to share the pain in a cathartic act of imaginative reclamation. This is sharply contrasted against chilling 'official' Khmer footage. What emerges isn't just another arthouse film, but a powerful testament to incredible human resilience, movingly suffused by faith in the power of art to vanquish fathomless wickedness.
Release details
| | |
| --- | --- |
| Rated: | 12A |
| Release date: | Friday January 3 2014 |
| Duration: | 96 mins |
Cast and crew
| | |
| --- | --- |
| Director: | Rithy Panh |
| Screenwriter: | Rithy Panh |
Average User Rating
3.8 / 5
Rating Breakdown
5 star:

0

4 star:

1

3 star:

0

2 star:

0

1 star:

0
Using a combination of clay figures and mostly black and white archive footage to convey the horrors of Cambodia's Khmer Rouge is not an obvious pitch for a film. But Cambodia's submission for Academy consideration is a moving, personal and fascinating study of memory, loss and perhaps even the nature of the cinema screen. The Missing Picture is Rithy Panh's documentary charting his childhood under Cambodia's own 'Great Leap Forward' instigated by the Khmer Rouge. It is an instructive distillation of the aims and achievements of revolutionary socialism in what was for a time the Democratic Republic of Kampuchea, and an attempt to identify Panh's place in the aftermath of a regime that took his family from him. But more than that, in searching for the missing picture, Panh asks what was the truth of his experience and that of his country, what remains hidden, and what should or shouldn't be shown on the cinema screen. Through his use of clay figures, Panh is able to show events that were not recorded in official newsreels, or things that he considers too harrowing or gratuitous to be displayed through celluloid. The animated sequences do nothing to detract from the impact of witnessing the events of the late 1970s. In fact the sallow, hollow eyed faces of the clay figurines capture the haunting emptiness and pointless suffering visited upon a population driven back to an agrarian, un-educated, almost feudal society by an ideologically deluded party. The figures become emaciated and starved as the film progresses. Panh gradually loses each member of his family. The film acts as a form of therapy for him as he grasps for an understanding of what happened. Perhaps he never reaches it. I doubt that is the point or the expectation. It is enough to explore his memory, and expose the missing pieces that both his mind and the Party newsreels have hidden. Despite the subject matter, Panh succeeds in bringing his own charm and warmth to the movie, through his French-speaking voiceover and the occasional focus on his filmmaking process. The story is harrowing, but Panh's style means the viewer never feels detached or oppressed. The film ends with a powerful sequence featuring a clay figure being endlessly buried in the earth. Through it Panh continues to both seek the missing pictures of his and Cambodia's history, and to highlight how his obvious love for cinema has helped him to face his experiences.