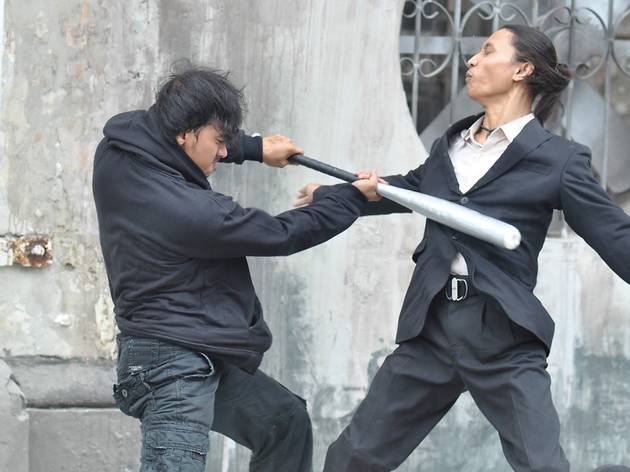 Delirium awaits action fans with British director-writer-editor Gareth Evans's intoxicating sequel to 2011's 'The Raid' – another Indonesian gangster film that alternates sequences of groundbreaking (and bonebreaking) combat with scenes of the most boring conference meetings imaginable. Almost laughably, there's a plot here, mainly unrelated to the first film, involving a cop gone undercover (Iko Uwais), a gangster's showboating son (Arifin Putra) and a limping criminal overlord with a fetish for black leather gloves (Alex Abbad). Evans can't pull off a simple conversation to save his bacon, and his unnecessarily complex 'The Departed'–style set-up reveals a desperation to be taken seriously.
He should rest easy: no other filmmaker on the planet can touch Evans for long-take beatdowns and wildly inventive flourishes that call to mind Jackie Chan's heyday with 1992's 'Supercop' and little since. That's accomplishment enough. You'll hear your crowd's first wave of stunned applause after a muddy prison-yard showdown that results in a sizeable diminishment of the inmate population. (When a police chief complains about 'bodies piling up all over the city,' he's not exaggerating.) As the film plays on, the artful brutality – never less than intense – varies only in terms of its setting: a warehouse, a four-door BMW's interior, a subway car, an industrial kitchen, etc. Staminas are superhuman and the aesthetic is close to a live-action videogame, programmed with a refreshing eye for topographical clarity.
Occasionally, Evans tries to mix up his tone; he's still working on that. An ill-advised use of Handel's stately 'Sarabande' will either bring to mind Stanley Kubrick's 'Barry Lyndon' or trigger unintentional laughs at the unearned sombreness. There's exactly one joke in the entire two-and-a-half-hour epic, when a henchman whose weapon of choice is a baseball bat hits a few balls with fatal precision. Expecting strong female characters is a fool's errand, and the only nod in that direction is a hammer-wielding angel of death (and, less prominently, some karaoke girls). Regardless, only viewers with zero appreciation for the genre will leave unimpressed; devotees should add approximately six stars to the rating above.
Release details
| | |
| --- | --- |
| Rated: | 18 |
| Release date: | Friday April 11 2014 |
| Duration: | 150 mins |
Cast and crew
Director:
Gareth Evans
Screenwriter:
Gareth Evans
Cast:
Iko Uwais
Alex Abbad
Arifin Putra

Average User Rating
4.5 / 5
Rating Breakdown
5 star:

1

4 star:

1

3 star:

0

2 star:

0

1 star:

0
Superbly filmed, thumpingly soundtracked, uber-violent gangster actioner. Its scope is far greater than its predecessor and it`s all the better for that.
Have you seen that video of the mints in a coke bottle? That basically sums up The Raid. The Raid 2, on the other hand? That's not just one Mentos explosion but a whole load of them, the bottle getting bigger each time, resulting in the kind of explosion that leaves you soaking wet and breathless. Claw hammers, baseballs, cars, walls and toilets - there's nothing that not used as a weapon in this film. Yet, as gloriously upsetting as it is to see a man ripped open with a hammer, nothing overshadows the immense skill of stars Iko Uwais and Yayan Ruhian in hand to hand combat. Yeah, the film may you leave you breathless. But you'll love it. I bet my kneecaps on it.