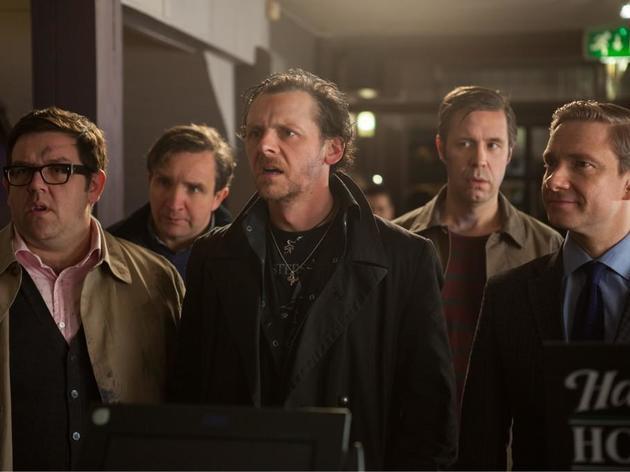 Director Edgar Wright and his co-writer Simon Pegg get the band back together for one last bite of the Cornetto. If the setting is familiar – small-town southern England, all cheery bobbies and Tudor frontages – the themes are even more so: this is another tale of emotionally stunted boy-men struggling to find their way in an unfriendly universe. But this is a tighter, smarter film than either 'Shaun of the Dead' or 'Hot Fuzz', and buried beneath all the blue-goo aliens and terrible punning is a heartfelt meditation on the perils and pleasures of nostalgia.
Pegg plays Gary King, a legend in his own packed lunchtime turned lonely social outcast, who reunites his four best mates to re-enact a fondly remembered sixth-form pub crawl. But said companions – Andy (Nick Frost), Oliver (Martin Freeman), Steve (Paddy Considine) and Peter (Eddie Marsan) – have all grown up, and have proper jobs, families and flash cars. And that's not all that's changed – the town itself is not quite as they remembered it. All the pubs have turned corporate, and why are those hooded teens acting so suspiciously?
Pegg and his co-star Nick Frost have become rather too cosily defined in the six years since 'Hot Fuzz' – Pegg as the cheery Brit-geek, Frost as the lovable lug. Both deal with that overfamiliarity head on here, in very different ways. As Gary, Pegg boldly plays up all the most aggravating aspects of his persona; it's hard to remember a movie hero as unashamedly obnoxious as this. Frost's Andy, though, is something more complex, a kind man trapped by circumstance. It's a likeable, unexpected performance.
Like its predecessors, 'The World's End' is patchy – some of the goofier gags fall flat, and too many of the characters remain undefined, notably token love interest Sam (Rosamund Pike). Meanwhile, Pegg flirts dangerously with bearability: yes, we recognise and understand Gary's flaws, but it can still be hard to resist the temptation to punch the screen.
But the film is carried through on sheer, giddy energy. Wright has upped his directorial game in the wake of 'Scott Pilgrim vs The World', and after the halfway point the pace doesn't flag for a moment. It all comes together beautifully in a last-ditch triple-whammy of shock revelations – the first surprisingly dark and moving, the next deeply silly and slightly questionable, the third simply barmy and brilliant. The film may dwell on the past – on youthful indiscretion, proper friendships, old-fashioned pubs, British teatime sci-fi and reckless boozing – but it does so in the sober knowledge that, for Wright and Pegg as much as for their characters, that world has indeed ended.
Release details
Rated:
15
Release date:
Friday July 19 2013
Duration:
109 mins
Cast and crew
Director:
Edgar Wright
Screenwriter:
Edgar Wright, Simon Pegg
Cast:
Simon Pegg
Nick Frost
Martin Freeman
Rosamund Pike
Eddie Marsan
Paddy Considine

Average User Rating
2.4 / 5
Rating Breakdown
5 star:

2

4 star:

2

3 star:

3

2 star:

2

1 star:

7
This movie didn't steal from Robert Rankin's "The Brentford Triangle" so much as mugged it, leaving the truly funny stuff the thieves didn't recognize behind.
For a film set around a pub crawl, it certainly plays out like one - in the sense that it gets better and funnier as the night goes on. There are genuine laughs in there, but a lot of the jokes are the sort of humour that would only be funny if you were there with them getting bladdered as a bunch of mates. What you laugh about with your mates is a lot different to what you laugh at on screen or watching a stand up comedian. It's worth a watch but not really a patch on Shaun of the Dead or Hot Fuzz.
I actually went to see this film not realising it involved alien robots. I thought it was all about how the country had changed politically, socially and morally over the last 20 years. As a result I found it to be childish in the extreme. Am I the only person in the country to find Simon Pegg deeply unfunny. Yes, then you must all be alien robots then.
Very disappointed in this film. Was expecting far more. The plot just fades and dies once they uncover the aliens, which is quite early on, its just not well thought out , it doesn't hold your attention or interest. One or two funny bits, but honestly not worth your money or time.
I really enjoyed the first half or so of this film up to the point when the gang met the aliens (in pub 4/5/ or 6), then it lost me and my interest. There's actually a good story in there about Pegg's character and his refusal to grow up which could have been developed with humans but the film goes badly of the rails into farce. Some funny lines between the five guys but overall a blue gooey mess.
Saw this at Haymarket in an almost packed theatre on a boiling July evening in London. The movie was 95% funny, fast-moving with a proper plot. But it completely disappoints right at the end... doesn't tie up loose ends... seems unlike the previous movies by Simon Pegg & Nick Frost in which there are proper endings. At the end, I just wanted to leave... the last 10 min of the movie didn't do the rest of it any justice.
Disappointing "comedy". A real waste of talents like Freeman, Considine and Marsan.
As a fan of Space, Shaun of the Dead and Hot Fuss I'd hoped from the positive reviews pretty much everywhere that this would be a return to form after the less than mediocre Paul. Sadly it isn't. It's dreadful. How it can be described as "smarter" than the aforementioned movies really is about as far beyond me as it's possible to go. It does try to make a statement but fails at every turn. The main problem is Pegg's character who's the most unlikable, irritating and annoying to watch creation in recent memory. I am genuinely sad to say that this is a massive disappointment from a crew adept in making amusing pastiches and celebratory fanboy fare. Avoid at all costs.
Another nail in the coffin of British humour. Avoid.
I'm afraid I can't agree with the official reviewer here. Speaking as someone in his mid 30s and surely a part of the target demographic, I found this film to be a complete waste of time and money. Yes, it manages a few (very occasional) laughs, but overall the feeling on exiting the cinema is one of massive disappointment. The protagonists' key decision at a key moment (on which the whole film turns) is beyond implausible. The climactic confrontation scene is ridiculous without being remotely funny. It's just not possible to suspend your disbelief while watching it. All that, of course, could be forgiven if the film were truly funny, but it simply isn't. A waste of time and money. Avoid.
Its difficult not to agree with the review. The film isn't big and it isn't clever but in places it is very funny. If you are of a certain age and I like the protagonists in the film are then this will really hit home with you. As much as we would like to admit it we aren't as young as we once were and yes teenage kids today may have things like flash mobile phones and computer games and everything that we didn't when we were their age but we made so much more out of so much less. In my mind better than the other two preceding films. Great fun and a great soundtrack. This may do for Britain in the late 80's and early nineties what American Graffitti did for the 60's in small town USA. Well worth a view. Solid 4 stars from me.
it's a 5 star romp in the park, jolly good fun
it's a 5 star romp in the park, jolly good fun