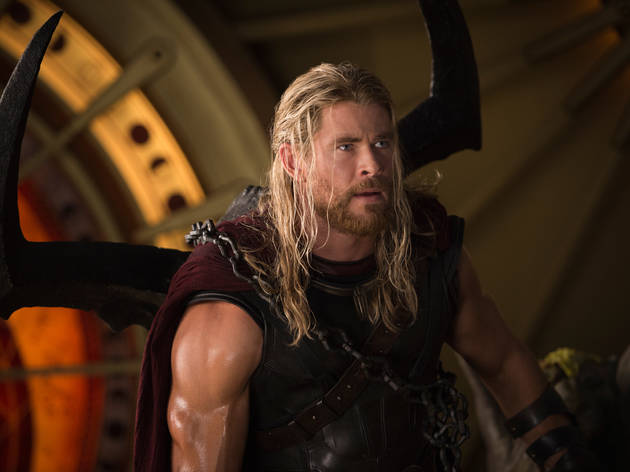 Norse beefcake Thor is back for an intergalactic team-up with Hulk in a riotous, screwball threequel.
If you've been waiting for a superhero movie with the line, 'Guys, we're coming up on The Devil's Anus', we have very good news: Marvel's 'Thor: Ragnarok' is that movie. Irreverent, helter-skelter, more colourful than an Oompa Loompa's cheese dream and just a little off its Ragnarocker (in the best way), it has all the hallmarks of a franchise confident enough to throw the ball to the most singular filmmakers and let them run with it.

Take a bow, then, director Taika Waititi. The New Zealander's offbeat comic sensibility has somehow parlayed straight from indie gems like 'What We Do in the Shadows' and 'Hunt for the Wilderpeople' and on to a canvas a hundred times bigger. There are jokes galore, a headily '80s vibe, one A-list cameo for the ages and a scene-stealing rock monster called Korg (mo-capped by Waititi himself, presumably on his day off). To crank up the giddiness levels even further, Jeff Goldblum pitches up as the hedonist Grandmaster, a kind of intergalactic Peter Stringfellow who presides over a gladiatorial arena on the glitz-sheened junk planet of Sakaar.
The story picks up two years after the events of 'Age of Ultron' with a lost and hammerless Thor (Chris Hemsworth, showing off his comedy chops) washing up on Sakaar, where the now perma-furious Hulk (Mark Ruffalo) is a gladiatorial hero. But it's the Grandmaster's unwitting match-up of the Avengers' two waifs and strays that really stirs the plot. The pair are pitched first into screen-juddering combat, and then some tentative male bonding. There's a lovely recurring gag about whether Thor prefers Hulk or his brainy alter ego Bruce Banner as this unusually bruising bromance takes shape. Somewhere amid the buddy-movie mayhem, and male insecurity, there's also an Asgardian apocalypse – the titular 'Ragnarok' – to avert and Thor's evil big sis Hela (Cate Blanchett, all hammy hauteur) to thwart. Tom Hiddleston's fan favourite Loki is also back to add slippery charisma.
If 'Ragnarok' is the funniest Marvel movie to date – pipping 'Guardians of the Galaxy' and 'Iron Man 3' – it's not without frustrations. The standard third act CG-fest feels leaden after the zip of what's come before, it's overlong and there's arguably one too many super-powered MacGuffins (we'd have lost the Flame of Thingymajiggy). But they're minor grumbles: in a world of portentous blockbusters getting ever darker, it's a joy to see one throwing on the disco lights.

Release details
Rated:
12A
Release date:
Tuesday October 24 2017
Duration:
130 mins
Cast and crew
Director:
Taika Waititi
Screenwriter:
Craig Kyle, Christopher Yost, Eric Pearson
Cast:
Chris Hemsworth
Tom Hiddleston
Mark Ruffalo
Jeff Goldblum
Cate Blanchett

Average User Rating
3.9 / 5
Rating Breakdown
5 star:

3

4 star:

11

3 star:

3

2 star:

1

1 star:

0
Once again the juggernaut that is the Marvel Cinema Universe hits the screen and this time it's tongue is wedge firmly in it's cheek. This feels like a mixture of 'Guardians' with the original 'Thor' shaken not stirred… and it's a riot that should leave you laughing in your seats. Spilt into two stories, there is the Asgard sequences with Cate Blanchett (Hela) attempting to rule over her new subjects mainly by killing them. Then the sequences on Planet Sakaar, where Thor, Loki and the Hulk find themselves. A planet that their expected to entertain the masses and the Grandmaster (Jeff Goldblum), camping it up for all he's worth. It really looks like the actors in this segment are having a right laugh. This is a film that has had all in comedy turned up to 11. A slight shame that the Asgard parts of the movie feel limp in comparison. Fortunately this parts are kept to a minimum. Feeling like it was lifted from a comic page, bright swatches of colour everywhere and visuals that you can appreciate. There are cameo's from Dr. Strange plus Stan Lee and you can expect the usual end of movie clip. Marvel does it again bringing a enjoyable, fun, silly and entertaining comicbook journey to the screen… looks like DC has everything to do just to get even close. Ball is in your court DC.