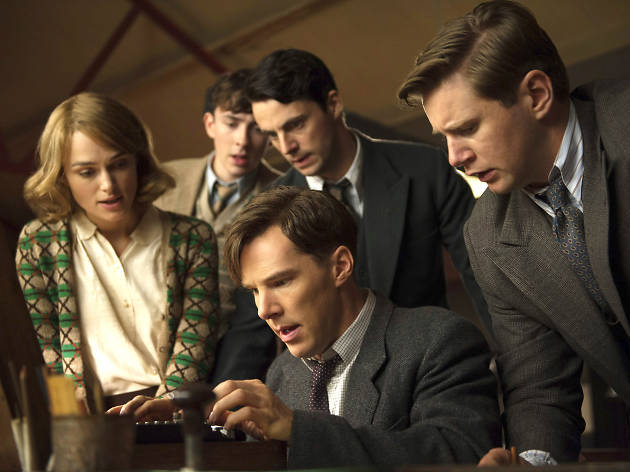 Three biopics to look out for at the London Film Festival
The LFF is jam-packed with films based on true stories – a writer and two actors talk about translating real lives on to the big screen

Graham Moore is the writer of 'The Imitation Game', starring Benedict Cumberbatch as the genius mathematician Alan Turing, who broke the Nazi's Enigma code during WWII. Instead of being hailed as a war hero, Turing was prosecuted in 1952 for being gay and committed suicide two years later.

'The biopic genre has become staid. We didn't want "The Imitation Game" to feel like another stodgy biopic. Writing about Alan Turing had been a dream for me since when I was a teenager. I was a very awkward, nerdy teenager. I went to computer-programming camp and among computer science folks Alan Turing is a legend. Everyone is obsessed with how he secretly invented the modern computer and was persecuted because he was gay. It was a whispered legend.

'Later on I moved to Hollywood, worked on a sitcom ['10 Things I Hate About You'] and I would tell my agent about this story I desperately wanted to write – the true story of a gay, English mathematician in the 1940s who kills himself. They were always like: "That is the worst idea for a movie we've ever heard."

'Then I met our producers at a party in LA. One of them told me she'd just optioned her first book – a biography of Alan Turing! I begged them to let me write it. I focused the movie on three periods: Turing's arrest in the 1950s; his wartime work; and his school years. We wanted it to be like a puzzle – because Turing liked puzzles, he liked games. The goal was to bring this unique historical character to life, to really get inside his head.'

'The Imitation Game' screens at the London Film Festival on Wed Oct 8 d Fri Oct 10, and opens in UK cinemas on Nov 14.

Swedish actress Alicia Vikander ('A Royal Affair') nails an English accent to play the feminist writer Vera Brittain in 'Testament of Youth'. The film is based on Brittain's heartbreaking 1933 memoir of working as a nurse and losing her fiancé and brother during World War I.

'Being a foreigner and not a Brit, I was terrified by the accent. I spent so many hours preparing. It was bloody hard work. On set, I only spoke with an English accent. And I live in London now, too. Vera Brittain is one of the great feminists of the early twentieth century. I love the force she had. She grew up in this middle-class family and getting an education was not expected. She didn't have a tutor, and spent years in her room preparing for the Oxford entrance exam.

'She writes about the political in a personal way and I really felt the journey she went on. She has an eye for detail, writing about her trauma and experiences. As a young woman reading about a young woman almost the same age as me, only a hundred years back, it was moving. Then there is this amazing love story with her fiancé. They actually only met for 17 days, and only by themselves once, for a just few seconds on a train. In her diary she writes about the feeling of touching his hand so beautifully.'

'Testament of Youth' screens at the London Film Festival on Tue Oct 14, Thu Oct 16 and Fri Oct 17, and opens in UK cinemas on Jan 16, 2015.

Willem Dafoe stars in 'Pasolini', Abel Ferrara's new film about the final 48 hours of the controversial Italian filmmaker Pier Paolo Pasolini, who died in mysterious circumstances near Rome in 1975. A rent boy was convicted of his murder, but some believe he was the victim of a conspiracy.

'Pasolini's life and work have always inspired Abel Ferrara and myself, and Abel has wanted to make a film about him for years. We got talking and decided to do it as a loose portrait capturing the last two days of his life. He was so prolific and had such a well documented life to guide us.

'We did a lot of prep work. I wanted to look like Pasolini. He had a very distinctive look. There are plenty of videos, and I had a lot of help from some of his dear friends, who gave me his clothes, and I wore his jewellery. All those things helped. They were like relics – they helped flirt with ghosts and connect us to what we were doing. We were also shooting on all the actual locations.

'The first thing that we said was that it wasn't going to be a biopic. Focusing it on his last days is a good way to try to inhabit a person and not use all the conventions of a regular biopic – flashbacks and so forth. We wanted to get a sense of his state of mind and what he wanted to talk about, which is probably the most interesting thing about Pasolini. He was incredibly prophetic and an original thinker.'

'Pasolini' screens at the London Film Festival on Fri Oct 10, Sat Oct 11 and Mon Oct 13, and is expected to open in UK cinemas in 2015.
Support Time Out
We see you're using an ad-blocker. Ad revenue is Time Out's main source of income. The content you're reading is made by independent, expert local journalists.
Support Time Out directly today and help us champion the people and places which make the city tick. Cheers!
Donate now