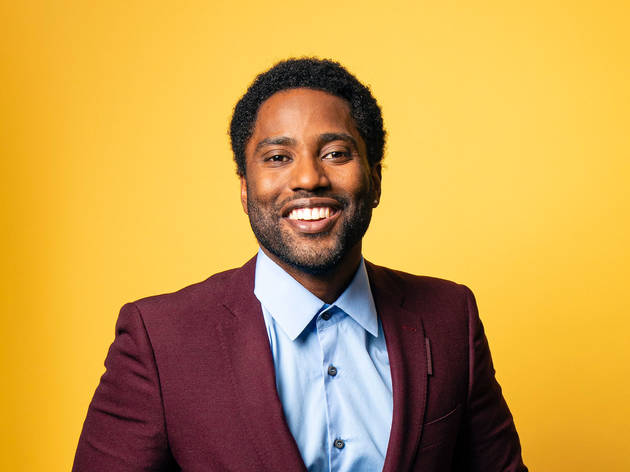 Time Out meets John David Washington
The 'Tenet' star on the (very) long-awaited blockbuster and his love of Nando's
After four release-date changes, 'eagerly anticipated' doesn't come close to describing Christopher Nolan's Tenet. Not that zen-sounding ex-NFL player, BlacKkKlansman star and son of Denzel, John David Washington, is feeling the pressure of headlining the movie that might just save cinema. Having spent lockdown like the rest of us ('Routine. Movies. Great documentaries about Michael Jordan. PS4'), he's about to step into the limelight in a big way. 'Going from Spike Lee to Christopher Nolan?' he says. 'That's the dream.'

Your co-star, Robert Pattinson, talks about how he was locked in a room when he first read the Tenet script. What was your experience?
'They provided water, so it wasn't like a panic room. I remember reading the title, then [Christopher Nolan's] name and thinking: Oh my God, this is not real life right now. I took my iPad out, put on some classical music and started reading.'
It must have been a bit like being in a Christopher Nolan movie.
'I think it would be a cliché to say that, but I really felt that. It was the optics of it... going from the meeting to getting the job. I come from the NFL and you can be cut at any time. I thought that at some point they were going to be like, "Yeah, this was a test."'
'After four-and-a-half hours reading the script, I was like: I got it!'
Did you understand it? People are still arguing about Inception.
'I think in my excitement, I had a false sense of thinking I knew it. After four-and-a-half hours, I was like: I got it! [Laughs] Then when I talked to [Nolan] he asked me to explain it to him and I couldn't get the engine revved up – it was complicated in a great way. But I felt that I understood the characters, the people in it.'

I heard your director on The Old Man and the Gun, David Lowery, took you go-karting when you were prepping for that film. What was your bonding moment with Christopher Nolan?
'For me, it started in that first meeting: his love of cinema. We talked about our love for Star Wars and he knew of a documentary that I grew up loving: Hoop Dreams. We're both big family people and we talked a lot about that, too.'

Does it still feel significant as an African-American actor in 2020 to be the lead in a blockbuster?
'I'm standing on the shoulders of so many African-American performers. It's definitely more accepted now to cast African-Americans in a genre where they've usually been overlooked. [But] I didn't think about that while approaching this movie. It wasn't in the script anywhere – "Black guy in his thirties" – and Chris and I never discussed it. But I'm proud to be picked for it, I can tell you that.'
You've been on film sets since you cameoed in Malcolm X as a kid. Do they feel more diverse now?
'It depends on the set. I would like to see more faces of colour, male or female, in those boardrooms where people green-light films.'
You spent a day working with Michael Caine. What was that like?
'It was a thrill. Between "action" and "cut" all that was going through my head was: "Sir Michael Caine is talking to me!" I'd almost compare it to the day we did the double dolly shot for Spike Lee, because that's his signature [shot]. When you're sitting across from Michael Caine in a Chris Nolan movie, this is the signature right here. I was like a little kid. When we got all his close-ups and we turned round on me, Chris went: "Alright, you're up. No pressure."' [Laughs]
'I'm standing on the shoulders of so many African-American performers'
Did you pick up any cockney slang?
'I don't know if I should say. Put it like this: I was very surprised [by] his lexicon. He's a character, man. I can say I was in a Harry Belafonte movie; I can say I was in a Robert Redford movie; and now I can say I was in a Sir Michael Caine movie.'
Tenet

You filmed some scenes in London. How was that?
'I explored a little bit. I have to admit, I'm obsessed with Nando's – and because they grill the chicken, I wasn't breaking my diet. It's all about that Nandonian sauce, man.'
You were nominated for a Golden Globe for BlacKkKlansman. Did you have any wild adventures on the night?
'A great memory was having my mum and dad there to support me for the first time at an awards show. That was kinda surreal. Also, doing the step and repeat [on the red carpet] and seeing Julia Roberts coming towards me. She wasn't even walking, she was just sort of floating. She saw me and said: "Oh my God, hi! Right, you're coming with me" and took me right to the end of the carpet. Then she turned around and killed the red carpet. I ducked my head and walked to the back of the line because I was too embarrassed to cut all those people.'
'I'm obsessed with Nando's. It's all about that Nandonian sauce, man'
Was that your first time sharing a night like that with your parents?
'I'd been to the Golden Globes with my dad but this was the first time I was being recognised. I had Spike Lee to my right, my mum to my left and my dad to her left. I'll never forget that moment.'

Fast-forward to when Tenet premieres, which one of your parents will give you the most direct feedback on the film?
'They both will, they'll just convey it differently. My mum's love language is different from my father's, but it'll be all love.'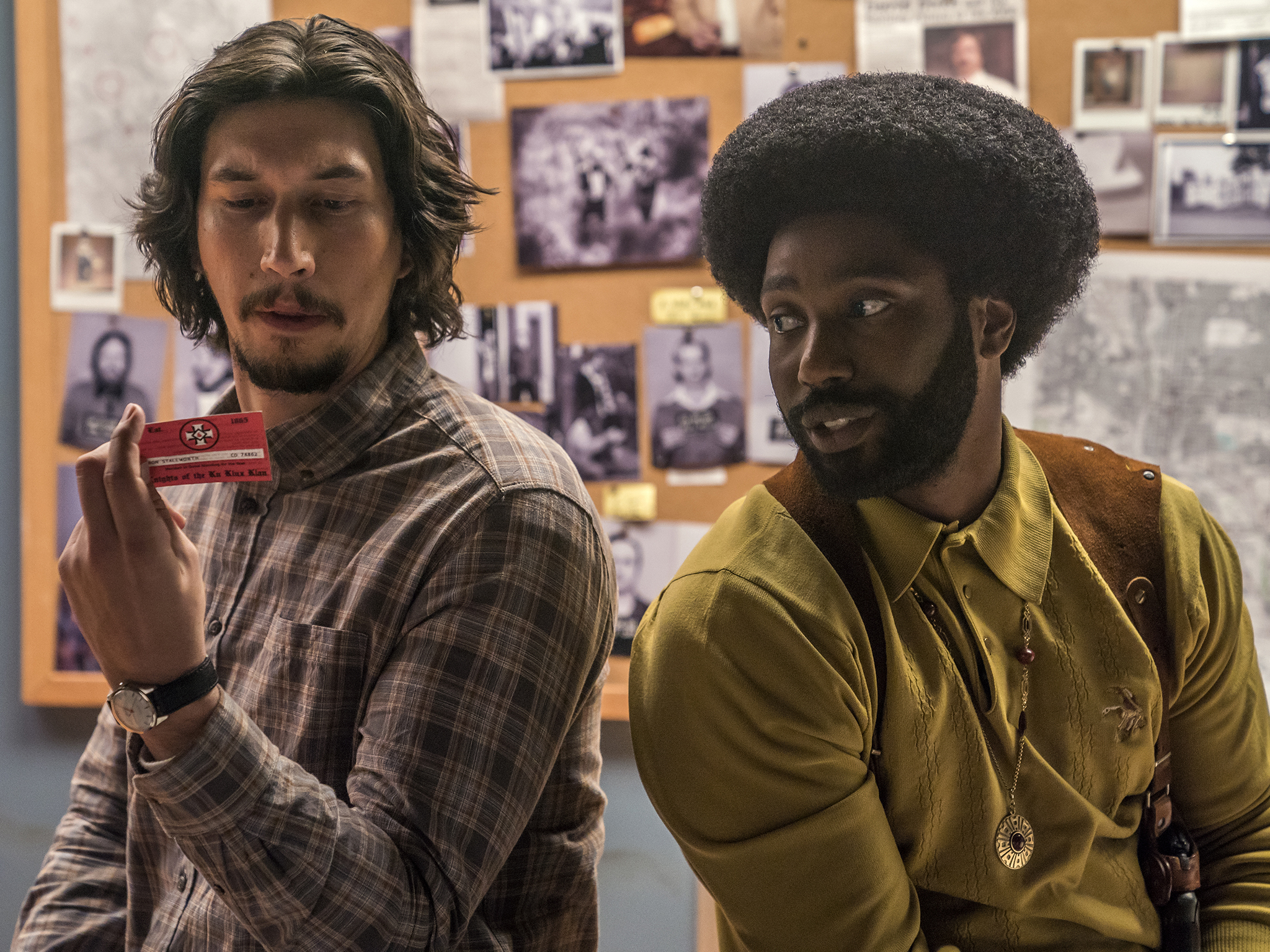 With Adam Driver in BlacKkKlansman

Is it true that, as a kid, you used to cosplay as Denzel's Glory character, Civil War soldier Silas Trip?
'I did. I can still remember some of my dad's speech in the movie. Back when I was eight, I knew every word. I got a blue suit for Christmas and a little rifle and a hat.'
Can you remember any of his dialogue from Training Day?
'I get PTSD repeating [the "King Kong ain't got shit on me!" scene], because in my rookie year in the NFL they made me recite that scene every week. I've retired that monologue.'

Tenet is out internationally, including the UK, on Aug 26, some US cities on Sep 3 and in China on Sep 4.
Support Time Out
We see you're using an ad-blocker. Ad revenue is Time Out's main source of income. The content you're reading is made by independent, expert local journalists.
Support Time Out directly today and help us champion the people and places which make the city tick. Cheers!
Donate now