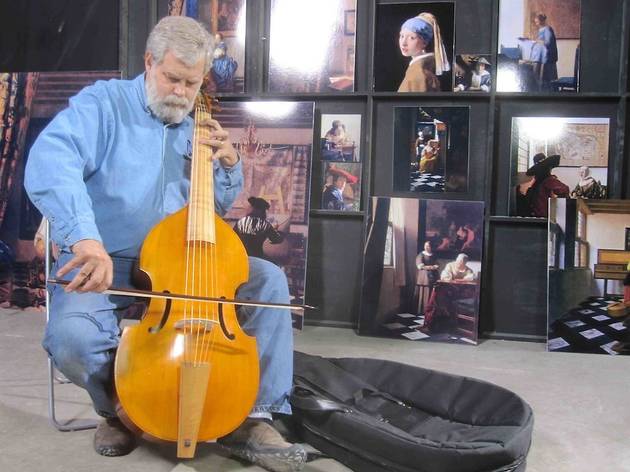 Artists and historians have long puzzled over the uncanny paintings of Johannes Vermeer, wondering at their photographic quality. Convinced that there was a technological secret to the seventeenth-century Dutch painter's technique, Texan non-artist and video entrepreneur Tim Jenison embarked on a six-year odyssey to paint his own Vermeer from scratch. Leading scholars of trickery Penn & Teller were on hand to record the process (the latter is credited as this doc's director), which included consultations with David Hockney in London; learning how to mix era-appropriate paint in Amsterdam; and re-creating Vermeer's studio in a garage in San Antonio. Penn & Teller's unapologetic art doc is mostly engaging and accessible. So it's surprising that its final act becomes a steadfast document of tedium, dwelling on the 130 days in which Jenison stares into a series of mirrors and applies paint to canvas. Tim's finished work may resemble the real thing, but 'Tim's Vermeer' never tackles the real question of why the painter remains so elusive and incomparable.
Release details
| | |
| --- | --- |
| Rated: | 12A |
| Release date: | Friday January 17 2014 |
| Duration: | 80 mins |
Average User Rating
3.8 / 5
Rating Breakdown
5 star:

0

4 star:

1

3 star:

0

2 star:

0

1 star:

0
Not much more to be said beyond Eric and Hannah's reviews of how you get to paint a Vermeer in your shed. One for tv or dvd really rather than a big screen, but it was a delight to have a small and better class of audience without popcorn or smartphone intently following Tim's story. Some people build amazing things out of matchsticks, Tim did it with a paintbrush and a mirror, this is his story if that makes for a good night out. More art history would have been welcome given painting isn't a spectator sport. Hockney looking very frail by the end too.
Tim Jenison and Jordan Belfort are both men who have experienced great success and even greater fortune. However, whilst Martin's Scorsese's depiction of Jordan Belfort's excessive greed for both wealth and corporeal pleasures has left many viewers cold, Teller provides the perfect antidote in Tim: a man in search of the truth and the light. Whilst Scorsese uses all his directorial prowess to draw you into the oversaturated world of Jordan Belfort, Teller only needs a light touch to bring out the warmth and charm of Tim. It's a good thing to: as a documentary searching for the truth behind Vermeer's technique it is poorly paced and unashamedly biased. Luckily the protagonist is perhaps even more brilliant than Vermeer himself. Tim's quest to uncover Vermeer's secrets fuses employs all his technological and creative talents. This dichotomy becomes an overarching theme throughout the the film, challenging the belief that Master artists cannot also be Master craftsmen or technologists. As a documentary exploring the painting techniques of Vermeer the film fails to engage, however as an exploration of the what art is and of Tim's search for the most noble of truths, the film is a resounding success.