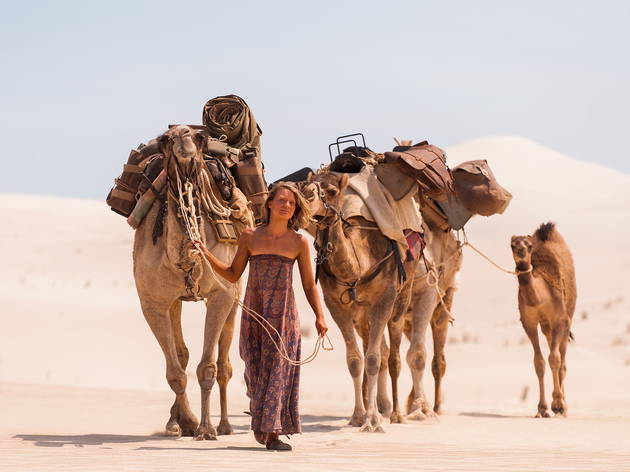 No offence to Mia Wasikowska and Adam Driver, the human stars, but there is some brilliant, unforgettable camel-acting in 'Tracks'. The film is the story of Aussie Robyn Davidson (Wasikowska), who, like a lot of people in their mid-twenties, felt lost and unfulfilled. But instead of taking up yoga or doing a masters, she trekked 1,700 miles alone across the Australian desert with four camels and a dog. This was in 1977, and before her two-year prep for the journey, she'd never so much as changed a light bulb or a tyre.
Usually, when a young screen blonde heads into the Aussie outback there's a psycho with a meat cleaver and mummy issues not far behind. Not this time. 'Tracks' might be a bit slow for some, but it's one of those films that quietly creeps up on you. As Robyn, Mia Wasikowska gives an unflashy, moving performance. As the months pass, her skin burned and peeling, she begins to look like the blistered Australian landscape. Adam Driver (Adam in 'Girls') gives another on-the-autism-spectrum-sweet performance as the photographer who shot Robyn for National Geographic. As for the camels, they have an emotional range that runs from A to Z – from sweet and loyal to stubborn and foaming with anger when ill-treated.
Release details
Rated:
12A
Release date:
Thursday April 24 2014
Duration:
113 mins
Cast and crew
Director:
John Curran
Screenwriter:
Marion Nelson
Cast:
Mia Wasikowska
Adam Driver

Average User Rating
3.3 / 5
Rating Breakdown
5 star:

0

4 star:

2

3 star:

0

2 star:

1

1 star:

0
The spectacular, inhospitable Australian outback is the real star of this epic adventure which re-enacts Robyn Davidson's 1500 mile solo trek from Ayers Rock to the Indian Ocean. With only her camels and faithful dog for company, cash-strapped Robyn begrudgingly agrees to have the journey documented and so becomes a global phenomenon thanks to National Geographic. A story of extraordinary determination and endlessly changing desert landscapes, like Lawrence of Arabia this is the sort of film that simply has to be seen on a big screen.
Mia Wasikowska's performance is effortlessly naturalistic and her resemblance to the real Robyn Davidson is uncanny. The character is a problematic and not entirely sympathetic one though, which is perfectly highlighted when she sleeps with a male colleague (Adam Driver) who, up until then, she'd constantly rejected and berated. Moreover, Robyn's motivation and the true meaning behind the journey is as much a mystery to her as it is to us. Besides disconnected flashbacks that tease a painful and lonely past, Robyn's history is left uncharted territory, much to the chagrin of the audience.
In similar (wo)man vs nature movies like Into the Wild and 127 Hours, the lead experiences an emotional, physical or even spiritual change, usually heightened by an emotive crescendo. However, Tracks' script is completely flat, devoid of catharsis or a scene of significance. Almost like a tourism advertisement, the sumptuous sun-kissed cinematography does a fine job of showcasing the beauty of Western Australia but its very real dangers are underplayed. Any scenes of real peril are few and far between. In fact, based on this evidence, the Aussie desert seems like a walk in the park if you pack enough lentils!
Agree got to see on the big screen..but no offense to the journalist who wrote this review Mia is extraordinary in this and confirms her status as the best young actress in the world