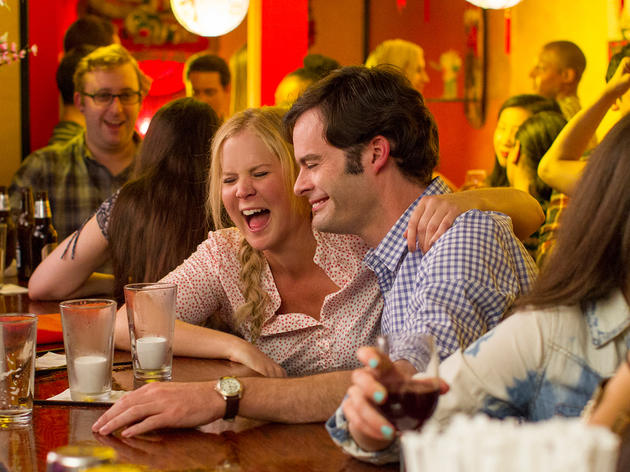 American comedian Amy Schumer makes her leading-lady debut with this hilarious, insightful bad-taste comedy from 'Knocked Up' director Judd Apatow
Amy Schumer is a comedy superwoman. Her stand-up is funny-as-hell; she's a viral sensation with her 'Inside Amy Schumer' sketches and lately she's become every feminist's new girl crush. Now add to that list: she's the best thing to happen to Hollywood since the Tina Fey/Amy Poehler double act at the Golden Globes. Schumer's new autobiographical comedy 'Trainwreck', about a commitment-phobic New York writer, is the funniest film of the summer, so outrageous and hilarious that it'll make your bladder go weak.
The posters say 'from the guy who brought you "Bridesmaids"', meaning comedy super-producer Judd Apatow, who produces and directs Schumer's script. 'Trainwreck' is more of a straightforward romcom than 'Bridesmaids', except that here Schumer plays the traditional 'man' role. She's hard-partying, promiscuous Amy, a writer for a Maxim-like men's magazine that publishes articles like 'How to talk your girlfriend into a three-way'. In a genius piece of casting, Tilda Swinton is Amy's no-nonsense boss (unrecognisable behind inch-thick fake-tan and a Kate Middleton blow-dry). Amy has mastered the art of sleeping around (four different actors are credited as 'One-Night Stand Guy') and her number-one rule is never to sleep over on a date. The sex is all hilariously awkward. But when she's assigned to interview a sports surgeon (Bill Hader, adorable), she cracks and gets serious.
'Trainwreck' isn't perfect. Its happy-ever-after ending feels like a cop-out. But you can forgive this film a lot. You forget how limited so many movies' ideas of women are until Amy Schumer launches into an extended tampon joke: nothing is off-limits as she kapows through expectations of female characters.
'Trainwreck' is a film about everyday sexism and double-standards. At a party, her sister's husband makes Amy's promiscuity the butt of a joke. Would he do that to a guy? Schumer is calling this stuff out. But you only realise this when you stop laughing. Talk about having a moment: you could wrap Schumer in silver foil and put her on a Christmas tree and she wouldn't be a bigger star.
Release details
Release date:
Friday August 14 2015
Duration:
122 mins
Cast and crew
Director:
Judd Apatow
Screenwriter:
Amy Schumer
Cast:
Amy Schumer
Bill Hader
Brie Larson
Tilda Swinton

Average User Rating
3.4 / 5
Rating Breakdown
5 star:

0

4 star:

7

3 star:

4

2 star:

0

1 star:

1
Friday night was movie night and my friend and I decided we needed a laugh and we got one! Yes it's predictable and perhaps a little too 'aahhh' like but ultimately it delivered on the LOL front. And to top it all off, Tilda Swinton was superb! I would love to see her in another similar role to the one she played in this film.