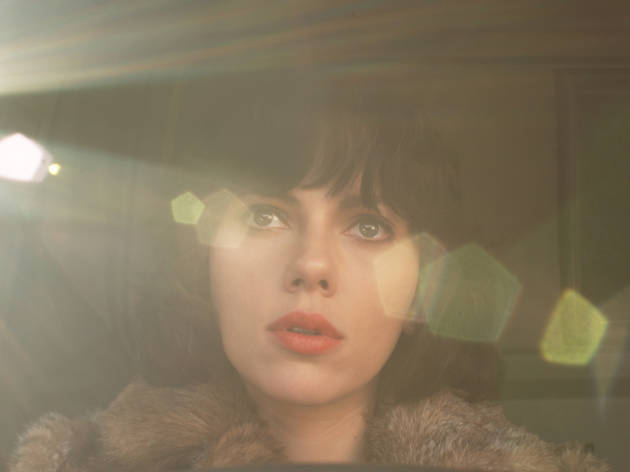 Time Out says
ET landed in the cosy American suburbs and wanted to go home. Now Scarlett Johansson – or something that looks like her – lands in modern Glasgow and thinks about sticking around in Jonathan Glazer's creepy, mysterious and bold 'Under the Skin'. One can only guess that the weather is beyond dire on her side of the galaxy. The film is an adaptation of Michel Faber's 2000 novel and the first in nearly a decade from the director of 'Sexy Beast' and 'Birth'. It's an intoxicating marvel, strange and sublime: it combines sci-fi ideas, gloriously unusual special effects and a sharp atmosphere of horror with the everyday mundanity of a woman driving about rainy Scotland in a battered transit van.

Dressed in fake fur and what looks like a dark wig, our female visitor eyes up the locals from a distance, her eyes kindly but free of emotion. Is she curious? Hungry? Horny? It feels like a serial-killer tale as she lures men into her van from the side of the street or from the dancefloor of a nightclub, always checking they're alone. But occasionally we enter another world entirely as Glazer represents the final moments of her victims in scenes that show naked men walking into oil slicks and losing their lives. But then something changes as she reacts with compassion to a disfigured man and responds well to the kindness of another. There's a suggestion that this Achilles heel is her undoing. All of this is delivered at a leisurely – some will say frustrating – pace. The look of the film moves between the chilly, gliding precison that Glazer perfected in 'Birth' to a more rough-hewn, surveillance-style effect.

Johansson's performance is necessarily quiet, her look subtly out of this world. She utters her few lines in a refined English accent, while presumably most of the rest of the cast are non-professionals. Mico Levi's score ups the dread level: it sounds at times like a new electronic language being born or a subtle form of communication between aliens. It's a serious, often bleak film – a scene of a family faced with drowning is the film's most horrific moment – but a wry humour stops it taking itself too seriously. It's a story of a predator becoming prey, and it asks us to look at our world again with something like the fresh eyes of the martian poetry of Craig Raine, although that element of the film isn't too laboured. Perhaps more interestingly, it offers some provocative sideways views on seduction, sexual power and its abuse. Daring and thoughtful.
Details
Release details
Rated:
15
Release date:
Friday March 14 2014
Duration:
108 mins
Cast and crew
Director:
Jonathan Glazer
Screenwriter:
Jonathan Glazer
Cast:
Scarlett Johansson
Paul Brannigan
Robert Chartoff

Average User Rating
2.8 / 5
Rating Breakdown
5 star:

4

4 star:

2

3 star:

3

2 star:

0

1 star:

7
Have you ever wondered what Scarlett Johansson would like in a student movie? Do you enjoy spending hours watching close ups of her face? Do you think storylines, dialogues and general coherence are overrrated? Wait no more!
I went to see this fiilm as a fan of both Johnathan Glazer's previous 'Sexy Beast' and Scarlett Johansson.
Other than that the little I knew about it bode well i.e. a predatory alien in Scotland.
Well even 'Species' was unintentionally funny.
This film was just awful.
My guess is that Johnathan Glazer has had some kind of breakdown in the interim between 'Sexy Beast' and this personal hell..
It wasn't just the huge holes in the plot.
It wasn't just the lingering camera shots of Scarlett, shot through a depressive fug.
It wasn't just the discordant music.
This movie made me feel unclean. I still have a bad taste in my mouth, which I can't wash out.
I came out of the cinema needing some clean air and a hot shower.
It felt like a bad comedown from a particularly bad acid trip.
Like David Lynch on downers and i am a fan of David Lynch.
For Scarlett an exercise in speaking in an English accent and looking mysterious o.k.
For the Scottish tourist board, some haunting bleak and beautiful scenery but this movie would put people off visiting Scotland.
In two words...
Pretentious shite!
Having thought Scarlett Johansson's performance in "Vicky Cristina Barcelona" excellent, I felt "Under the Skin" would be a fairly safe bet. Four walk-outs in the first 30 minutes of the this film seemed to be sharing my view that this dull, darkly lit, illogical film, with massive plot holes and whose main character's motivation was never explained/understood was a waste of time. It is desperately bad. Thankfully I saw it on my Unlimited card, so it didn't hurt my wallet. Two men in the row behind me were chatting as they got up to leave. "Well, she won't be getting an Oscar for that", said one of them. No, she won't.
Hmmm,what to make of this is difficult.l am a fan of the art house genre and do not expect everything to make sense.However here in this film too much content is essentially senseless and unconnected.We have some startling imagery and good use of colour.Johanson can't quite pull it off with this role.with her black hair and typically British untoned body,she does look very British.The second half is somewhat better than the first and l loved the surrealism of the very end.If you are a rational,collected person,you will loathe this film.If you are a dreamy non realistic and can just let yourself go,you will love this.l uncertain
I can see why the film has polarised critics and audiences alike, however I found the whole experience to be completely mesmerising. It was pure art. Mica Levi's soundtrack complemented the movie extremely well, Scarlett Johansson gave an unforgettable performance as the Alien, the cinematography was beautiful, the plot was completely unique and the ending managed to be heartbreaking.
Possibly my favourite film of all time, and it's not just I who loved it. Twenty critics/publications chose Under The Skin as the best film of 2014.
Scarlett Johansson is not just a pretty face in John Glazer's opaque and surreal sci-fi flick. There are obvious influences to the work of Stanley Kubrick and Nic Roeg's "The Man Who Fell To Earth." I approached this movie with great reluctance upon first hearing about it: "An alien wanders through the streets of Glasgow in a van, hoping to lure unsuspecting men, so that she can farm their bodies in some kind of deep dark void, hidden within an old abandoned house." The trailer never really was successful in selling it either.

Anyway, I took the plunge and was impressed by the visual palette the director was opting for: A very subtle, almost veritae look. There is an eerie creepiness to the intentions of Johannson's alien. One can understand some of the issues surrounding the narrative of the film: It later starts to feel slightly repetitous and loses direction. But it's the predatory instincts of the character that makes it more alluring to the viewer. One by one she randomly selects her prey - some she treats mercilessly, whilst others she studies with intrigue. It is an ambitious film which requires a lot of patience from the viewer, and shows another side to Johansson: An actress trying her hand at experimenting without the conformities of Hollywood.
As mentioned before, the film impresses visually (Like Ken Loach doing 'The Body Snatchers') and is bolstered by an effective score by newcomer Mica Levi that quite literally gets under your skin.

If I watched this on DVD at home I'd be taking little breaks and boiling the kettle every few minutes in the hope of coming back into the room to find that it had finally got under way. Big mistake. Huge. That would be like skipping the first half of Crime and Punishment to get to the murder, or track-skipping a symphony recording for the Classic FM greatest hit part. Although I agree the picture/print and sound quality at Cineworld (or on the original?) were disappointing in parts, I'm very glad I stuck with it. It's a film that works in that similar hard-to-explain way that dreams work...you know what I mean: you dream youre talking to the postman at your door, but in the dream the postman is really your mother... walking with you in a field...thats also your school room. Its not a fast and tight film plot-wise, but it weaves such a memorably intense and mounting sensation, that Im still thinking about it weeks later... And all I normally ask of films is to be powerful the day after. 5 stars. Yay!
TOO bizarre & weird. Half the audience left when I saw it just after release, & remaining few others ALL stated how confused they were in a dissatisfying way at end....
Five star review from Time Out? I'm there, £12 paid. But oh dear, either reviewer Dave Calhoun is just a little bit in love with Scarlett or likes to spend Saturdays down Tate Modern watching a video installation of a posh girl walking down a back alley somewhere in the North on a loop. I could never leave a film early, but this was close. I was the first to the exit at the end though.
Unusual, memorable, slow-moving science fiction drama. Johansson is fantastically sexy and the soundtrack is unnerving. Three and a half stars.
There were lots of beautiful shots and stunning images in this film but that couldn't save it from being a sad waste of a great opportunity. Having read and loved the book I at least had some idea of what the story was but the friend I saw it with, who hadn't read it, was utterly lost. It was painfully slow, one of those films where you are relieved to see the end credits. The last five minutes were, frustratingly, the only point when the film took off. Read the book instead.
Stunning and unforgettable, it might require a little patience at times but it is such a rewarding film. Can't wait to see again!
Awful film I would not bother watching it.