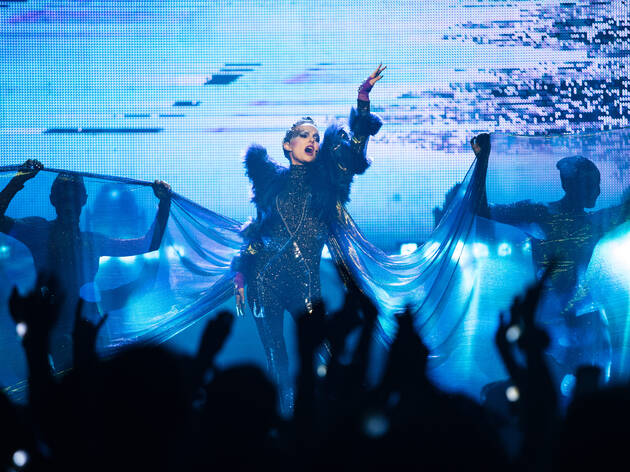 Time Out says
The flip side to 'A Star Is Born', Brady Corbet's indie rise of a pop icon – played by a fearless Natalie Portman – is an uneven but fascinating spectacle.
If you'll pardon a pop-writing cliché, there are plenty of killer singles in the intriguing, nervously millennial 'Vox Lux' but not enough material for a full-length album. Charting the major contours of the comet-like career of Celeste, a fictional mono-monikered pop star, it casts two central actors: Raffey Cassidy as the delicate teenage Celeste and Natalie Portman as her roughed-up and cynical older version. They shade the potentially embarrassing role with toughness and guile, but their efforts don't add up to anything more than a gossipy curiosity.
Even though the first half of 'Vox Lux' makes us wait for Portman to appear, it's the more compelling element, with English actor Cassidy's fragile high-schooler surviving a Columbine-like shooting (brutally filmed) and becoming a national symbol of resilience in the process.
But Portman explodes into the film: she's a paintball of New York attitude (the accent is dialled right up), much harsher than Madonna or Katy Perry. Celeste is a mother now, awkwardly, but writer-director Brady Corbet ('The Childhood of a Leader') doesn't know what to do with that dynamic. The movie has a clued-in exclusivity as it heads off on the odd music-biz tangent, but when the singer is bum-rushed by the news of an act of terrorism inspired by one of her videos, it quickly retreats to a fun but vapid arena concert and promptly ends. The poseur at its heart is too complex for Corbet to handle, but you do admire him for dreaming her up.
Details
Release details
Rated:
15
Release date:
Friday May 3 2019
Duration:
115 mins
Cast and crew
Director:
Brady Corbet
Screenwriter:
Brady Corbet
Cast:
Natalie Portman
Jude Law
Jennifer Ehle
Raffey Cassidy

Rating Breakdown
5 star:

0

4 star:

0

3 star:

0

2 star:

1

1 star:

0
As much as I wish the parts of the movie didn't mark significant changes in the quality of story and acting, where I was seriously impressed with the first third, after that I found myself thinking about a few chores for tomorrow, having a stretch, and yawning a bit. And without a doubt, when the highly visual/stylised 'Celeste' came on screen, it was for the sake of the storyline.
.

For me, the star of the film is Raffey Cassidy. She's a seriously good actress, and in places carries Portman's lightweight acting. Perhaps it's because Natalie Portman seems to gravitate towards shrill 'on-the-edge' characters (Black Swan, Jackie) I didn't engage with her Celeste: I don't think her rock-chick portrayal worked - it was predictable and clichéd, when it could have been much more - given the quality of the first third of the film.

.
Like I say, great for the first third, but drains away after that, and I found myself looking at my watch wondering when it'd finish.