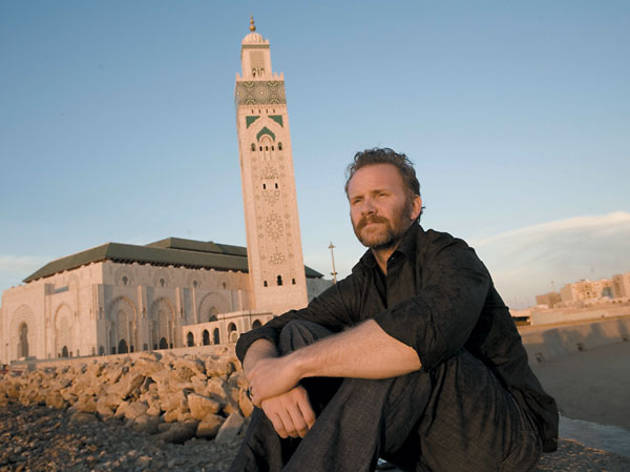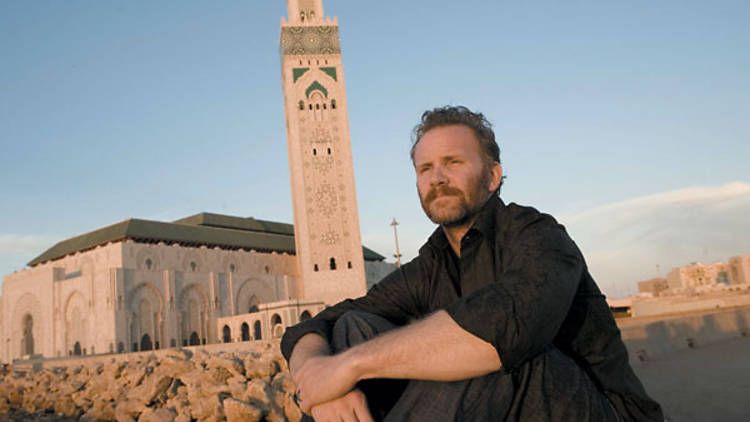 Like a frat boy lumbering into the BBC to host the Today programme, Morgan 'Supersize Me' Spurlock 'does' the Middle East in this garishly packaged, low-level doc that, as the title hints, is hooked on Spurlock's quest to find Bin Laden. It's giving away nothing to say that he fails in his mission; it's a cheap trick, employed by Spurlock to propel himself from Egypt to Afghanistan, via Morocco, Israel and Saudi Arabia, to take the temperature of the region.

He leaves behind him in Manhattan a pregnant, worried wife, which offers a convenient, if sickly, human angle to his journey. He travels about, interviewing people on the ground and trying to understand anything and everything about the region with very little focus beyond his spurious search for a man who at one point he caricatures in an animated insert as a bearded version of MC Hammer.

Spurlock's investigation is flawed from the beginning. A visit to an American self-defence specialist illicits histrionics which lump the entire Middle East into a category marked 'terrorist'. It's the first in a series of condescensions and crass interventions that include Spurlock riding a camel in Egypt, trying to force interviews with veiled women in Saudi and provoking Orthodox Jews to violence in Jerusalem.

What Spurlock demonstrates here – and full credit to Michael Moore – is how hard it is to combine popular style with proper intent. How can you view seriously anyone who 'embeds' himself with US troops in Afghanistan only to fire a rocket into a hillside for laughs? 'That was awesome,' grins Spurlock inanely.
Release details
| | |
| --- | --- |
| Rated: | 12A |
| Release date: | Friday May 9 2008 |
| Duration: | 90 mins |
Cast and crew
| | |
| --- | --- |
| Director: | Morgan Spurlock |
| Screenwriter: | Morgan Spurlock |
Rating Breakdown
5 star:

1

4 star:

0

3 star:

0

2 star:

0

1 star:

0
the brilliant travails of spurlock through the islamic world and israel are more than a series of reality interviews and montages of landscape and vicarious itinerant people,they are an absolute heartfelt ,passionate account of a sincere man ,who leaves a pregnant wife to revive the hunt for ben laden, he has dark humor ,cheeky demeanour and absolute courage ,he dines with shantytown moroccans and is physically assaulted by extremist jews in the west bank,but nothing deters him , his analysis is more an observation of the truth then a subjective opinion ,whether its the sobs like shah and mobarak or his final quip about western wrestling being popular in pakistan , he is indeed a truly dedicated maker and deserves respect and applause , i was tremendously entertained and also shocked by how close he came to tell the truth which we do not discuss but know within,his insight into the muslim and arab world is indeed something the american public needs to share and reckon if there is ever going to be any hope of a peaceful and harmonious globe ,kudos a must see- usman khawaja
I saw the film at Odeon Covent Garden on the opening nigtht where Spurlock appeared and talked for 30mins with Q&A after the film. Every audience laughged at every ten minitues during the film, and I found the film very successful for the intent of the director. Average people in the Middle-East are not interested in Bin Ladin. They are innocent and nice and peaseful people. This aspect is never reported in propaganda American mass media. Spulock too knows well that the person is ilusonary. But it is conspiracy theory to say that 911 is a self-trick caused by American government. This is the best approach a concious American filmmaker achieved for 911. This is masterpiece followed up to "Michel Moore's Fareiht 911"