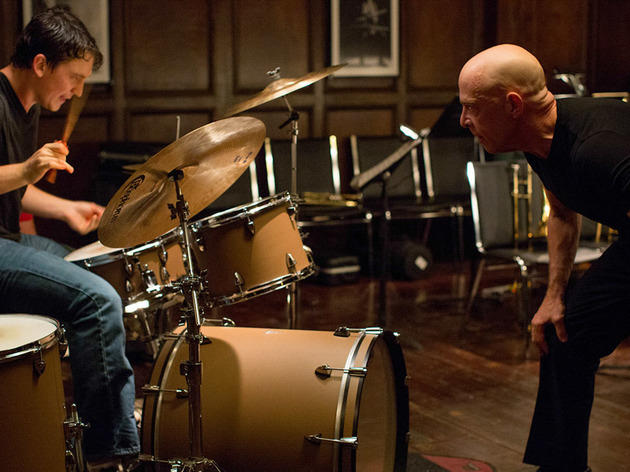 You already know the ferocious jazz teacher played by JK Simmons in the electrifying New York-set drama 'Whiplash' if you've seen things like 'Full Metal Jacket', 'Battle Royale' and even the grizzly bear in 'Grizzly Man'. Clad fully in black, biceps bulging, Simmons's Fletcher exudes attitude: he rules the top department of an elite New York music school with a clenched first.
Part of the joy of watching dramas like this must be a masochistic thrill in seeing young hopefuls suffer: drumming student Andrew (Miles Teller from 'The Spectacular Now', fully convincing) is nearly destroyed by this monster, a barking man who's impossible to please. Yet even though our hero's knuckles bleed and his snare gets spattered, you think: that's some truly glorious noise he's making. The discipline and beauty of bebop has never been better served by a film.
'Whiplash' might have followed this trajectory to a feel-good destination, one involving a recital, some proud parents and a teary hug. But that's not where the young American writer-director Damien Chazelle wants to go – and bless him for it. Fletcher's put-downs become more vicious (and riotously un-PC), the drive to perfection turns Andrew into a bitter, uncaring boyfriend, and the plot's tone nears that of a thriller, sometimes awkwardly.
Credibility becomes shaky: will a violent car crash prevent Andrew from staggering to the gig in a concussed delirium? Don't ask. Disappointing Fletcher is too terrifying a prospect. But there's also unusual, spiky attention paid to the pursuit of excellence, as Andrew begins to resent the mediocre achievements of his family. By the end, he's an arrogant, cymbal-smashing machine.
How breathtaking it is to see a story go there. The identity this teen chases after is a lonely one, but it's impeccably on the beat. Real art, the movie suggests, isn't for those who merely hope to do a 'good job' and please themselves. 'Whiplash' explores the outer reaches of crazy passion. It never apologises. And the flurry of drumming it ends with – Teller's solo is staggering – is both a magical cacophony and, obliquely, a door slamming shut. I don't know if I'd show this film to a curious young person, not unless you'd ever want to see them again. They'd be in their room, practicing, forever.
Release details
Release date:
Friday January 16 2015
Duration:
105 mins
Cast and crew
Director:
Damien Chazelle
Screenwriter:
Damien Chazelle
Cast:
Miles Teller
J.K. Simmons
Paul Reiser

Average User Rating
3.6 / 5
Rating Breakdown
5 star:

6

4 star:

2

3 star:

4

2 star:

1

1 star:

2
I was quite disturbed to see that the reviewer's rated this film so highly. It explores the topic of how to inspire students to greatness. I felt like I was watching a time warp from the 1950s when some male coaches and teachers could physically and verbally abuse students with homophobic and sexist rage, shame, and almost unimaginable humiliation. Further imagine a teacher who uses your deepest and darkest secrets such as the abandonment from your own mother to repeatedly scream at you "That she left you and your father because you are worthless pieces of s**t". Chazelle seriously subjects the audience to his belief that this deeply scarring rage and abuse is required to create a great musician. This movie is more of a deeply disturbing example of why many men will never begin to heal from the layers of shame, depression, and rage. I 'd hate to see this movie nominated for anything and suggest it's creator pick up a book about what really motivates people and recent research into shame, humiliation and the real material of greatness.
It's a captivating film but with the wrong message. This crazy run for excellent is a society killer because everyone who is not 'good enough' will suffer and be humiliated. You can find this same message in Hell's Kitchen- 'You have to suffer really bad to be successful' which is nonsense. This teaching method is old fashioned and based on fear like training bears in the circus. You can get great results by teaching with compassion. When someone really loves what they do, they will excel because they want to and not because they are afraid from a lunatic shouting at them! It's not surprising that many musicians had an issue with this film because they know that music is not just about being precise. Being playful and enjoying playing the music is equally important and barely discussed in this film. You get people saying that they can't draw, play music and cook just because they are scared from failure. The responsibility for this is that crazy drive for excellence. We will get a much more productive society if we'll teach people that it's ok to fail. More people will start trying and we will get many more capable people rather then just few superstars.
I absolutely loved this film, from beginning to end I was hooked on the performances of the main characters, especially Simmons who was by turns hilarious and terrifying. When you consider that the film is really just the two main characters in a small room, one playing drums and the other being a complete psycho, yet it somehow manages to compel you to sit through it and enjoy every second, you begin to understand how special this film really is. I haven't seen anything like it before, and I doubt I will do for a long time yet (until I re-watch Whiplash perhaps). The film left me with a warm fuzzy feeling in my stomach, it's top quality cinema and the director should be applauded for trying something new that on paper, sounds terrible.

Taking the tropes of the sports movie – ambitious rookie, authoritarian coach, a grand finale to bring things to a head – and applying them to the world of jazz scholarships, Whiplash manages to bring an elitist world to vivid life. The results draw you in completely, to the point where you'll be chewing your fingers as our hero attempts a particularly ambitious paradiddle.
A deserved Oscar for JK Simmons. My arse cheeks were clenched for every second he was on screen. Amazing performance in an amazing film. Definitely the best of this year's Oscar bunch.
Rather than about the music or the drumming, this is an interesting movie about the dynamics of a disturbed character, the likes of whom you can find in colleges and other institutions with or without the mark of excellence. There is this normal but ambitious guy who matures his skills into great proficiency while at the same time learning how to stand his own ground. Could he have acquired the same skills without the endless abuses of his tutor? Probably, he could have become an even better musician. Thinking that you need that kind of treatment to learn any art at its best, is totally laughable. Persecutors like the one in this film can only inspire people to leave the building asap.
I learned how to play the drums by myself, after a few introductory lessons from a friend, a gentle, dedicated guy who taught me the very basics. I was in love with the music of some drummers and becoming as good as them was all my inspiration. I didn't need any constriction to spend hours on the stool drumming away. Drumming connects very directly with the joy of being alive and playing in a band is one of the greatest, most elating ways of connecting with other people. And thinking that the rehearsal of a numerous, talented band can be turned into a terrorizing bootcamp and kept on a deadlock for hours on impalpable variations of speed that somebody who is not the drummer himself tries to impose from above, as it happens on this movie as a kind of display of "professionalism", is simply absurd. To all the aspiring drummers, if anyone puts you in that position, no matter what a great musician or tutor the person might be, tell him to sod off. Tell him, that he understood nothing about bands and the real power of music. The really damn good music.
For anyone who's ever loved music at school or college this is a captivating film. The drumming is magnificent and the story original and entertaining, although the film could benefit from losing 15 - 20 minutes. But on the plus side it has inspired me to go out and buy some drums!
I have to say I really loved this.
fast paced and lots of nods to iconic fighting films. When it ended I wanted to jump up and applaud, that doesn't happen much.

Powerful, intense drama. The editing is superb. There`s blood on them skins. Three and a half stars.