William Shakespeare's Romeo + Juliet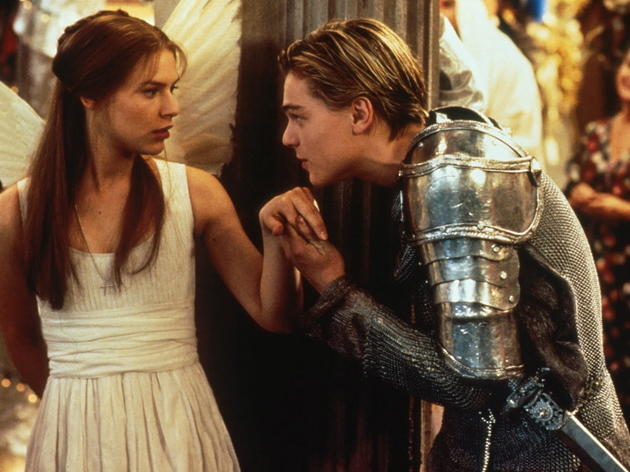 Leone-style face-off between gun-toting gangs at a gas station: outright street-warfare is evidently imminent, which presents something of a problem for young Montague when, at an absurdly extravagant costume ball thrown at the Capulets' mansion, he falls head over heels for Juliet. So starts WS's Romeo & Juliet.
Baz Luhrmann
's gleefully cinematic version of the play is so relentlessly inventive and innovative, it takes 20 minutes to get a grasp on how appropriate is his approach to the material. Bravely (but sensibly) sticking with the original dialogue, Luhrmann makes the central element of his audacious adaptation visual: as the camera races wildly around, or rests on luminous close-ups and ornate tableaux, the striking sets, costumes, characters, the colours and compositions serve perfectly to evoke the forces of wealth and poverty, love and hate, power and pride, prejudice and superstition that infest the chaotically sprawling post-punk, post-industrial, multi-ethnic world of millennial Verona (Mexico City and Vera Cruz, heavily made over). Fine as the rest of the cast is, it's DiCaprio and Danes - vulnerable, innocent, impassioned and beautiful, both of them - who steal the honours.
Release details
Cast and crew
Director:
Baz Luhrmann
Screenwriter:
Craig Pearce, Baz Luhrmann
Cast:
Leonardo DiCaprio
Claire Danes
Harold Perrineau
Pete Postlethwaite
Miriam Margolyes
Brian Dennehy
John Leguizanmo
Paul Sorvino

1 cinema showing 'William Shakespeare's Romeo + Juliet'