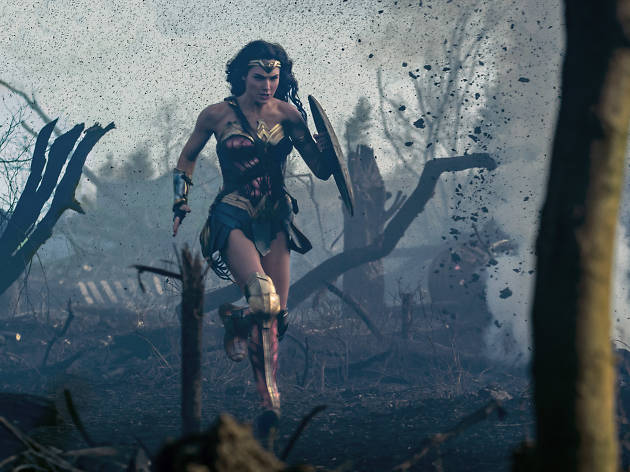 Time Out says
The comic-book world's most famous female superhero finally gets her own movie – and it's an action-packed belter
Before seeing 'Wonder Woman', I got a sinking feeling. It's been more than a decade since a woman headlining a superhero film saved the world. I had visions of middle-aged male studio execs huddled together in a conference room Googling feminism and group-thinking how to make a lady-hero. Would the result feel like a two-and-a-half-hour tampon advert? Actually, no. 'Wonder Woman' feels like the real deal, a rollicking action adventure in the tradition of 'Indiana Jones', with a fully functioning sense of humour and the year's most lip-smackingly evil baddie.
It has a wobbly opening on a women-only island where hot chicks in fabulous Ancient Greek sandals appear to have wondered in from a Dolce & Gabbana ad campaign. This is Themyscira where the Amazon tribe have lived in peace for thousands of years. Actress and former Miss Israel Gal Gadot (Gisele in the 'Fast & Furious' franchise) is their princess, Diana (Wonder Woman), who was sculpted from clay and brought to life by Zeus. The island's tranquillity is broken by the arrival of a cocky American soldier played by 'Star Trek' actor Chris Pine, who is adorable. He knows he's here as eye-candy and does smoking-hot sexy sidekick with a good sense of humour.
The plot is functional. It's World War One and Pine is an American spy who has discovered that evil German chemist Dr Maru (Elena Anaya) – aka Doctor Poison – is cooking up a dirty bomb to wipe out Allied soldiers on the Front. Wonder Woman volunteers to save humankind, strapping on her bullet-repelling bracelets and truth lasso.
Unlike Batman, Wonder Woman is not plagued by doomy angst. She's good and kind, with a strong moral compass. A complex female character? Not exactly. But Gadot (who is ex-army and knows her way round a fight sequence) never lets her become bland and simpering. Though she is very nearly outstaged by Anaya as Doctor Poison: with her mask and haunted expression that suggests a twisted, blackened soul, they should hire Anaya for the next Bond film.
So this is an origin story – set yonks before last summer's 'Batman v Superman', in which Gadot made her Wonder Woman debut. It's also a million miles from the moody dull-fest of 'Batman v Superman'. Director Patty Jenkins lets the sunshine in. The showdown punch-up at the end drags a little, but the whole thing is carried along by charm and humour. The fish-out-of-water scenes as Wonder Woman arrives on Earth are hilarious. In London, she asks Pine's loyal personal assistant what a secretary does. She's horrified by the answer: 'Where I'm from that's called slavery.' This really is Wonder Woman coming to the rescue of the DC Comics universe
Details
Release details
Rated:
12A
Release date:
Friday June 2 2017
Duration:
141 mins
Cast and crew
Director:
Patty Jenkins
Screenwriter:
Allan Heinberg
Cast:
Robin Wright
Gal Gadot
Chris Pine
David Thewlis

Average User Rating
4.1 / 5
Rating Breakdown
5 star:

11

4 star:

9

3 star:

6

2 star:

1

1 star:

0
WonderWoman by Ivette Fred-Rivera


I liked the movie, somehow.

The best: Diana. The worst: she is the only interesting character throughout the movie. A movie cannot be run by a single character. The partner Steve, boring. The other characters, fools. It is even insulting to women, in general, that a woman can be a hero only because she is running alone, instead of being the best among the best.

Curiously enough, the best lines of Diana are quotes from Achilles in the Iliad of Homer, specially from Book I. She is as brave as he is. At the front defending her army on the battlefield. That's why I think director Patty Jenkins should have chosen Brad Pitt as the actor who did Steve's character. Brat knew in Troy how to capture Aquilles's braveness and would have made a more balanced performance as a real counterpart. Besides that Gal Gadot and Brat Pitt would be killing!

The film appears in two parts in terms of the use of technology. In the first part (first hour), it's fairly basic and rudimentary, it reminds me of the Clash of the Titans (1981) with Greek gods flying in such an improbable, comic way. That's partly why the first hour is boring. It is too long too. I was about to leave. It is as if, for mythology, there was no real technology. This is strange. I also do not like that the director Jenkins does not cut a breast of the Amazons. Taking off a breast so that the armor, the bow, fit them well, showed their commitment to war, not with motherhood or with the yoke of marriage. That's why Amazons were feared as well as desired by Ancient men. I guess the idea was that it was sexier a Diana with her two breasts. Though Diana's relationship with her aunt and teacher is great; it is the best of the first hour. The second part (second hour) uses the technology excellently, showing very well Diana's battles, her prowess.
In terms of politics, the film is quite flat. The demonized Germans vs the others, angels, of the Great War. The tv series was more layered in this sense.

Diana redeems the movie. I admire her bravery. Her innocence: to really believe in justice for its own sake, and for her ethos of saving mankind despite its undeservedness. This Diana is a combination of the Greek Arete (valor) with the Franciscan and Christian compassion.