You Were Never Really Here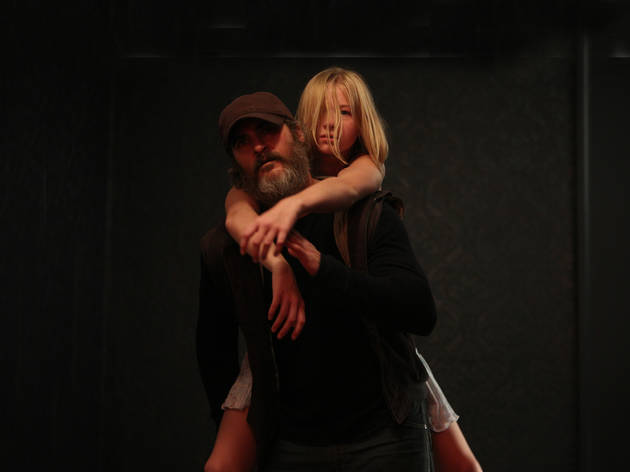 Time Out says
British filmmaker Lynne Ramsay returns with this concise, poetic and violent drama in which Joaquin Phoenix plays a troubled US war veteran
With this impressionistic and often daringly enigmatic thriller taken from a short novel by Jonathan Ames, British fimmaker Lynne Ramsay ('Ratcatcher', 'Morvern Callar') is back on top form with a vengeance – quite literally, though that emotion is not hers but part of the story. 'You Were Never Really Here' centres on burly, big-bearded, taciturn hitman Joe (Joaquin Phoenix in determinedly unglamorous mode), whom we encounter in the opening scene already carrying out a contract – though we never find out who's the victim or what it's all about.
In fact, Ramsay's film gives mere visual and aural hints as to Joe's backstory, motives and character. The briefest of flashbacks suggest he's been in the military and the police, and that as a child he suffered a brutal father. But apart from seeing him carry out his work – his preferred weapon a hammer – all we know about Joe is that he lives with and cares for his elderly mother. Still, we do witness his dealings with a contractor, who lines up a job for him: to discover the whereabouts of and return to her politician father an underage girl abducted into sex slavery.
All this may bring to mind 'Taxi Driver', but Ramsay's film is very different. Not wanting to distract us with the precise details of the storyline, or those of the world Joe inhabits, she focuses instead on his inner life. She uses Phoenix's subtly expressive face and body language, a complex soundtrack, an elastic editing style and Thomas Townend's wonderful cinematography to evoke his fragile, sometimes surprisingly tender, sometimes ruthless state of mind. The story occasionally takes its time over small moments – Joe singing along affectionately with his mother – but elsewhere it suddenly proceeds in rapid fits and starts, rushing through a series of deaths with barely a pause for breath. If one is left a little in the dark as to what's happened and why, no matter, as the execution is so assured that one simply goes with the flow of striking, suggestive images. (Jonny Greenwood's score also helps in maintaining the momentum.)
Wisely, Ramsay doesn't linger or focus on the violence, but implies it through expert editing and composition. Accordingly, what might have been an almost unbearably grim trip into a sordid underworld of corruption, cruel exploitation and brutality does, against all the odds, have a solid underpinning of compassion. 'You Were Never Really Here' comes some years after Ramsay's uneven 'We Need to Talk About Kevin' and her aborted involvement with 'Jane Got a Gun' – making it a reminder of a very distinctive directorial talent as well as a hugely audacious, imaginative and strangely compelling movie.
Details
Release details
Cast and crew
Director:
Lynne Ramsay
Screenwriter:
Lynne Ramsay
Cast:
Joaquin Phoenix
Ekaterina Samsonov
Alessandro Nivola

Average User Rating
2.9 / 5
Rating Breakdown
5 star:

1

4 star:

2

3 star:

1

2 star:

1

1 star:

2
What an ugly and crass bit of film making.Wall to wall violence.People's heads being smashed by a hammer.Women shot through the eye,man shot through the head.Blood and gore everywhere.Way too much violence.Chuck in child involved in sex.The lead actor just mumbles right the way through.The plot gets too confusing..The cliches are all there.He is a cold blooded killer that return home to his mother and becomes tender.Music and extraneous noise volume doubles to the main film volume. It is all so manipulative and one dimensional.The director does not seem to have a clue,in that it is part horror film,part violence,part romantic and part art house..What it really is can be described at violent nonsense..1 star
A stunningly inventive, lyrical portrait of Joe/Phoenix's alienated state of mind in an alienating New York City. You don't know what happens in what order due to his fevered mindset. This film has lot in common with Taxi Driver but there's also much that is Ramsay's own vision ably focussed by a great performance by Phoenix. Great interplay of music and images too as JK observes, assisted by Jonny Greenwood's fine soundtrack . If the Academy are to start to redress the criminal neglect of female directors, they could easily start by looking across the pond where we have the wonderful work of Arnold, Barnard, Morley & Ramsay. Definitely one to watch again.
The imagery of sound and vision is used to powerful effect here, and few actors do haunted and troubled better than Joaquín Phoenix - but it's perhaps just too oblique and alienating at times, although saved by a sudden and wonderful moment of unexpected redemption.
Knowing Joaquin Phoenix' discerning approach to roles, expectations were high. An intriguing film, which leaves you constantly trying to piece the puzzle together, in order to understand this odd and tortured man. The film leads you into a slight dark underworld of society, where an unlikely hero emerges. NO cookie cutter finish, no exaltations to be found. however a re-found belief in humans doing good, despite their own faults. Would watch again and again.