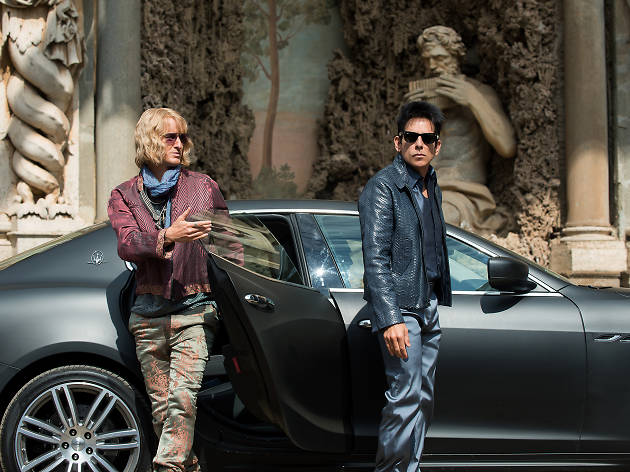 Yes, it's far from deep – but this 'Zoolander' sequel delivers what fans will be after: ample celeb cameos and an equal amount of lunatic plotting
'Zoolander' fans can breathe a flamboyant sigh of relief: 15 years on, this sequel to the fashion-world satire is as funny, silly and lovingly teasing as anyone could have hoped. Ben Stiller and Owen Wilson return as dopey male models Derek Zoolander and Hansel, who are recalled to the world of haute couture after a string of murdered celebrities mysteriously use their last breaths to take 'Blue Steel' selfies – mimicking Derek's famous catwalk pose. It's the start of an increasingly lunatic Bond-meets-Blahnik adventure that leads them back into the hands of Will Ferrell's fashion-designer-cum-evil-villain Mugatu. Penelope Cruz gets into the 'Zoolander' spirit as a detective from the fashion police and Kristen Wiig gives good Botox face (and voice) as a fashion magnate. The cameos come thick and fast (Vogue ice queen Anna Wintour has a speaking part; actress-singer Ariana Grande appears in an orgy scene) and they mostly add to the film's story rather than making it feel like a string of SNL sketches.
The details don't always make sense, but chaos is part of the 'Zoolander' experience. The humour is nearly always on trend: Netflix and Uber get a nod and Mugatu teases Tommy Hilfiger with a very 2016 burn: 'The new Hilfiger collection, brought to you by white privilege.' Attempts at zeitgeist comedy don't always pay off: while Benedict Cumberbatch's appearance as All, an androgynous model, is not as problematic as the trailer hinted (the joke is definitely on Derek and Hansel's bigotry and not All's gender), it still feels uncomfortable. Some later scenes fall flat as a series of last-minute twists dampen the high-energy of all that comes before, but mostly, 'Zoolander 2' hits the mark with style. Just don't expect anything too deep.
Release details
| | |
| --- | --- |
| Release date: | Friday February 12 2016 |
| Duration: | 102 mins |
Cast and crew
Director:
Ben Stiller
Screenwriter:
Justin Theroux, Ben Stiller, Nicholas Stoller, John Hamburg
Cast:
Ben Stiller
Will Ferrell
Christine Taylor
Benedict Cumberbatch
Owen Wilson
Penélope Cruz

Average User Rating
1.5 / 5
Rating Breakdown
5 star:

1

4 star:

0

3 star:

0

2 star:

0

1 star:

7
This film was terrible, worst film I've seen for a long time.
Terrible, terrible, terrible movie. It's not funny, the performances are terrible, there's NO story whatsoever, it was just completely pointless.... Well apart from the fact that it's going to make a killing at the box office. I hated this movie, and who wants to see Justin Bieber die if it's not in a horrendous amount of pain and suffering anyway?!

Poor. Really poor. Having said that, the first half was like bumping into an old friend - lots of Zoolanderey jokes and quips which gave us great hope. Then the film tried to develop a "narrative" which was badly contrived and hopelessly out of place.Very few laughs followed. A real shame they couldn't make this film better. The franchise died here. But thanks for the memories.
Time Out reviews are the pits
We paid £40 to see this film- Fourty Pounds- £15 x2 tickets, and a box of popcorn and can of coke-whiskey to help get me through it. This was to watch a film that, while I admit there was an attempt at humour, was not funny. There were enough funny people, Owen Wilson, Will Ferrell etc, it is simply that the movie was not funny. The best part was the Don Atari designer-hipster, Kyle Mooney, you both wanted to meet him and hurt him, great sweet and salty combination. But the movie was not funny.

How does Ben Stiller, otherwise obviously a bright guy with good situational comedy ideas, think that a film with block pacing, over-set scenes, and constant in-jokes with cameos by all his mates, adds up to a movie that is funny or relates to anybody- usually you require the latter in order to have the former- something that removed hollywood celebrity comics do not understand.
I have no idea what movie these guys were watching but zoolander 2 was the flattest movie iv ever seen, with punchlines so painfully shit it made me feel sorry for all the celebs that made a breif appearances in this. They probably thought (just as I did) "zoolander 2, it'll be funny! Its a sure thing".
Sorry ben stiller you're a funny guy but this movie should never have been made. Leaves a big brown skid mark behind the first movie which was sensational.
Think back to when you were in Year 9 at school and your class was asked to devise a play in Drama. Now imagine the outcome and translate it onto the big screen and swap teenagers for big names... This, my friends, is Zoolander 2. The best thing about it was Penelope Cruz's mesmerisingly beautiful face which was 80% of the film's content. Had they spent as much time writing funny jokes and coming up with a good story as they did on sexy Spanish close-ups then it might have been worth the FIFTEEN-year (!!!) wait between films. Kristen Wiig and Benedict Cumberbatch deserved much meatier parts and could have made this film worthy of the first instalment. Don't pay to see this at the cinema, wait until it comes on TV and then watch something else instead.