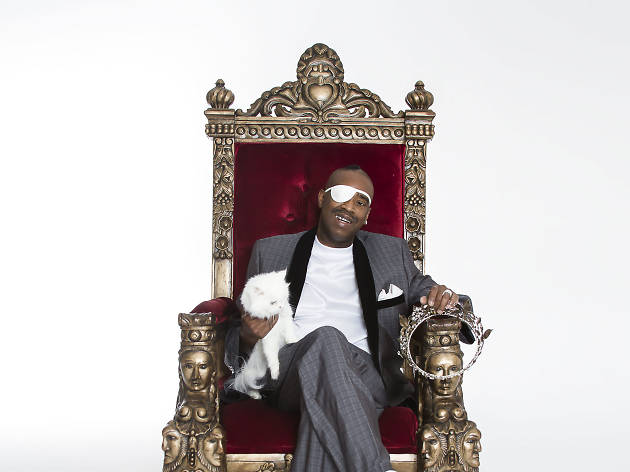 Slick Rick: 'I remember Benny Hill, liver with rice and only three TV channels'
Having grown up in '70s London, the revered rapper returns for the first time in a lifetime. Read on, or the cat gets it…
Slick Rick is your favourite rapper's favourite rapper. Listen to his classic 1988 debut, 'The Great Adventures of Slick Rick', and you'll hear echoes of his voice, witty refrains, flows and hooks woven into the music of Nas, Notorious BIG, Jay Z, Snoop Dogg, Warren G and Outkast.
Unlike his devotees, though, the man born Ricky Walters hasn't played London – his home until aged 11 – for decades. After a felony in 1991, his immigration status meant he was unable to leave the States, until he was finally awarded citizenship in April this year. It means several generations of London fans will get to see 'The Ruler' in the flesh on November 26th.
Sartorially, Slick Rick had a sense of style as smooth as his soft, mid-Atlantic, sing-songy delivery. Rick typically rocked cardigans, polo shirts, Kangol berets, elegantly tailored trousers, Clarks Wallabee or Bally suede shoes, and his famous eye patch. Where better to start a conversation, therefore, than about shopping?
You're a fashion icon, so what shops will you be checking for?
'I'll be on the lookout for nice, rich materials so I can have things made for me by my tailor Ron Mishon. Say you want the shoes to match your pants, and everything to complement everything else, you have to have it specially ordered and made. I like to stay unique, individual and fresh. Fashion is something that helps promote you.'
Where does your debonair style of dress come from?
'A lot of it comes from England and from my youth. You know the school uniform: grey slacks, tweed and white shirts – a Harry Potter thing. It's an English and Jamaican cultural style, which was always slacks and Clarks Wallabees, rather than just sneakers and sportswear.'
Your narrative style is one of your trademarks.
'Storytelling came from before music. You know how you tell funny stories to friends? I tried to put the same personality into rap, like a Broadway play but I tell it in rap. I tried to turn a movie or play like "West Side Story" into poetic form.'
What do you remember of your upbringing in England?
'I remember Benny Hill, "Coronation Street", "Love Thy Neighbour" – that's really old. Chopper bicycles. School uniforms and, also, the school lunches. You had chicken liver with rice – you would never get that in the States. And only three TV channels!'
What was it like growing up in the hip hop scene in the Bronx?
'Hip hop in the Bronx hit the community like a spark. You had to have vocabulary and poetic style in order to stand out. And the fashion too. I was one of the first to put Polo Ralph Lauren on wax. A lot of that was learning from my elders, studying the brothers and sisters and soaking it up, absorbing it. But I would add humour. So when I talked about Gucci underwear in "La Di Da Di", I didn't have Gucci underwear at the time.'
You're known as one of the golden era rappers.
'I take it as a compliment. It means you're timeless like a Gladys Knight or Dionne Warwick or Van Gogh. I don't mind that it was a long time ago – as long as you keep your passion alive, you stay relevant. I like all the rappers that I influenced, but the one that did the most for me financially was Snoop Dogg's version of "La Di Da Di".'
What can we expect from a Slick Rick Show?
'You're going to see the Slick Rick brand. You're going to see the essence, the humour and the ambience of Slick Rick.'
Slick Rick plays O2 Forum on Nov 26.
London's best hip-hop
Be it live hip hop, R&B or rap that you're after, our multicultural capital has got hip hop concerts in spades.