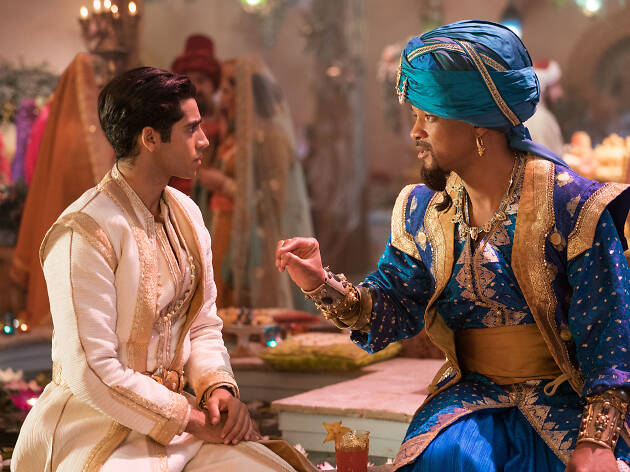 Time Out says
This live-action spin may lack the fizz of Disney's groundbreaking 1992 animated film but it's still got a certain street-smart charm.
Twenty-seven years after the release of the animated classic, Aladdin gets the live-action treatment, with Sherlock Holmes director Guy Ritchie at the helm. The well-known plot is the stuff of Disney magic: a rags-to-riches tale in which a common thief wins the heart of a princess with the help of a magic lamp that transforms him into a prince.
If today's Aladdin is not quite a scene-for-scene remake, it's pretty close. The plot is tweaked with some sensible improvements: Agrabah, a mythical Silk Road city, was once described in the original opening song as "barbaric." It's now simply chaotic, with a bustling population of people from as far as northern Europe (look out for Billy Magnussen's hilarious Prince Anders) to China, and everywhere in between. It's clear that this version of Aladdin celebrates the cultures from which the Arabian Nights folk tale emerged—a sensitivity no doubt learned (better late than never) from Black Panther, which provided an alternative to the typical white-savior motif.
Canadian-Egyptian actor Mena Massoud perfectly captures Aladdin's street-smart charm, while British-Gujarati actress Naomi Scott gives a fire-cracker performance as Princess Jasmine, showing she's less concerned with finding a husband than learning the required skills to succeed her father (Navid Negahban) to the throne. Marwan Kenzari's Jafar verges on pantomine villainy, but there's no denying that he cuts a menacing figure.
Best of all, the film is a proudly out-and-out musical. Bollywood influences abound with dance numbers that dazzle. The charm of the stage musical and the original animation have been blended together to create a fresh feel to the tale. Alan Menken and the late Howard Ashman's cherished songs are injected with renewed life, and one new number gives Jasmine her own moment to shine. Yet, despite Scott's impressive vocals, the impact is diminished by Ritchie's nauseating insistence on slow-motion. His choice of this effect ruins more than one scene.
Then there's Genie. Stepping into Robin Williams's shoes was always going to be an unenviable task. Early photos of a blue-skinned Will Smith (and that ponytail) were met with cries of horror. Smith is at his best when he makes the role his own, but he never quite captures the magic that made us fall in love with Genie the first time. When Aladdin gets it right, it propels you on a magic-carpet ride. But the odd bum note thrusts you straight out of Arabia and back into your theater seat.
Details
Release details
Rated:
PG
Release date:
Friday May 24 2019
Duration:
128 mins
Cast and crew
Director:
Guy Ritchie
Screenwriter:
Guy Ritchie, John August
Cast:
Will Smith
Billy Magnussen
Mena Massoud
Marwan Kenzari