Crystal Fairy & the Magical Cactus and 2012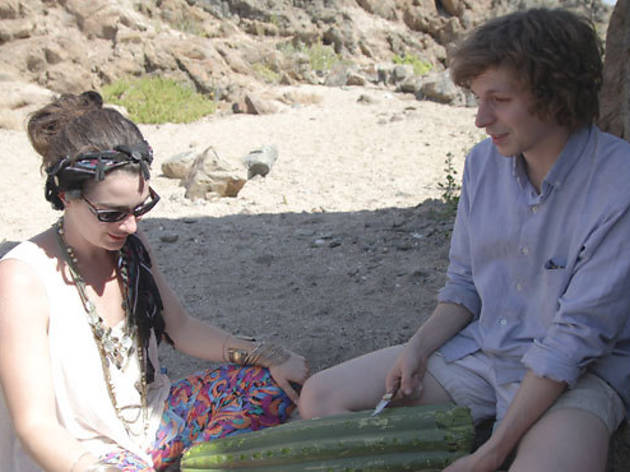 Despite his Fraggle-esque head tuft and castrato squeak, Michael Cera isn't the title character of this low-key drug comedy—then again, he's floating soon enough. Playing off his good-guy persona from Juno, Cera makes the role of an American coke fiend abroad strongly assholic: Jamie (Cera) might be on an endless vacation, manically snorting up the pleasures of Chilean drug culture, but he's taken along a toxic sense of entitlement. Everything about him is aggressive—even his yoga breathing exercises impart a harsh voraciousness—and when he meets a swirling, hirsute hippie chick at a party, who calls herself Crystal Fairy (Gaby Hoffmann), his first instinct is to mock her.
Working from autobiographical material, Sebastián Silva does wonders with these two dedicated performances—the ice king and the earth goddess, both of them neurotically detached from their sunny surroundings. (The writer-director also gets terrific support from his three nonprofessional actor brothers, all of whom look on with expressions of horror.) The plot, slender though it is, takes them to a beach where they plan to boil a stolen cactus and get high on its famed hallucinogenic properties. So why do we feel the strictures of Indiewood cuteness kick in before the drugs? Redemption for the central odd couple is just a trip away; even though Silva emphasizes awkward moments that most directors miss, he loses a bit of nerve with these easy emotional breakthroughs. That must be some killer cactus.
Follow Joshua Rothkopf on Twitter: @joshrothkopf
Release details
Rated:
N/R
Release date:
Friday July 12 2013
Duration:
99 mins
Cast and crew
Director:
Sebastián Silva
Cast:
Michael Cera
Gaby Hoffmann
Agustín Silva