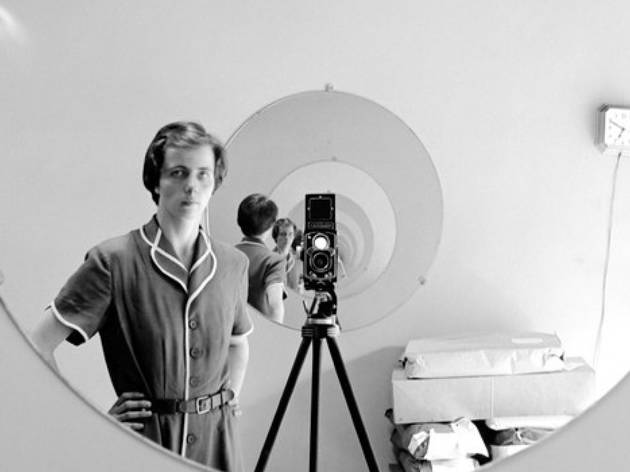 In life, she was an eccentric: a French-accented nanny with a comical striding gait—always dressed, whether in the 1950s or the '90s, in fashions several decades out-of-date—who took her charges on excursions into Chicago's more colorful neighborhoods. Her name (at least the one this alias-prone lady was born with) was Vivian Maier, and John Maloof and Charlie Siskel's intriguing yet slapdash doc uncovers a side of her that friends and employers never saw. Turns out this oddball governess was a secret street photographer who used her daily outings as an excuse to shoot whomever interested her.
Maier's images are truly stunning—vivid documents of the working class that are off-the-cuff yet rigorously composed, always capturing that enigmatic bit of her subject's soul that leaves you in spine-tingled awe. (Even her self-portraits have the feel of someone who knows the perfect moment to click the shutter.) You can see why Maloof, a preservationist who discovered and established an ever-expanding archive of her work, was smitten at first sight.
Yet Maloof (a very aggravating onscreen presence) tries way too hard to force Maier's genius down our throat: His outrage at the snootily dismissive art-world establishment, however genuine, comes off like a childish tantrum. And his hemming and hawing over the ethical issues in releasing work that its creator may never have wanted seen (a point raised by several of the interviewees who knew Maier) is pure lip service since his true intentions—to get the work seen by any means necessary—are clear. Only when the film delves into Maier's later years—when her behavioral quirks (early signs of mental illness) got the better of her—do we really get a sense of the complex person behind the clandestine talent.
Follow Keith Uhlich on Twitter: @keithuhlich
Release details
| | |
| --- | --- |
| Rated: | N/R |
| Release date: | Friday March 28 2014 |
| Duration: | 83 mins |
Cast and crew
| | |
| --- | --- |
| Director: | John Maloof, Charlie Siskel |
| Screenwriter: | John Maloof, Charlie Siskel |