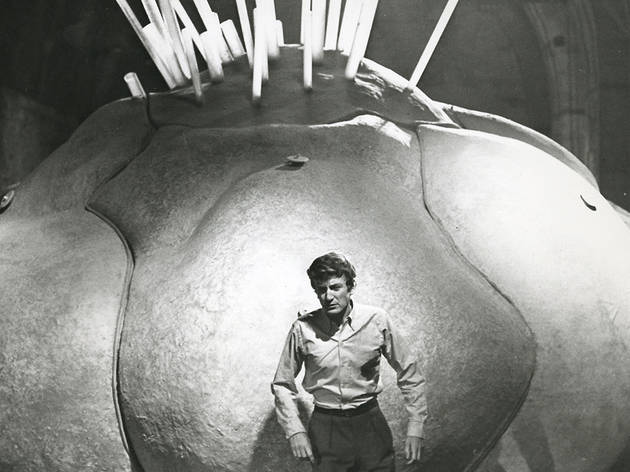 The worst is seemingly over for Claude (Claude Rich), just released from an institution after a failed suicide attempt. As the door closes on his pained past (so he thinks), another opens: Representatives from a mysterious corporation approach him with an intriguing offer to be the first human being to travel through time. This is not an alien concept to Alain Resnais, whose work prior to this 1968 masterpiece, most notably the epochal one-two punch of Hiroshima, Mon Amour (1959) and Last Year at Marienbad (1961), brilliantly indulged in various forms of temporal dislocation. Here, the director makes being unstuck in time his thesis.
The doctors assure Ridder that he will spend only one recaptured minute in the past—a by-the-seaside moment with his former girlfriend Catrine (Olga Georges-Picot)—before returning to the present. But something goes wrong, and unlike the test mouse that made the trip without a hitch, Ridder soon finds himself skipping between memories, lost in an achronological stew of emotional highs, lows and in-betweens.
You can see why Michel Gondry cited this film as a major influence on his and Charlie Kaufman's sci-fi romance, Eternal Sunshine of the Spotless Mind, though Resnais's effects are even more gloriously handmade. The time machine itself looks like a cross between a womb and a beanbag chair, while Ridder's movements through his scrambled subconscious are signaled by multiple, ragged jump cuts. (Few films make you feel like the protagonist's destiny hangs on every edit.) As Ridder's recollections accumulate, even the most mundane event seems charged with fatalistic purpose. What separates us from the beasts, the movie implies, is our capacity for emotion—as much our undoing, finally, as it is a saving grace.
Cast and crew
Director:
Alain Resnais
Screenwriter:
Jacques Sternberg
Cast:
Claude Rich
Yvette Etievant
Olga Georges-Picot
Anouk Ferjac
Bernard Fresson
Annie Fargue