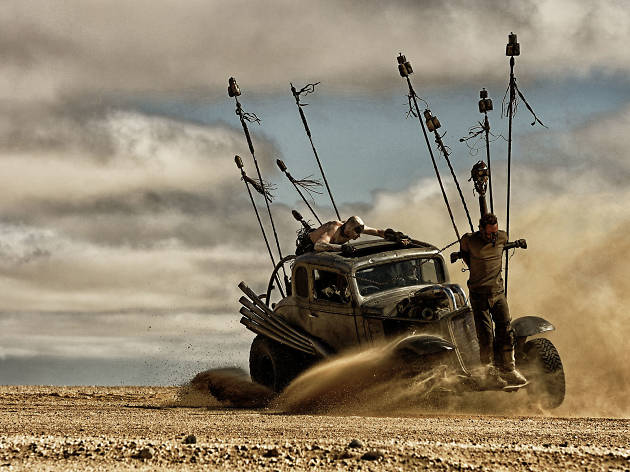 Time Out says
The fourth installment of George Miller's rambunctious postapocalyptic saga arrives in theaters like a tornado tearing through a tea party. In an age of weightless spectacles that studios whittle down from visions to products, here's a movie that feels like it was made by kidnapping $150 million of Warner Bros.' money, absconding with it to the Namibian desert, and sending footage back to Hollywood like the amputated body parts of a ransomed hostage.
It's been 30 years since we last watched Max Rockatansky drift into the horizon, but the road warrior hasn't aged a day. Instead, he's been transformed from a reluctantly charismatic Mel Gibson into a terse Tom Hardy, the franchise shedding its skin with the serialized ease of the James Bond films. Much has changed to the wasteland that Max wanders, however. While previous episodes were set amidst the rubble of a ruined world, Fury Road finds us having faded much further into the rear-view mirror, the colorful hypersaturated landscapes locating this story closer to the dawn of a new civilization than the twilight of an old one.
Things begin inside the immense mountain stronghold ruled by Immortan Joe (Hugh Keays-Byrne), a ghoulishly inbred monster who lords over a society that guzzles its citizens like fuel. Women are drained for their breast milk, girls are farmed for their wombs, and men like Max are used as human hood ornaments called "bloodbags." Unsurprisingly, Imperator Furiosa (Charlize Theron), Joe's one-armed lieutenant, is ready for a change. When she drives off with Joe's prized concubines, the warlord unleashes a suicidal eight-cylinder army on their trail. Aside from a brief lull in the second act, the entire film is a screaming death race down Fury Road.
Marrying the mordant frenzy of Terry Gilliam's cinematic universe with the explosive grandeur of James Cameron, Miller cooks up some of the most exhilaratingly sustained action ever captured on camera. The digital effects, sparingly used, take a backseat to the film's non-stop parade of "people actually did that!?" stuntwork.
But the key to this symphony of twisted metal is how the film never forgets that violence is a form of madness. Miller's world is an unvarnished portrait of man at his most primitive, and the subjugation of women has been a recurring motif. With Furiosa behind the wheel, though, Fury Road steers this testosterone-soaked franchise in a brilliant new direction, forging a mythical portrait about the urgent need for female rule in a world where men need to be saved from themselves.
That's why Max is an enduring hero: He always knows when to drive off into the sunset. This time, he leaves a generation of blockbuster cinema choking on his dust.
Follow David Ehrlich on Twitter: @davidehrlich
Details
Release details
Release date:
Friday May 15 2015
Duration:
0 mins
Cast and crew
Director:
George Miller
Screenwriter:
George Miller, Brendan McCarthy
Cast:
Tom Hardy
Charlize Theron
Nicholas Hoult
Zoë Kravitz