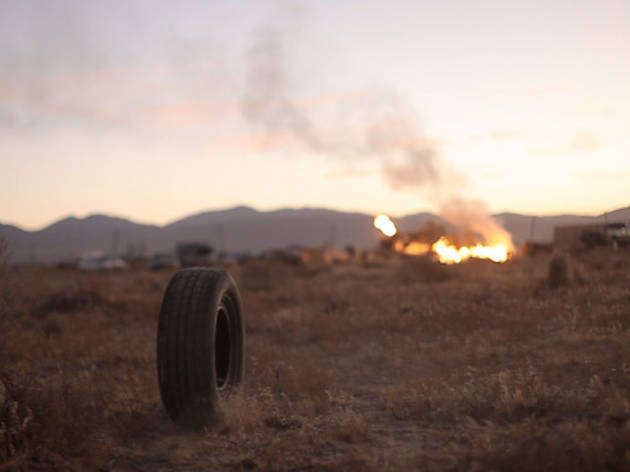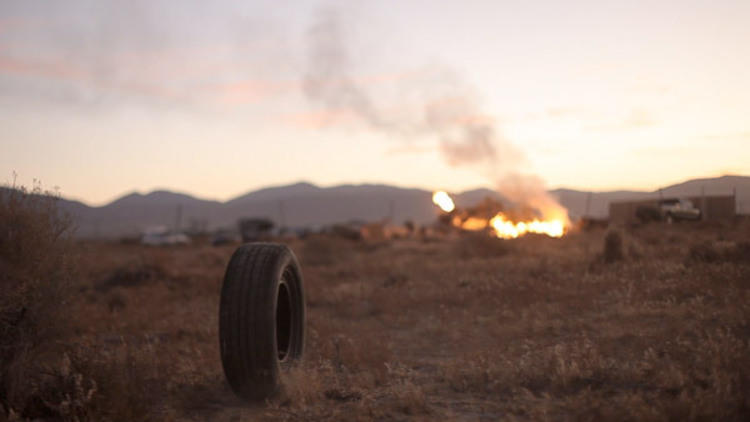 Obnoxiously clever yet good for a giggle or two, Rubber takes its premise and wears the treads thin. "Killer tire" is an idea potent enough for a ten-minute short---add in some hyperreal Road Runner--esque vistas and an unexpected method of murder (the sentient tire shudders and victims explode in a gory mess), and the finished product could have been a fun, disposable riff on Psycho, Jaws and everything in between. (Favorite moment: Our antihero rests on the bed of a cheap motel room, taking in a televised NASCAR race, surely its idea of porn.)
So what are all these other characters doing mucking up the purity and extending the length to tedium? Right from the start, a police officer (Spinella) breaks the fourth wall and tells us, eye to eye, how strange the movie's going to be: "No reason," he offers as a passport into its narrative absurdity. Immediately, you tense up, sure that self-amused French writer-director Quentin Dupieux has never changed a tire before. Spectators stare at the action through binoculars; the Pirandellian dialogue gets about as arch as a pissed-off cat.
To the movie's small credit, there's very little grasping for larger significance: It's a dumb horror film, complete with a sexy female lust object (Kaboom's Mesquida) undraping for a shower scene. Rather, the offensive material comes with its constant self-commentary, as sub--Mystery Science Theater dorks, observing from afar, pant at a glimpse of nudity. People, let's all take a cue from our silent slaughterer and cork it: Can't we enjoy the bizarreness in peace?
Watch the trailer
Release details
| | |
| --- | --- |
| Rated: | R |
| Release date: | Friday April 1 2011 |
| Duration: | 82 mins |
Cast and crew
Director:
Quentin Dupieux
Screenwriter:
Quentin Dupieux
Cast:
Wings Hauser
Stephen Spinella
Jack Plotnick
Roxane Mesquida