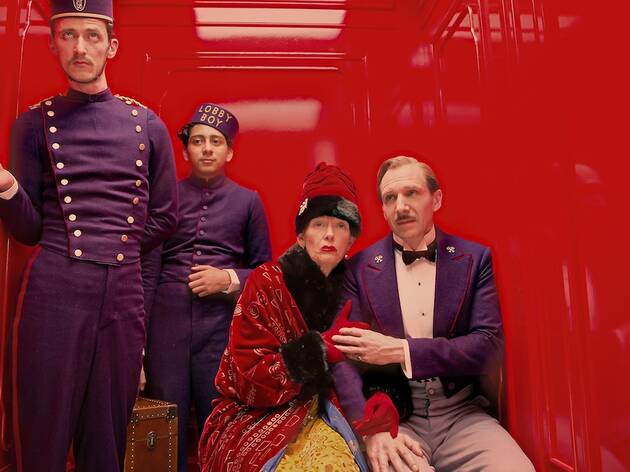 There's nothing like the glow of a truly great film—and this could be Wes Anderson's keeper—to trigger some niggling reservations. Let it be said that somewhere along the way, after his mighty The Royal Tenenbaums and before Fantastic Mr. Fox, cozy became interchangeable with stifling, and the director's perfectionism started to feel like a noose (at least to this neck). All Anderson had to do was fling open the doors: The Grand Budapest Hotel, set in a towering pink mansion situated somewhere in a dreamlike 1930s Alps, plays like a breakthrough.
Its main character is a beloved concierge, M. Gustave (Ralph Fiennes, cutting loose with his underutilized comic chops), who might as well be an elegant yet foulmouthed version of the filmmaker himself. His regime boasts military precision, but his code is one of love, as Gustave literally falls into bed with all his guests, by his own happy admission. Smartly, Anderson adds a foil, Zero, our narrator (voiced in older, decaying days by F. Murray Abraham), once upon a time a young lobby boy with a drawn-on mustache. Newcomer Tony Revolori plays him with the quaking excitement of an acolyte. Imagine Rushmore from the point of view of Max's intense No. 2, Dirk Calloway, and you're in the zone.
A small shift, but a significant one: Anderson's universe, as refined as ever, is under siege. Exterior forces of fascism, like a dead guest's furious grandson (Adrien Brody) and his thuglike henchman (Willem Dafoe), gather, representing the end of happy days. The auteur's style—dramatic zooms, winking symmetry—is balanced against a newfound political context; this one's his To Be or Not to Be.
Follow Joshua Rothkopf on Twitter: @joshrothkopf
Release details
Rated:
R
Release date:
Friday March 7 2014
Duration:
99 mins
Cast and crew
Director:
Wes Anderson
Screenwriter:
Wes Anderson
Cast:
Ralph Fiennes
Saoirse Ronan
F Murray Abraham
Tilda Swinton
Tony Revolori
Adrien Brody