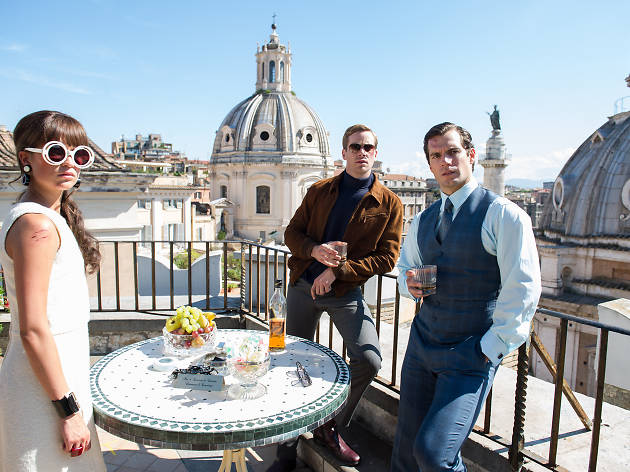 Time Out says
Spies, but not so seriously: Guy Ritchie reboots a 1960s TV show.
Guy Ritchie's reboot of the chatty 1960s spy TV series that no one under 50 remembers has a sunny, tongue-in-cheek vibe—this isn't the Cold War so much as a warm one. Its European setting is less about paying homage to its vague influences (Ian Fleming, John le Carré, etc.) and more of an excuse to embrace sharply suited adventure: all pulp and no politics. This U.N.C.L.E. prefers to giggle where the new-school James Bond would grimace and to deliver a hearty backslap where Le Carré would shoot his doomed characters in the back.
A familiar story of spies, disloyalty, twists, double-crossing and a nuclear plot to destroy the globe, the movie hops from Berlin to Rome, as Henry Cavill's American spy and Armie Hammer's Eastern Bloc stooge team up, with Alicia Vikander (Ex Machina) in tow. It's not quite knowing enough to be a spoof—which is lucky, as that can get tired quickly—but it's not far off. This is a film that's one step from winking at you midscene.
All this charm is a little surprising considering that, on paper, its trio of leads—Cavill, Hammer and Vikander—looks as charismatic as cardboard. As it turns out, the two men have an especially sharp rapport, a dynamic Ritchie previously conjured up between Robert Downey Jr. and Jude Law in his Sherlock Holmes films. You wonder if this is what the director is best at now: period action bromances set in cartoonlike worlds just enough removed from our own so that he doesn't have to bother with subtlety. He's still not great with women—Vikander is a fun presence but ultimately pretty marginal (and at worst, marginal and pretty).
The movie is far from perfect. A late scene referencing Nazi torturer Josef Mengele is distasteful, and everything gets annoyingly hyper as the action takes over. But U.N.C.L.E. has enough style and smarts to make it an amusingly louche summer movie: a cultivated mix of action and wit, suits and skirts, that feels refreshingly analog in a digital world.
Details
Release details
Rated:
PG-13
Release date:
Friday August 14 2015
Duration:
116 mins
Cast and crew
Director:
Guy Ritchie
Screenwriter:
Guy Ritchie, Jeff Kleeman
Cast:
Henry Cavill
Armie Hammer
Alicia Vikander

Users say