The best hotels in Benidorm
Stay in some of the best hotels in Benidorm when you're heading to Spain's gorgeous Costa Blanca
Benidorm, not unlike Las Vegas, has in the past 20 years shed a bit of its louche rep as (some) punters moved on and more families moved in. Of course, you can still lose your mind and stomach in skyscraper-clogged 'Benidormitory'. But the Costa Blanca city's hotels increasingly vie for domesticated couples and families interested in wholesome attractions like Roman Empire–themed amusement parks. If neither end of that spectrum appeals to you, take a tapas-fueled walk off the wild side and through the Old Town.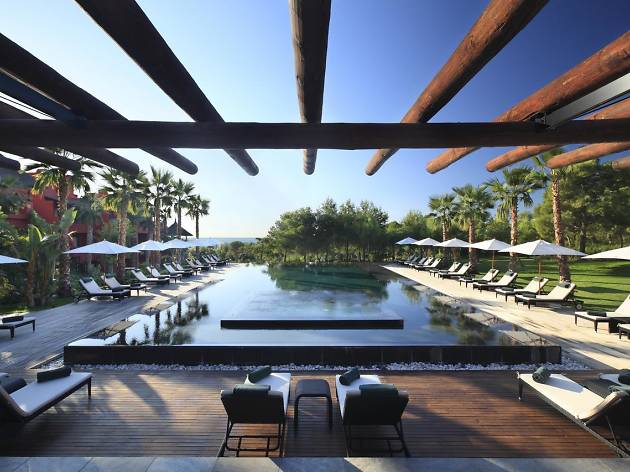 © Booking.com
1. Asia Gardens Hotel & Thai Spa
Visitors familiar with Benidorm who want a change of pace should consider this option in Finestrat, a short drive from Levante but a world away from its antic energy. The aptly named Asia Gardens tips its hat to Bali when it comes to the design of its roomy digs and the topiary of its show-stopping gardens. There's plenty of blue amid the greenery, with seven pools, two of them heated for wintertime travellers. The resort is popular with golfers, with courses just a few minutes away by car. The more sedentary can sit back in the spa and enjoy ten varieties of Thai massages, or eat and sip at the resort's nine restaurants and bars.
© Booking.com
If you're looking for a room with a view, check into this property perched on a cape jutting into the Mediterranean and at a remove from Benidorm's huddle of skyscrapers, which you can scope out while hitting the treadmill, submerged in a Jacuzzi or happily confined to bed. This eyrie's bountiful floor-to-ceiling glass windows also encase the Llum Del Mar restaurant and a more casual lounge. Nearby is the Old Town's Balcó del Mediterrani, whose white balustraded staircase leads you to the sea, and café-lined squares bring an authentically classical vibe to the modern city.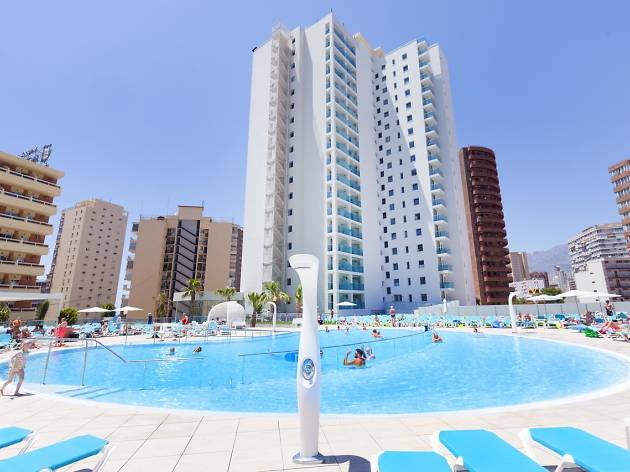 © Booking.com
3. Port Benidorm Hotel & Spa
A tough-to-beat option for travellers seeking immaculate accommodations right off the water, Port Benidorm is a two-minute walk from Playa Levante, which offers the best sunrises in town. The hotel's a longer walk to the neighbourhood's main strip, but within easy staggering distance for those looking to sample the frenetic nightlife. Port Benidorm will also appeal to risk-takers who want to hit the poker tables, thanks to its proximity to Casino Mediterráneo. Pop into Bar ONE next door for British-style pub grub and a well-received breakfast.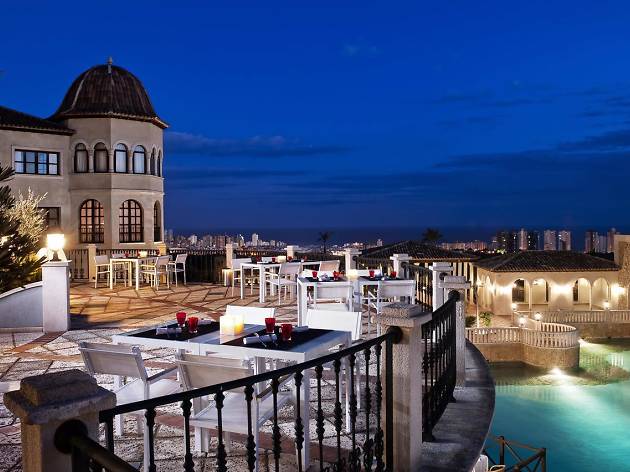 © Booking.com
This sprawling resort is close to but just far enough from the Benidorm centre to provide easy access to the party scene and a tranquil reprieve from it. Meliá Villaitana's 25 buildings are nestled into a hillside and arranged to recall a traditional Valencian village, with plazas dispersed throughout. But the amenities are thoroughly modern, including more than an acre of pools and a pair of 18-hole golf courses courtesy of Niklaus Design. Book one of The Level rooms for added serenity – this spot is otherwise quite popular among those travelling with young children.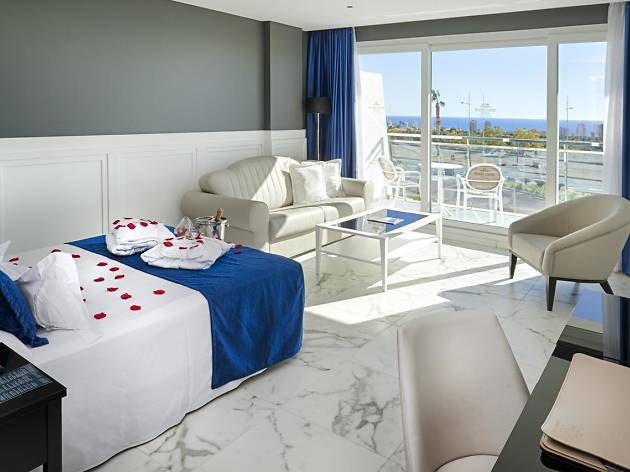 © Booking.com
A big selling point of this 300-room, two-year-old knockout is complimentary admission to neighbouring Terra Mítica amusement park, whose endearingly hodgepodge theme straddles the histories of Egypt, Ancient Greece and the Roman Empire. But there's nothing ersatz about the luxury of this posh hotel where suites meet five-star standards. A Vegas vibe extends to the extravagant buffet-style restaurant, although a more formal dining option is en route. Grand Luxor is also a hop, skip and jump from Aqualandia water park. Visitors wanting relief from more synthetic leisure options are a ten-minute drive from Playa Poniente.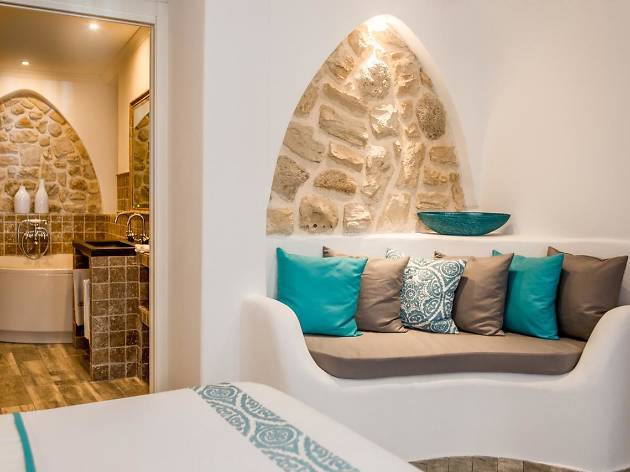 © Booking.com
This charmer in an 18th-century Altea abode offers both good value and an antidote to the go-big-or-go-home attitude of so many Benidorm lodgings. There are just 10 rooms, each of them done up in a unique style. The attention to detail should be expected given that Abaco is owned by Linda Caparo, an artist whose elegant still-life paintings hang in an art gallery and Abaco Café. A rooftop terrace crowns this former bakery. Local restaurant highlights include Xef Pirata, a convivial tapas spot, and Oustau de Altea, whose Mediterranean menu has won over some tough critics.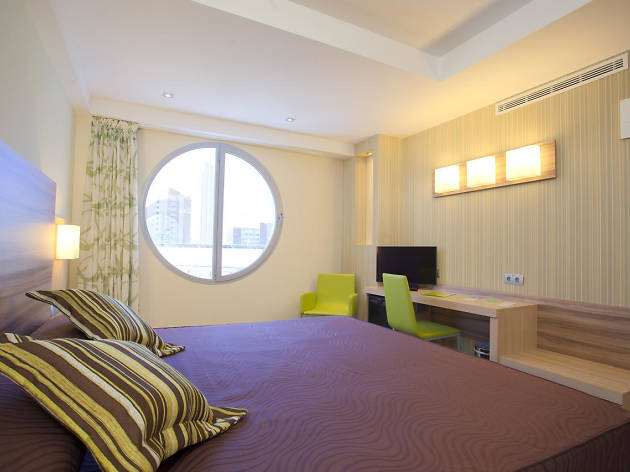 © Booking.com
Modern, straightforward accommodations a flip-flop's throw away from Playa Levante and at a notably good value. This adults-only option features a pool dwarfed by Benidorm's famous, if not exactly beloved, high-rises. After towelling off from the beach or pool, take in a cocktail and cabaret act at the Riviera Music Club, which hosts four artists a night – look out for Danny Tetley. Or if you prefer, step out to the myriad bars (many of them owing a big debt to British pubs) in the central Rincon de Loix neighbourhood. Note that the hotel restaurant happily caters to guests with dietary restrictions.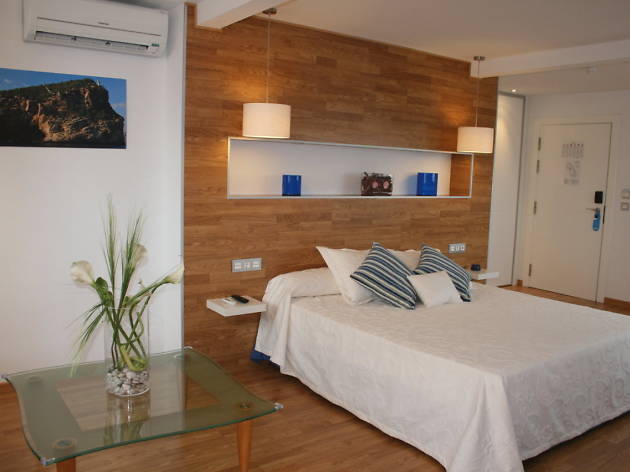 © Booking.com
8. Hotel Fetiche Alojamiento con Encanto
Something of a hidden gem in the Old Town, Hotel Fetiche inspires hosannas among guests for its cleanliness, location and a boutique scale that brings to mind '60s-era Benidorm. The 17 rooms emit a maritime vibe, and photographs by Francisco Pérez Bayona recall Benidorm's BPT (Before Package Tour)-era history. The family-owned tapas bars that still pepper this neighbourhood do the same. Levante and Poniente beaches are quick walks away. And caffeine addicts can get a fix whenever they like via the lobby's coffee and tea machines.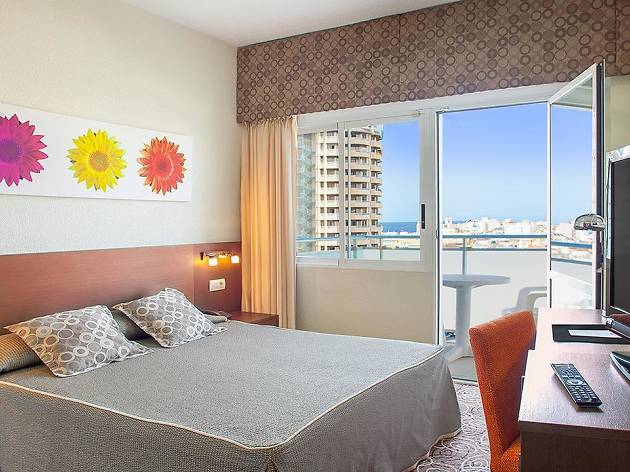 © Booking.com
This unfussy, centrally located and adults-only hotel makes no secret of its aversion to stag and hen parties and won't accept reservations for groups larger than six. Still, the poolside bar scene confirms that this is not exactly a science library. Couples in search of a deal should be pleased with this choice, which is close to Playa Levante and has a popular buffet option. There's live entertainment in the evenings. Guests have approved of a recent sprucing up of the furniture.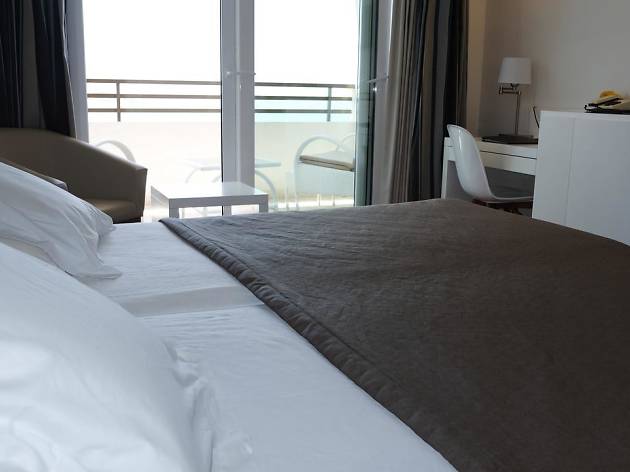 © Booking.com
It's across the street from Playa Levante in an area overrun with restaurants, but each room here includes a well-stocked kitchenette for guests looking to save some dough and eat in their rooms. There's an outdoor heated pool for off-season travellers, a gym and a sauna. Views, especially from the upper floors, are raved about, as is the warm, professional staff. The 23-floor hotel isn't flashy, but its convenience and earthbound rates make it a dependable choice for those wanting to be in the middle of the action.