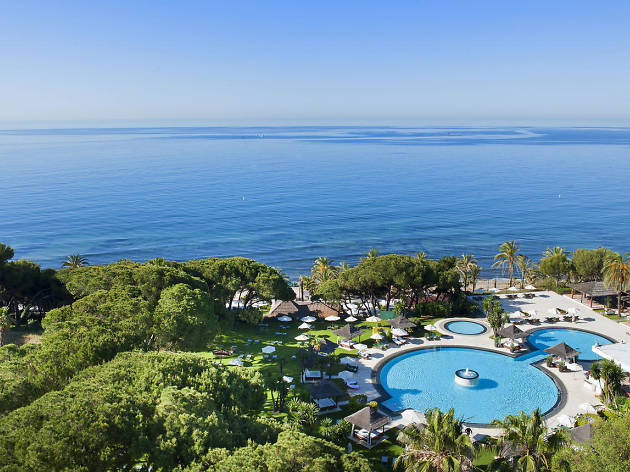 The best hotels in Marbella
Stay in some of the best hotels in Marbella when you're heading to Spain's sunny Costa del Sol
Once a sleepy fishing village, Marbella rapidly morphed into a home away from home for the original, impeccably bronzed jet set after World War II, thanks to a handful of titled aristocrats. There's 17 miles of Costa del Sol seashore to be enjoyed here, and you'll come across flashy displays of wealth in Puerto Banús, where you can admire exotic cars worth more than most people's houses. Other areas will appeal to history buffs, who can check into several small lodgings in centuries-old townhouses. Whether you stay in modest accommodations or in an imposing luxe compound, keep your eyes peeled for famous faces.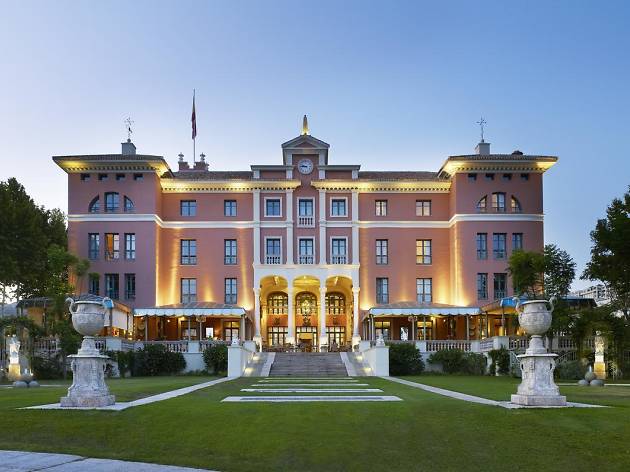 © Booking.com
Michelle Obama got into some hot water stateside following her 2010 stay at this salmon-hued citadel of elegance, with critics saying she'd pampered herself a bit too much on the taxpayers' dime. Regardless of your political leanings, you'll understand what attracted the former First Lady to these digs rising from the hills above central Marbella. Aside from the lavish suites, big draws include fine Basque fare and live flamenco music at La Veranda, enviable access to the Puro Beach Club just down the road, three golf courses (Villa Padierna sits flat in the middle of one of them) and cocktails at Eddy's Bar that are bracing in the best possible way.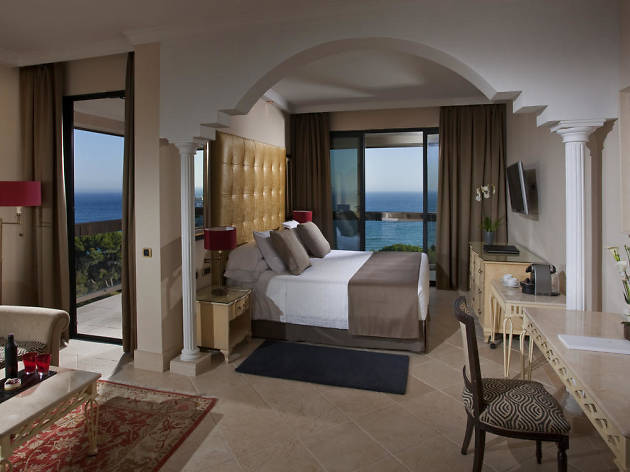 © Booking.com
A biggie and an oldie, but still a goodie. With an enviable location sandwiched between the sea and the foothills of the Sierra Blanca mountains, Gran Meliá Don Pepe's rooms rarely disappoint when it comes to views. You can also rely on this well-oiled machine to provide all the perks of a large resort, including tennis courts, three pools (one of them indoor and heated, and another just for the kids) and a smorgasbord of restaurants serving up everything from sushi to caviar to desserts to a southern Spanish interpretation of that famed Basque steak at T-Bone Grill.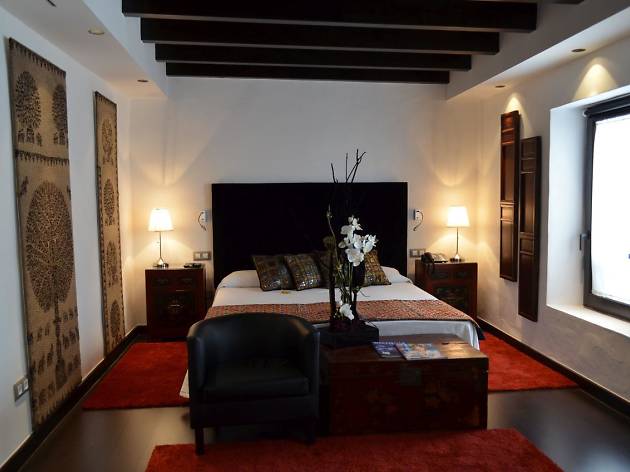 © Booking.com
This highly touted Old Town option should please the budget-minded and travellers with fond memories of Asian destinations. The seven rooms are named after various famed Far East locales (Lhasa, Sarawak...) and deliver a sense of feng shui zen to rooms that are surprisingly spacious by boutique standards. Guests rave about the breakfast, a small staff that quickly comes to feel like family, and a rooftop terrace with striking views of sea and mountain. La Villa is a clementine's throw from the popular Orange Square and, no surprise giving the intimate digs, is a top choice for couples.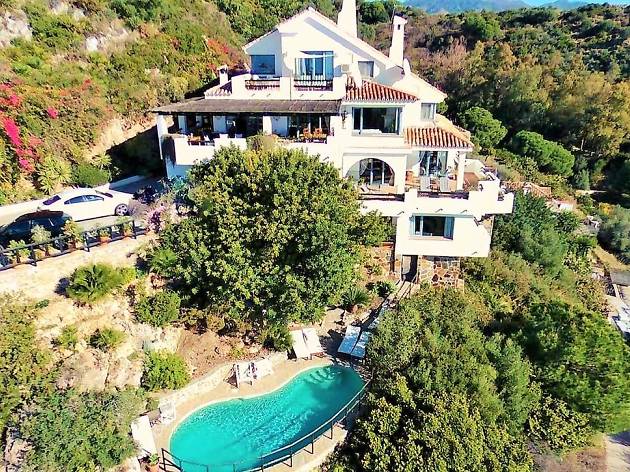 © Booking.com
Don't judge this hotel by its slightly misleading name. The two rooms and three suites at this not-so-urban oasis are perched atop a cliff in a manner reminiscent of a Bond villain's lair. This leads to some astounding views uninterrupted by other buildings, most of which (in the Old Town) require a very short drive to reach. Book the Deluxe UrbanSuite for private access to a pool and Finnish sauna. The rustic digs are ideal for couples beyond their party years and preferably travelling without kids. Instead of hitting the clubs, guests can start a late-night jam session with the piano and bongos at their disposal. And all of this comes at a surprisingly good value.
© Booking.com
With just seven homey rooms set in a 17th-century townhouse, Hotel Claude should please even the most discerning boutique freaks. Here you're an easy amble to bustling Port Banús and its unabashed parade of ultra luxe cars, but when it's time to turn in, you'll doze off on a peaceful street in Old Town's northern reaches. Note that there's no pool or full-service restaurant, but guests have access to nearby spa and swimming facilities. And the 24/7 multilingual staff will happily arrange for a local chef to come to you for a personalised meal. If it's good enough for former residents, including Napoleon III's wife, it's good enough for you.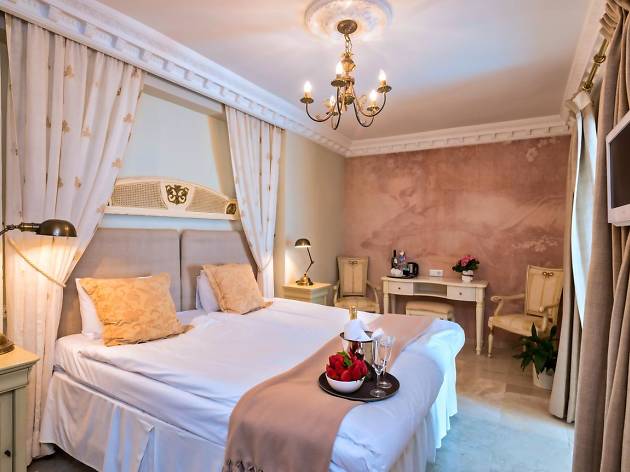 © Booking.com
An understated boutique option in a calm corner of Marbella's Old Town that's a pleasant walk to the shore. There are just nine rooms at The Town House, where Moorish tiling abounds and round-the-clock service warmly greets you. The roof terrace receives high marks for its views to La Concha mountain and the low-slung Old Town skyline. There's no hotel restaurant, but the charming offerings of the neighbourhood are right at your doorstep. And there's a straightforward yet satisfying continental breakfast included. Note that the third-floor bedrooms are on the small side.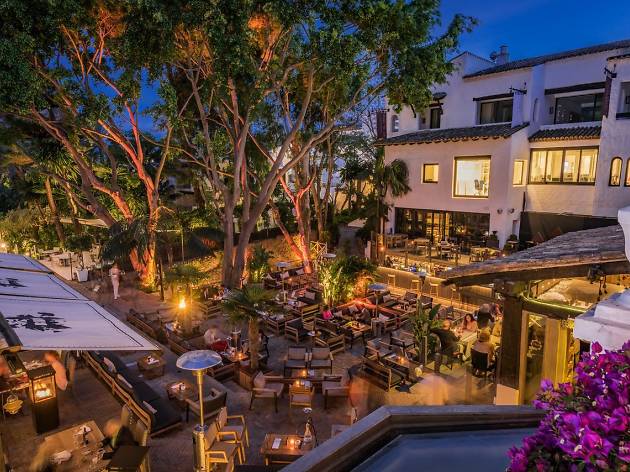 © Booking.com
Gourmands take note: Puente Romano houses a veritable city neighbourhood's collection of restaurants, including a Nobu outpost, a Thai joint, and a riff on the traditional Spanish beachside fish shacks known as 'chiringuitos'. You can sweat it all out on one of ten tennis courts (a certain Björn Borg opened the complex in 1979) before hitting a pool bisected by a spiffy footbridge and flanked by towering palm trees. Or you can hop right down to the beach. Suites, grand suites and villas nod subtly to old-school Mediterranean influences and are noted for decks seemingly the size of airport hangars.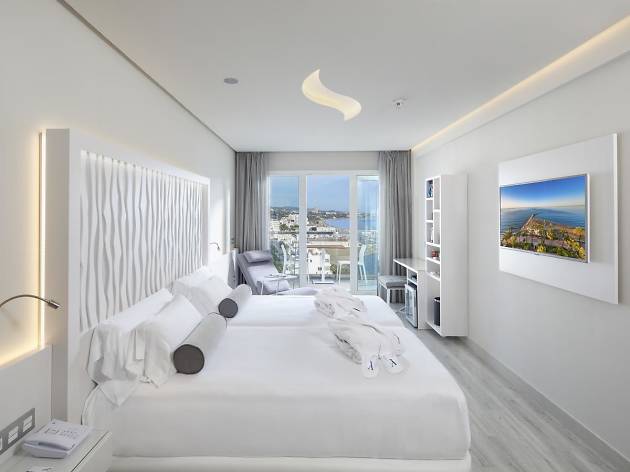 © Booking.com
8. Amare Marbella Beach Hotel
The Amare is a short stroll to Marbella's picturesque Old Town, but the lodgings are contemporary and sleek, with just a hint of tiki kitsch to keep guests on their toes. It's located beachside – prime rooms in The One class have sea views and include access to a free drink-dispensing lounge. A recent redesign gave the adults-only spot a sun-drenched vibe in which indoor and outdoor spaces merge seamlessly. DJs get you dancing at the rooftop Belvue bar, the perfect spot to work off any caloric damage done by dinner on the terrace at Verité, which claims to be Marbella's sole Latin American canteen.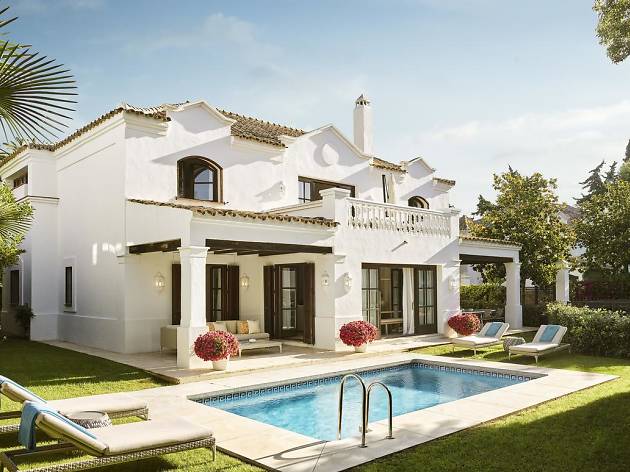 © Booking.com
Audrey Hepburn, Brigitte Bardot and assorted Kennedys are among the notable guests of yore who put Marbella Club on the international jet set map and made this once-sleepy seaside town the travel magnet it is today. Chef Juan Gálvez oversees the direction of the resort's whopping nine restaurants, but the Santa Margarita stretch of the Golden Mile is within easy reach for guests looking to venture beyond the 121-bedroom (and 16-villa) hotel's striking arches. The verdant 300-acre grounds also include a spa with treatments catered to you by a team of wellness gurus.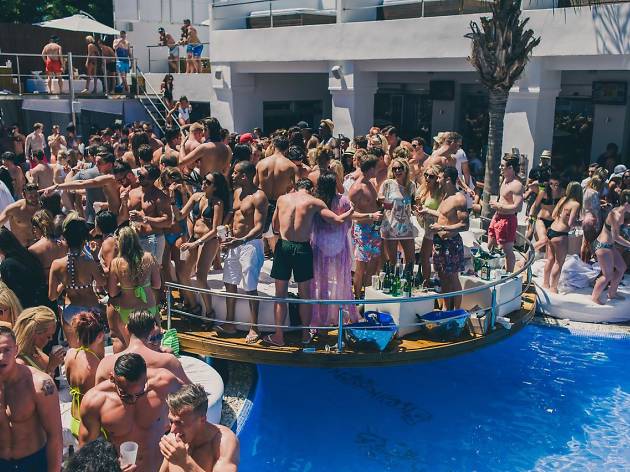 © Booking.com
Those who put sleep low on the list of their Marbella holiday priorities can hit up the Sisu for pool parties graced by the disc jockeying likes of Steve Aoki that squeeze rowdy crowds in cheek by jowl. This is the sort of hotel with throw pillows inscribed with sayings like 'Time to drink champagne and dance on the table'. But hey, you're on holiday and know what you're getting into. Guests eventually needing a break from the club life can repair to the more mellow rooftop bar and sushi restaurant or actually hit the hay in bedrooms ranging from presidential suites to twin rooms.