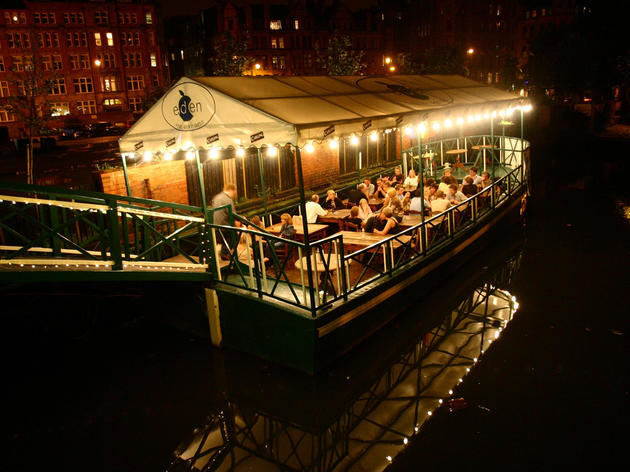 A chilled-out spot that still knows how to party. Grab the small barge moored on the canal, if you can.

Renowned for its chilled-out atmosphere, Eden has been offering respite in what can be a pretty lively area ever since it opened its doors in 2002. Primarily a restaurant space, it at first glance appears a little more upmarket than its neighbours nearby, and this is largely due to the fact that many people often come here for a quiet bite to eat than a boozy night on the tiles.

The other big draw is the chance to commandeer the small barge moored on the canal, which makes for one pretty special outdoor seating area. The space is perfect for summertime boozing, especially when the night draws in and lighting from the canal casts a pleasant glow over your pint.

Despite its swanky reputation, Eden's menu is unfussy and approachable, offering a good range of simple, classic food using many locally-sourced ingredients. With a decent range of burgers, pizzas and salads there's a firm base of straightforward options from which to work, with some more refined routes for those after something with a bit more elegance (try the cannon of lamb with Bury black pudding, minted pea purée, a lavender jus and pancetta crisp). If you're around for lunch, opt for the clean flavours of the fig and mozzarella wrap.

Drink prices are fairly standard for the area: at around £3.50 for a pint, it's neither dirt-cheap nor super expensive. And while its location (accessed via a footbridge across the Rochdale Canal) is set slightly back from the wilder antics usually associated with the Village, the welcoming atmosphere still draws in a steady stream of those looking for fun and frolics. So pack the party hat, just in case.
Venue name:
Eden
Contact:
Address:
3 Brazil Street
Manchester
M1 3PJ