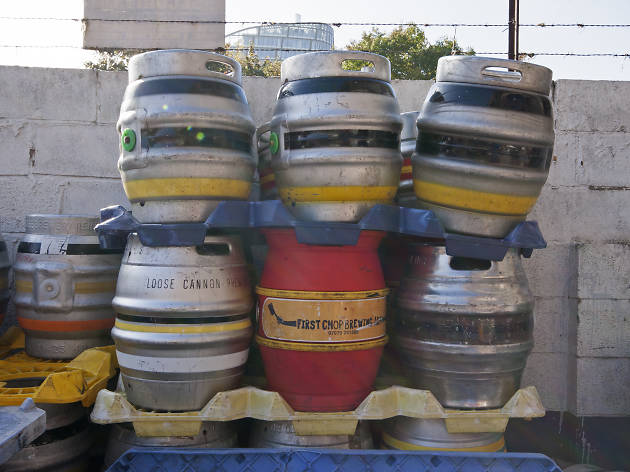 Time Out says
A pioneering brewpub with ping-pong, street food, live music and similarly trendy trimmings.
Soon, the disused railway arches of Manchester and Salford will be home to vessel upon vessel of fermenting beer. Well, that's if we're to extrapolate, in a somewhat crazy fashion, from the example set by First Chop Brewing Arm and Blackjack Beers. The former moved into its tunneled environs in Salford two years back, after owner Richard Garner decided he needed a more permanent home for his burgeoning microbrewery. Up until then, he'd been working from a borrowed space in a Bury brewery, having been inspired to try his hand at craft beer after a stint running the First Chop bar in Ramsbottom.

The bar was one of the stages for 2014's Sounds From The Other City festival. It also holds a semi-regular social (keep an eye on Twitter) and sporadic but eclectic record label and album launches.

As far as beer goes, First Chop specialises in 'hop-forward' creations. Their TEA, a pale ale hopped to the nines with American IPA and New Zealand hops, pulls no punches, while the award-winning blonde AVA, named after Richard's daughter, has a character that belies its 3.5 percent ABV, thanks to the 'noble' Czech aroma. They've also done such wacky stuff as collaborate with local clothing label Good Measure to produce the single-hopped Good Measure pale amber ale.
Details
Users say