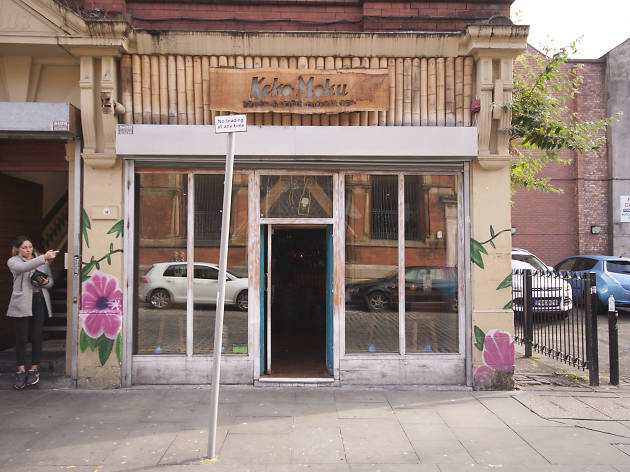 One of Manchester's original tiki dive bars, here's where to hula in the Northern Quarter
Keko Moku means 'monkey island', and accordingly the vibe here is a playful one, with episodes of Spongebob Squarepants shown on loop, bartenders kitted out in brash Hawaiian shirts and giant barrels upon which you can perch. Candles flicker away in corners to cast a warm glow over the pinup girls and tropical patterns splashed across the wall, creating a fittingly kitsch décor for your flaming zombie.

You'll be hard-pressed to find a menu in here, as you're expected to know your tiki classics. If in doubt, order a mai tai, or ask a bartender what they would recommend (a practice that all too many forget to take advantage of). As a standard, expect to pay around £8 for a cocktail, but do so knowing that, even when the tiny bar gets busy, the bartenders will always dedicate time to your tipple. As you'd expect for the £8 price tag, a lot of love, attention to detail and quality booze go into each drink, with fresh fruit garnishes, cocktail umbrellas, flames and more to jazz up the drop in a way the tiki theme demands.

With similar joints like Liars Club, Hula and Lola Lo's, Manchester's certainly not lacking in tiki bars, but Keko Moku is one of the original stomping grounds that's a cut above many of its equivalents. Ultimately, the main reason that people head to Keko is for the staff, who have become the lifeblood to the bar's playful reputation, known for their hyperactivity as they bound around the bar whilst making your drink. They're not cocky, as some tiki bartenders tend to be, they're simply relaxed and sociable so that it feels a bit like you're partying in their living room. In a good way.
Venue name:
Keko Moku
Address:
100 High Street
Northern Quarter
Manchester
M4 1HP

Transport:
Transport information provided by Transport for Greater Manchester
Rating Breakdown
5 star:

0

4 star:

0

3 star:

0

2 star:

0

1 star:

1
After ordering and PAYING for a £9 each drink the bar staff then told us we hadn't paid, at first we thought it was a joke but it went on a little too far after one of the bar staff took a sip of my drink. We told them to check CCTV to prove this but was ignored. (Whilst making the drinks the bad staff kept hinting at us giving them tips for making out drinks)
We eventually got our drinks feeling a little bit embarrassed after being accused of "stealing" drinks we asked who the manger was, we were told himself (one of the members of staff on the bar) the bouncers also claimed to be "managers." We will not be returning. Very rude service. We will be taking this further.