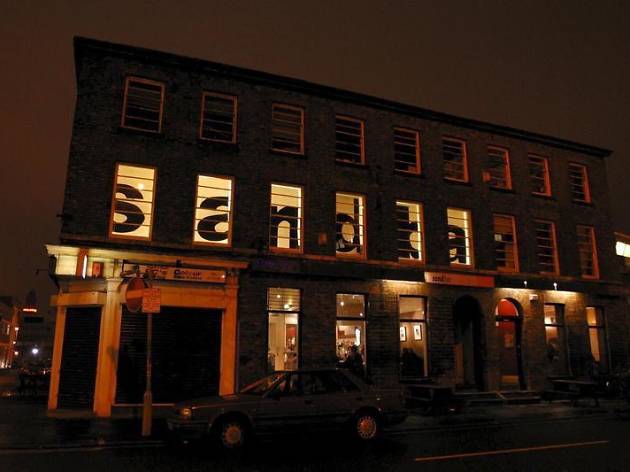 A favourite of the more sophisticated student, this sprawling bar brings exceptional beers and good food to all those highbrow tête-à-têtes

Sandbar is the bar that keeps on giving. Just when you think you've found your preferred spot in the bar, cosied up next to the fire or next to the spacious smokers' terrace, you'll turn a corner and find more pews and pals in another section of the bar. It really does sprawl around. On three different levels but seemingly only one floor, Sandbar could be the smallest labyrinthine bar in the city.

A mainstay of the academics of the city hoping to escape the various Scream and Union bars where their lesser and louder peers might Jaegerbomb the night away, it's elongated bar offers up an astounding selection of cask and imported lagers, including some crackers from Camden Town Brewery and the delicious wheat treat of Blanch de Bruxelles (Sandbar was the first to serve the beer on tap in the city). Food is traditional mixed with progressive; gourmet fish and chips sits comfortably next to chicken and chorizo paella and there is a fine array of handmade stonebaked pizzas to choose from between the after work hours of 5 and 9.

It's an old fashioned kind of place, one for talking the night away, discussing all manner of things. The proximity to the University means no two tables conversation will be the same, as young students debate with their lecturers, and graduates try to find meaning in their own existence. The strength of some of the lagers soon puts paid to those kinds of existential crises. Sandbar is not one for the lairy students of Animal House, more the wordy characters you might find in a Whit Stillman affair. Every student body needs one, and Sandbar is a great place to enjoy a pint whilst reading as it is for conversing with friends long forgotten.

In a side room up a short set of stairs is the function room, that is usually just a cosy extension of the bar but houses everything from poetry readings to art exhibitions, live music acts to Manchester's best free comedy night in Dead Cat Comedy.
Venue name:
Sandbar
Contact:
Address:
120 Grosvenor Street
Manchester
M1 7HL

Do you own this business?