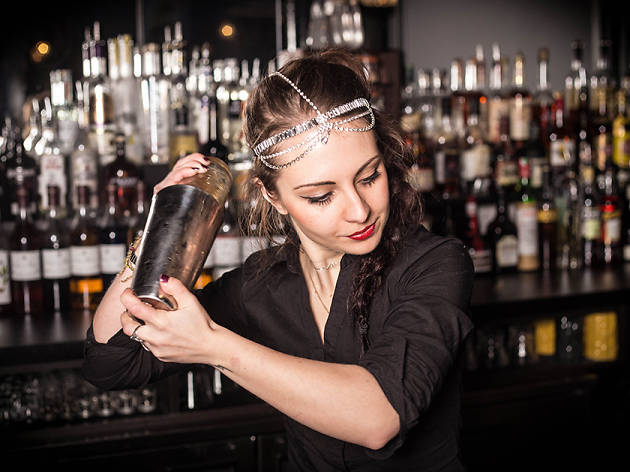 This Stevenson Square cocktail bar uses the Prohibition era as its muse - and to good effect. The elusive entrance is on Little Lever Street, by the way

A throwback to the underground drinking dens of the Prohibition era, this elusive speakeasy adds a slice of hedonism to the Northern Quarter's Stevenson Square.
By taking stateside inspiration from the pleasure seekers of the '20s, it works a formula well known in Manchester, with places such as Black Dog Ballroom tapping into the style on one level or another. However, with competitors like Lounge 10 and Chorlton's The Nook and Cranny shutting up shop, The Fitzgerald is thriving, even if it's still early days.

With crushed velvet sofas and plenty of dark corners, the aesthetic oozes indulgence, but in doing so still remains a laid back affair. The lighting is moody and seductive, casting a gentle glow on a room bedecked in various types and shades of wood.

Although the bar is visible from Stevenson Square, its main entrance is hidden away on Little Lever Street, turning it into one of those semi-secret joints that requires a knowing eye to find. For this reason perhaps – and the quality of the drinks within - The Fitzgerald still benefits from plenty of online buzz.

It's worth going for classic cocktails such as martinis and manhattans – not just because they hark back to the good old days, but also because old favourites here are treated very well. You can expect to pay around the £6 - £10 mark, which soon transpires as excellent value for money when you see the love that goes into each cocktail – the Negroni, for instance, comes with a mini Campari sorbet.

In a market saturated by speakeasy splendour, The Fitzgerald takes the theme by the horns and runs with it. The commitment pays off.
Venue name:
The Fitzgerald
Address:
11 Stevenson Square
Manchester
M1 1 DB