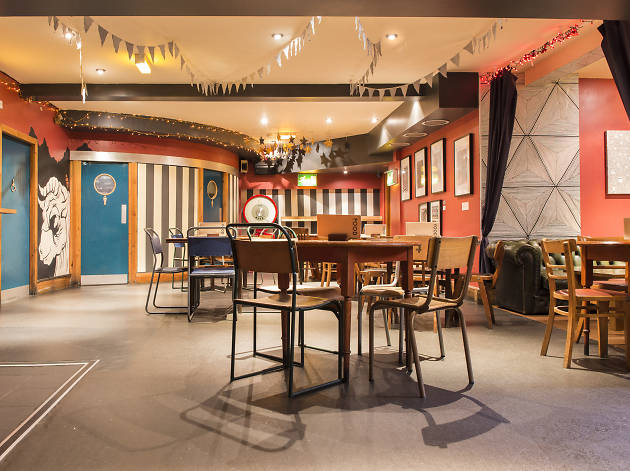 Time Out says
From the £2 cocktails to the fine selection of craft beer, this city centre bar caters to a young crowd. There's a 25 percent discount on carry-out bottles.
What with all the binge-drinking debate these days, it's a wonder the The Font gets away with hawking 60 different £2 cocktails, but there's also a fine selection of craft beers available too.

Font has been playing on students' bargain hunting nature since 2000; almost as long as some of their clientele has been alive. Still, it's much more than a get-drunk-for-under-a-tenner kind of joint – it's also a great place to hang out. Back in the day you could get a pint and settle down to a winner- stays-on Playstation session, or while away the evening tucked away in a dark downstairs corner.

The beer offerings are also staggeringly good. If money's no object, seek out the malty Hop Ottin' IPA from Anderson Valley or Goose Island's superior black rye saison Pepe Nero. British ale is strongly represented: Pressure Drop, Weird Beard and local boys Quantum are all in the fridge and you'll find four rotating casks, too. Think Red Willow's Headless and Saltaire's Elderflower Blonde and you've got the right idea. There's also Flensburger, Founder's Centential IPA and Camden Hells on draught.

Doing a 25 percent discount on carryout continental and American beers is a great way of encouraging people to avoid the six-packs at the nearby Spar. You might need the extra booze if three Blowjobs and a couple of Umbongos haven't got you tipsy (they're cocktails, by the way).
Details