Manchester is a city of innovation, discovery and invention and the University of Manchester can count 25 Nobel Laureates among current and former staff and students. The impressive list can be a little over-whelming for non-scientists as the majority have won prizes for chemistry or physics, but we've made things a little easier by choosing just a few of Manchester's most notable former and current residents to introduce you to the fabulous array of achievements the city can boast about.
Ernst Rutherford
The Nobel Prize was first awarded in 1901 and has been given to notable individuals in the fields of science, literature, peace and economic sciences. Ernst Rutherford was one of the first Laureates winning the prize for Chemistry in 1908, for his work on radioactivity. Despite being a Professor in physics, his work was seen as having such importance to the world of Chemistry that it was in this discipline he won the prize.
Known as the father of nuclear physics, as well as 'splitting the atom', Rutherford also discovered alpha and beta rays, began work on the laws of radioactive decay, and identified alpha particles as helium nuclei. Though born in New Zealand, it was while at Manchester University that Rutherford made history and one of the university buildings is named after him in honour of his achievements.
Ernst Rutherford
Norman Howarth

When you reach for your vitamin C tablets in the depths of winter to stave off a cold, raise your glass of water to this man; Norman Howarth. Howarth was responsible for the synthesis of vitamin C, which means that he confirmed its structure therefore making it easier to reproduce the vitamin commercially.
A local North West boy, Howarth grew up in Chorley. He almost never became an academic at all; for a time he dropped out of school and worked at a local linoleum factory managed by his father. Luckily he did go on to study at Manchester University, gaining a first class honours degree.
Norman Howarth
Arthur Harden
Harden was born in Manchester and both studied and worked at the University of Manchester. Harden would probably be the most popular of the Nobel Laureates with current students if they all knew what he was responsible for - it was Harden who established the stages in the conversion of sugars to alcohol, and the substances involved in the process.
Harden quite literally wrote the book on Alcoholic Fermentation published in 1911, with important content about how to increase the speed of fermentation. It's quite surprising to think that while booze has been around for thousands of years, it wasn't until the last 200 years that the process by which it is developed came to be understood.
Arthur Harden
Kostya Novoselov and Andrei Geim
Two well-known members of Manchester's Nobel alumni, Geim and Novoselov, won the prize for a revolutionary discovery in 2004 - graphene. The world's first two dimensional material isolated from graphite; graphene is one atom thick. The two Russian scientists, based at the University of Manchester, used sticky tape to isolate the structure, repeatedly sticking down and peeling back the tape to produce progressively thinner layers.
Graphene is the thinnest and strongest substance currently in existence and is amazingly, about 100 times stronger than steel by weight. The potential uses for this incredible material are limitless and the government have as a result funded a National Graphene Institute at the university to encourage more research.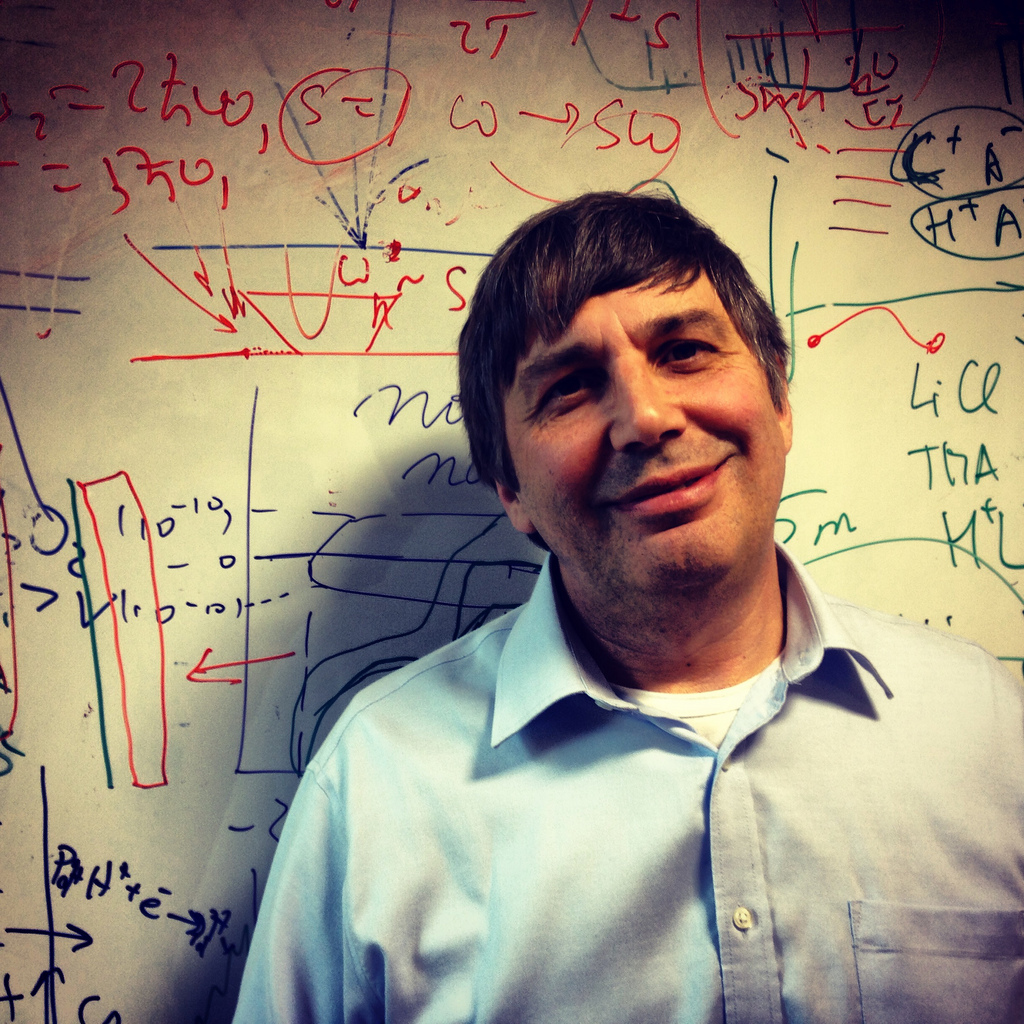 Andrei GeimRory Cellan via Flickr
Kostya NovoselovMoscow Institute of Physics and Technology via Flickr
See some of the women who made Manchester great.