Macdonald Manchester Hotel & Spa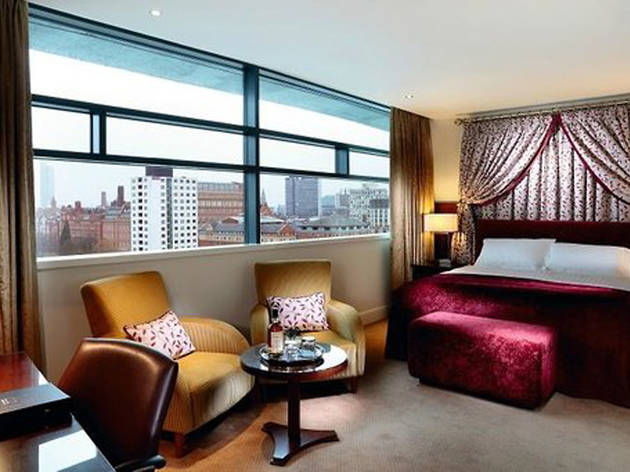 Time Out says
With its four-star standards and 338 rooms close to Piccadilly station, the Macdonald is a very respectable option for business or pleasure.
For some, this imposing building on London Road will always be known as the BT building – the previous tenants upped and left a few years back leaving the curvaceous building's future uncertain.
Since then a helluva lot of money was lavished on the place by Scottish hotel operators of the same name to turn it into a cavernous hotel, spa and restaurant. Spread over a number of floors, rooms at the front offer views across Manchester, as far as the Beetham Tower and beyond. Closer landmarks include a voyeur's view of the Mancunian Way – thankfully the noise from passing traffic isn't loud enough to keep you up in the night even if you're a light sleeper.

Inside, rooms are smartly decorated with plush carpets and huge, sponge-like beds. There's plenty of room to walk around, too, and there's a dock for phones and music player which allow your neighbours to play a few tunes before a big night out in the razz.
Elsewhere in the hotel – a good stomp away via a very small lift that seems to service the whole building and through the ground floor bar – is their Scottish Steak House. Here you'll find plenty of cuts of meat, obviously, but a lot more besides. Non-meaty dishes include a perfectly decent fish and chips (£16) and a delicate pumpkin and parmesan tortellini pasta (£12). A buffet breakfast has a good range of hot and cold options the morning after, too.
Location-wise it's very handy for Piccadilly, of course, but also the nearby Northern Quarter, where you can grab a great coffee at Takk, go record shopping at Eastern Bloc or Piccadilly Records, eat a bargain curry and go for drinks before ending up at the legendary Band on The Wall, all within the space of a few hours.
Back in the cossetted surroundings of your room, it's hard not to be fixated with the views across the city. This may not be the prettiest vista of Manchester but it sums it up – good times are never far away.
Details