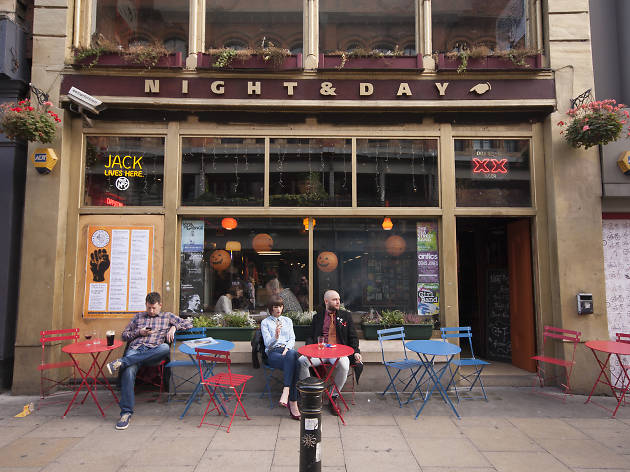 A former chippy that plays host to intimate gigs, band showcases and indie club nights

Opened in 1991, Night & Day was a fish and chip shop that slowly morphed into a popular and pioneering live music venue in what was then one of the rougher parts of town. And although its pull isn't quite as great as it once was, there's still a steady stream of alternative bands and live acts filling the bill almost every night of the week, with a respectable focus on local talent.

In terms of layout, it's a curious looking and unique venue; a long, thin room with the stage at the far end behind a couple of irritating stanchions that could do with a swift removal, were it not for the fact it'd probably see the place fall apart. Sound is usually pretty reliable, with the venue's tech team having dealt with pretty much every possible setup under the sun and hosted bands including MGMT, Arctic Monkeys and Mumford and Sons over the last decade or so. Gigs are usually quite cheap – rarely more than £10 on the door – and the occasional indie club night and weekly local acts showcase will set you back no more than a fiver.

The 'café' element of Night & Day is particularly popular at weekends, when the venue offers simple, affordable burgers, wraps, breakfasts and the like. It's nothing particularly revolutionary, but fresh, well presented and suitable for larger groups, too. The beer and ales very much follow the same pattern. Like The Bay Horse, Night & Day Café doesn't rewrite the rule book in terms of its programming or culinary options, but it's a safe choice and consistently popular.

The venue found itself in the press recently when a local, who'd recently moved adjacent to the venue, filed a noise complaint in view of getting the venue's live licence revoked. A burst of outrage translated to a renewed interest, and hopefully all will be resolved sooner rather than later.
Venue name:
Night & Day
Contact:
Address:
26 Oldham Street
Manchester
M1 1JN