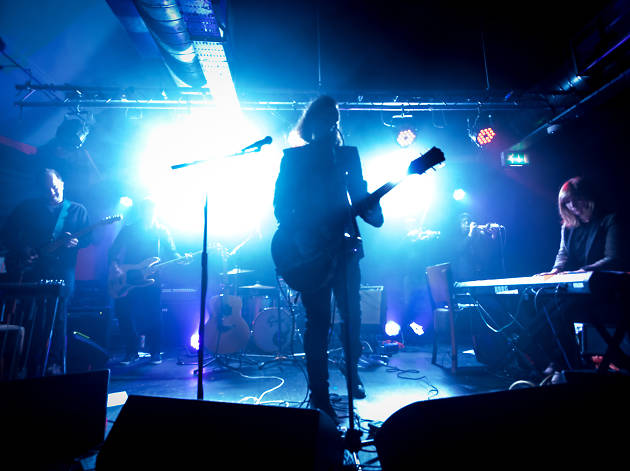 Treading an accessible middle ground between niche and mainstream, this low-key venue has nights dedicated to indie hits, northern soul and pop bangers

Dressed and lit in sultry shades of red, Ruby Lounge is split into a gig and lounge area, with an ornate, speakeasy-style bar in between the two. It's an inviting atmosphere that belies the venue's somewhat blink-and-you'll-miss-it entrance, sitting between a bakery and a betting shop and beneath a dentist.

Owing to the rock 'n' roll aesthetic, the crowd at Ruby Lounge is perhaps a little older than at similar clubs of its ilk, however its flagship night Remake Remodel attracts as broad a demographic as any on the first Saturday of the month. A 'psychotic reaction' to dull, laddish indie nights still prevalent around Manchester, punters can expect to hear everyone from The Velvet Underground to Fleetwood Mac to Tame Impala. Pop Curious pulls a similar trick and makes a raucous night out from a glittering, retro-pop soundtrack, without getting too cheesy. There's also Howling Rhythm, a newer night dedicated to Motown and northern soul.

All three provide a soundtrack more varied and niche than at the likes of faded indie megaclubs such as 5th Ave and 42nd Street, with the added bonus of a pleasant atmosphere, room to chill out and a well-stocked bar that's not too decadently priced. For a large or varied group, Ruby Lounge could be the all-round agreeable ticket. Aside from club nights, there's a regular turnover of touring bands calling in throughout the week, usually from the indie rock and pop scene.
More
Less
The Ruby Lounge says
We are Manchester's most authentic rock 'n' roll venue, with live music nightly, plus club nights including Absolute Shite, The Dog House, Remake Remodel and Howling Rhythm.
Facebook: www.facebook/therubyloungemcr
Twitter: @TheRubyLounge
Instagram: rubyloungemcr
More
Less
Venue name:
The Ruby Lounge
Contact:
Address:
28-34 High Street
Manchester
M4 1QB