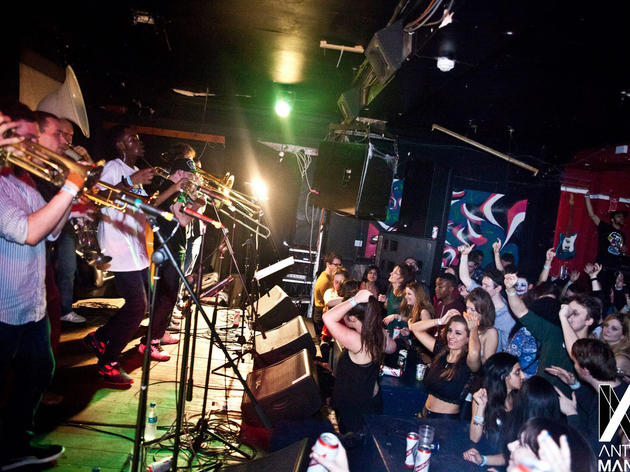 Raucous and remote, this out-of-town party den hosts club nights, comedy, theatre, craft fairs and more

Outside of the city centre, past the Universities, down the Curry Mile and on the verge of the student mecca known as Fallowfield, Antwerp Mansion provides a unique, rough-around-the-edges setting for some of the wildest legal parties in Manchester. It also has a unique and rare community ethos, finding itself in the process of being renovated from a deathtrap into a functioning haven for art, music, theatre, photography and more.

Underground Manchester promoters such as Hit N' Run and Rum & Bass have made the venue something of a second home, bringing in abrasive audio systems to push nights dedicated to DnB, bass, breaks and pushing soundsystem culture in a way not necessarily always represented in the city centre's clubs. In the day and on quieter evenings, you might well find craft fairs, comedy nights or experimental theatre. Sure, the environment, split over two or three rooms is pretty sparse and were it not for the throbbing bass, possibly even a bit spooky. But as they proudly state on their website, 'if you don't like the fact it's rough, you can either help us renovate it or bog off to any of the fancy joints across town.' Fair enough.

If you do feel like chipping in, you'll find some reasonably priced booze, friendly security and an always reasonable door fee. Finding the venue is another matter; it may be just removed from the busy Oxford Road corridor, the busiest bus route in all of Europe, but within its own private grounds, it's not entirely obvious to newcomers (and even some locals) as to how you get in. Once you do, however, you're certain of one of the most unique experiences in Manchester nightlife.
Venue name:
Antwerp Mansion
Contact:
Address:
Antwerp House
Kent Road West
Rusholme
Manchester
M14 5RF