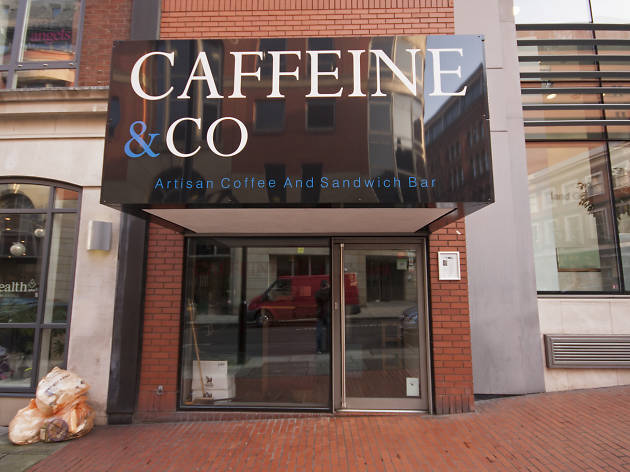 Time Out says
Indie coffee shop with a keen eye for good beans and some good grub

Although it's slightly away from the stronghold of coffee bars in the Northern Quarter, Caffeine & Co's Spinningfields location doesn't detract from its popularity. Indeed, on closer inspection, it has its own thing going on. Convention is followed in the minimalist rustic interior while outside garden-style tables and chairs are novel – even if they take some serious strength to manoeuvre.

Behind the bar, micro-roastery North Star is on the roster, alongside Square Mile's seasonal espresso Red Brick, both of which can be sampled in store, with opportunities to buy the beans for yourself and recreate the experience at home. You'd do well to stay a while, though, as there's more to Caffeine & Co than aromatic blends.

Space is abundant, with a large window maximising people-watching opportunities, and the food is seasonal and superbly fresh. With a 'when it's gone, it's gone' attitude, there are salads, homemade soups and a mean-looking chilli. The baked goods are also created at their sister site in Longford Park, with the large slabs of salted caramel brownies coming in at a reasonable £2.

Coffee alternatives are available: there's a selection of soft drinks by Fentimans, alongside a loose tea menu which includes J Atkinson and Co's blue sky earl grey, which is a must for the mellow punch alone.
Details
Users say