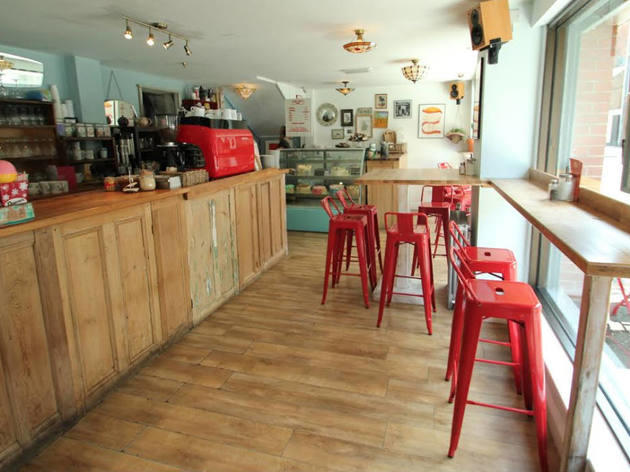 Time Out says
This much-loved venue's cheeseburger toastie is the stuff of Manchester legend. If you've space, wash it down with a boozy shake

Located in Manchester's creative core, the Northern Quarter, Home Sweet Home is decked out in the familiar quaint wooden furniture and lovely bric-a-brac that so defines neighbourly establishments. The staff are so painfully friendly that you'll want to pull up a chair as an invitation. It's more spacious than it looks and there's the occasional wait, but after a hot cuppa (coffees and herbal teas, £2-3) you'll be whisked off to a table.

Choosing what to eat is tough, with the menu covering breakfasts, burgers, salads, platters and Tex-Mex concoctions. The house speciality is the cheeseburger toastie, which is fantastic, while the 'pulled pork pile-up' is a happy marriage of tender meat and brioche bun. Breakfasters with a flicker of adventure can opt for the waffle-fried chicken, which comes equipped with bacon and maple syrup.

Booze includes Brooklyn lager and Sierra Nevada, but if you're going to guzzle anything, make it a shake. The peanut butter malt is especially worth feeling uncomfortably full afterwards. The desserts on offer are spectacular in presentation, often enlisting the help of local cake artists.

These guys have it all; variety, quality, service and go-backability. We dare you to not return within a week.
Details