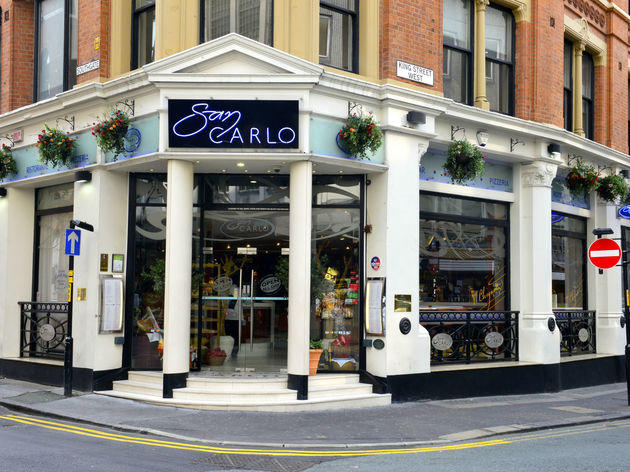 High-end Italian restaurant with a celebrity following. It's part of a small chain, but don't be put off – the food is great

If you fancy dining with the stars, look no further than San Carlo. It's long been the favourite haunt of many a celebrity, something they're clearly proud of as photos of famous guests adorn the walls.

It's not just a place to see and be seen though; the food is pretty special too. Although part of a chain – the first restaurant was opened in Birmingham in 1992 by former barber Carlo Distefano before Manchester and other UK cities followed – it's a far cry from the usual mediocre Italian chains. This high-end King Street restaurant has been serving classic Italian dishes with a modern twist for the best part of a decade.

The bar and lounge area feel welcoming, while the dining room is light, bright and mostly white with vivid red and orange accents, mirrors everywhere and an open kitchen.

On arrival you'll find olives on your table and a list of daily specials with an emphasis on fish, along with the regular menu. Seafood specialities include lobster risotto, grilled whole sea bass or the mixed fish Mediterraneo, a mixture of fish and shellfish cooked in white wine for two people to share. The cocktail menu changes monthly while the wine list is impressive and primarily Italian.

San Carlo isn't cheap but does have a big reputation that it continues to live up to. If only its football-playing regulars could do the same.
Venue name:
San Carlo
Contact:
Address:
42 King Street West
Manchester
M3 2WY