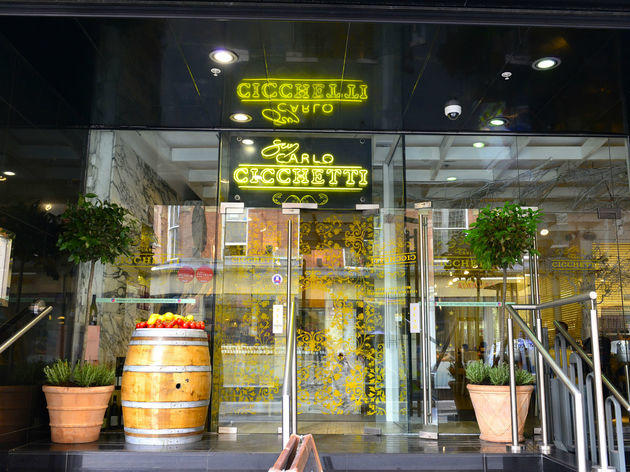 1/2
2/2
Less glitzy than its tabloid-friendly sibling down the road, this cicchetti bar is all about the food

Cicchetti (pronounced chi-ket-tee) are small snacks, designed to be shared and traditionally served in the bars of Venice. Think Italian tapas and you won't go far wrong. You might be familiar with this kind of food from London's Polpo (and associated spin offs and imitations), but equally impressive Venetian delights are available in Manchester, at San Carlo Cicchetti.

Located on the ground floor of the House of Fraser department store, but accessible via a private entrance on King Street, Cicchetti is a restaurant, pizzeria and bar - with a bakery and deli selling an array of traditional Italian produce thrown in for good measure. The light and modern dining room is stylish and chic with bags of Italian charm.

Cicchetti offers breakfast, lunch and dinner as well as afternoon tea, but it's the main menu where the small plates concept really shines. Like other tapas style places, dishes come out as and when they're ready. It's a great way to eat, particularly in a large group as you get to sample such a variety of dishes.

Just like their sister restaurant (San Carlo, just down the road) the food is exceptional, with much of the menu having been designed by celebrity chef Aldo Zilli. However, it's a little less fancy, and much more about the quality of ingredients, many of which are flown in from Sicily. Stand out dishes include a delightful octopus salad, a simple but delicious tartare of tuna - constructed tableside for a little theatre – and an indulgent rhubarb panna cotta.

Dishes can be washed down with a sophisticated selection of drinks from fine Italian wines, prosecco or cocktails. Service runs like clockwork largely due to an army of waiters who are usually friendly - and always Italian.
Venue name:
San Carlo Cicchetti
Contact:
Address:
House of Fraser Ground Floor
(private entrance located on King Street West)
Manchester
M3 2QG

Rating Breakdown
5 star:

2

4 star:

0

3 star:

0

2 star:

0

1 star:

0
I love this place! I pop in regularly when in the city centre. Sometimes for lunch, sometimes just for a late afternoon glass of something cold and a dish of olives and tapenade. It is bright, modern and fresh looking. The staff are very friendly and super attentive. They are great at remembering faces and always provide a warm welcome. This is not the place to order a three course meal. The dishes are served tapas style and everything I have tried there is bursting with flavour. Two to three dishes per person is recommended. My favourite dish is the tuna tartare which is assembled to your liking at your table. The pizzas are pretty good too. Not cheap but worth it for the experience. A popular spot for ladies who lunch.
Great for people watching at Lunch I sat back in this restaurant and people watched. The food is small tapas style and I took my Mum on a shopping day to Manchester. the staff were knowledgeable and helped us with the menu. Each morsel of food that we tasted melted in the mouth - we loved it.
Don't go expecting Steak and Chips this is a place to taste lots of small plate and to give your taste-buds a workout. Ladies that lunch seemed to be well dressed up whilst drinking a glass of Prosecco it opened my eyes to a new world you never see whilst stuck behind your computer at work. I will join in once I have won the lottery.